No Toms but, still two birds in the bag,
May 3rd
Well I finally bagged one. After five days in the field, I managed a Jake.
I had been to a few places with my closest encounter to this point, with a buddy at Wolfe Island. That is, until today!
My friend Brian invited me to go ahead and hunt at his place again, a little place I like to call, Brian's Game preserve. Anyway, I spent a morning out there about 3 or 4 days ago. Things were very promising in that I was set up at 5:00 am and by 5:15, the Toms were gobbling. I thought it'd be a good day.
As it turned out, never got to see a bird that day. I believe it was my calling that was the issue but wasn't 100% sure.
Anyway, a few days later, I decide to give it another go, that being today. I get there early again, back in the stand by 5:00 am. Well today was totally different, not one peep from any turkeys. I couldn't believe it, dead quiet. So I decide to scale back my calling, only calling every 20-30 minutes. The morning ticks by and still nothing moving anywhere.
Well at about 10:30 I talk to Brian, he needs a friend's item dropped to another friend's place, I decide what the heck, I'll take a break and come back for the afternoon evening hunt. I leave at 12:00 and after having lunch and delivering the blankie, I get back into the stand around 1:30.
Well I guess my lunch was good because after calling for about 10 minutes or so, I started getting drowsy so, I put my feet up and rested my head. About 10 minutes later, I wake up and take a peek over the edge of the treestand. I can't believe what I see, two birds, at about 120 yards out however, I can't quite make out what they are.
I give a couple calls and they just perk right up and start walking towards my decoys. The wind is howling fairly well right into the birds so seeing a beard was tough. One more call on the Quaker Boy Triple threat and they almost run to the decoys. More importantly, I see their little beards.
They get to the decoys and they're so close together, I can't shoot or I'd get both. Well in an instant, they're seperated, and by this time, I had the gun trained on one of them. BANG!
My first Wild Turkey ever! Woohoo! A quick call to Brian 'cause I'm giddy like a school girl!
I took it to AL's Corner Store on 17 for a quick weigh in and it comes out at 12 pounds 3 ozs. Not a monster, but a first!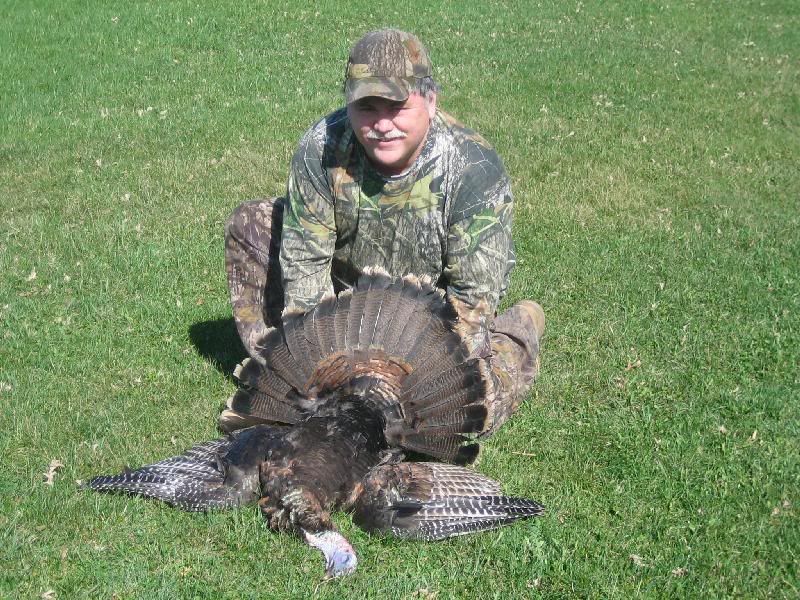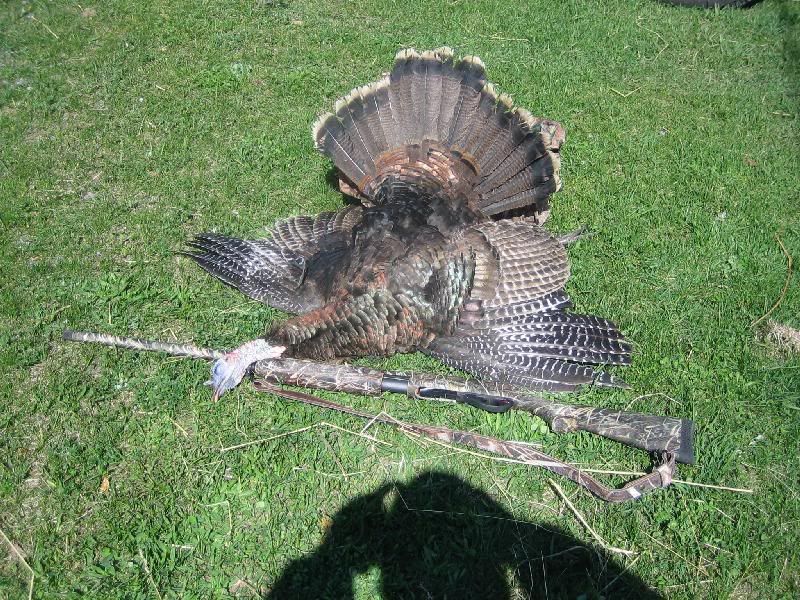 May 5th
Well I decided to head out after work Saturday. I wanted to be in the blind by 5 pm at the latest. A friend of mine offered me his property as he was down in Quinte for the 'eye opener.
Well, I made it into the blind at 4:45. I have the blind set up against the edge of a bush, overlooking clover. However about 25 yards to my left is a corn field. The field actually goes further back than the clover field by about 40 yards.
I decide I'll stick my two decoys right off the corner, just slightly into the corn field. This way, if birds come from the woods on my right, or way back at the edge of the corn field, they should see my dekes.
Well the wind was making my dekes move beautifully. I am so sold on the Buckwing bobbin' head. And my Flambeau Intruder Jake is working well too.
Anyway, I start to call about 5-ish. Again I tried not to over do it.
I kept hearing what I thought was the odd cluck from my left, which is right back at the edge of the cornfield, so it's around a corner and can't really see.
After about a 45 minute period of silence, I thought maybe I was just hearing things. Now it's about 6:20, So I decide I'm going to get out of the blind and go take a peek around the corner, in case I have to sneak up on them.
Well sure as sh*t, I don't even get to the corner when through the bush, I see a red head. I do an immediate 180 and head back to the blind. I pick up my trusty Quaker Boy Triple threat and proceed to give a couple calls and now that I saw the birds, I knew I wasn't hearing things! ;D
Anyway, a few calls and they work there way down the
cornfield but, they're on the far side, and theres' 8 of them!
They actually passed my decoys when I thought, I can't let them keep going so I figure I better call again, only this time, I cluck with the QBTT (as that's what I was hearing from the bush).
Well wouldn't you know it, four of the birds stop dead in there tracks and come right over to the decoys. I can't believe I called them over with a little thought to how I called ;D
Anyway, all 4 are now in range at about 35 yards. I wait until I get the shot I want, BANG, my second Jake in the last two days.
What a start to my Turkey hunting!
This guy came in at
14 pounds 12 ozs.
4" Beard
Nubs for spurs
Remington 3-1/2 Heavy Shot Turkey Loads again!