"A Hunt Above" had an opportunity to take a young boy to Texas for a Ram and Hog combo hunt. We took a young boy named Addison, age 8. You all might remember Addison from last year when we took him on a deer hunt. Addison is a vibrant young boy that has and still is going through a tough time in his life. He has constant headaches and seizers even after a tumor was removed in his brain. His parents are worried that the tumor may be coming back and Addison is scheduled for more tests in the future.
You all meet Addison.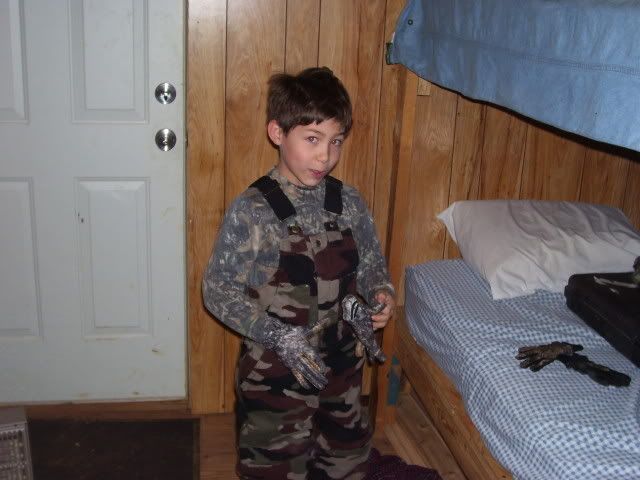 Now about Addison's adventure. We left Jackson, Ms for Cedar Springs Hog Ranch in Alto, Texas on Friday Feb.02, 2007. We arrived around midnight and were met by owner Ric Dannelley. We got our bunks ready and talked for a bit and went to bed around 1:00 AM.
5:30 AM came early the next morning and we were up and chatting around the campfire. Addison and his dad were going to go to a ground blind set up for 2 people. Addison was very excited to be hunting for a ram and a hog. Addison was at his stand at 6:20 am. At 6:45 a pack of rams came in to the area in which they were hunting. Addison picked the ram that he wanted and placed an excellent shot for a clean harvest. Here are some pictures of his harvest.
Now buy this time Addison was on cloud nine. He was boasting about the fact that his dad had never gotten a ram and that he had harvested something that his dad had not. We all ate a nice breakfast and talked about past hunts and what the future may hold for Addison.
After a nap and lunch Addison was ready for his chance for a hog. Addison and his father were sent to a house stand for a chance for a hog. At 5:15 pm a shot was heard from Addison's direction. We received a call on the radio that Addison had taken a hog. He was really excited now. A ram and a hog in one day!! Here are a few pictures of Addison's hog.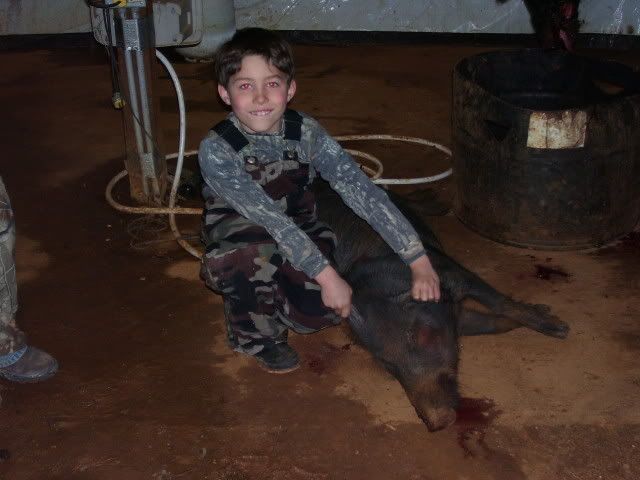 We all paused and thanked God for the blessings He bestowed on us. We also remembered Carl Davis, who passed away late last year to whom this hunt was in memory of, and prayed for his family.
"A Hunt Above" presented Addison with a knife with the "A Hunt Above" logo on it and a new cap and shirt from one of our sponsors. Here's a picture of the gifts.
"A Hunt Above" would like to thank Wood's Tire and ATV for use of the Bad Boy Buggy, Cedar Springs Hog Ranch and all of our sponsors and caring individuals who makes these hunts happen all free of charge to the participants. May God Bless, Addison and his family, Carl Davis' family, and to all that made this hunt possible.