Just got back from the in-laws cottage. What a great weekend. I arrived in advance of the main crowd and got a few chores done before heading out at dusk to a small lake which I have dubbed "Treestand Lake".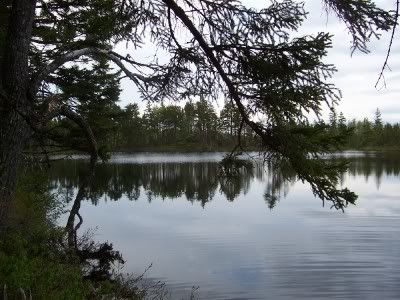 People around the camp probably think I'm being coy about where I fish up there but the truth is I don't know the names of most lakes in the area so I give them names. In this case my first treestand in NS was on the this ridge behind the lake.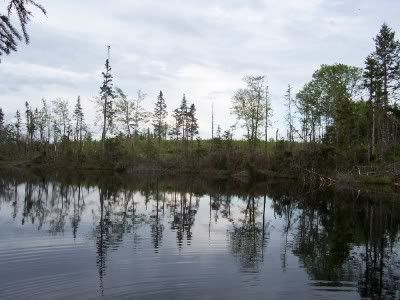 Then it was all very thick bush from the ridge down to the lake. My stand faced away from the lake overlooking a small clear cut on the opposite side of the ridge. A year after I built it, they logged the rest of the timber.. (Now I know what all that string was for )
Anyway...Chester and I dragged the canoe down to the lake, threw everything in and paddled like mad to get out into the middle where the breeze would blow away at least some of the blackflies. Once there I rigged my line and tossed it out. It barely hit the water and smack!
Nothing special, but definitely a nice start to the evening...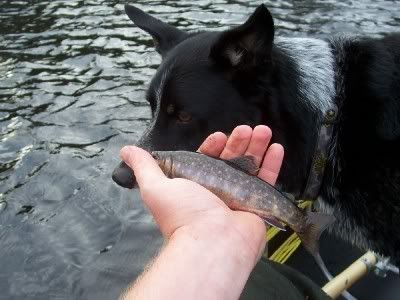 These little guys were definitely in a biting mood. I got hits on almost every cast but getting a hook into them proved a bit challenging. In the end I landed four. Most were carbon copies of the first (6-8" range). But I knew from the sound of the splashes made by rising fish that there were some nice ones in there too. An hour or so later I was proved right...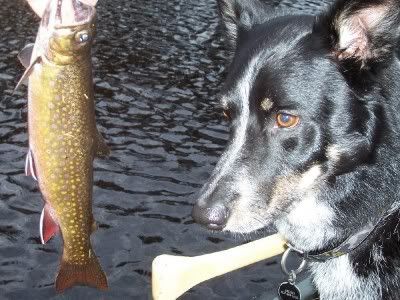 Saturday morning was spent taking Kelly's niece out for a fishing trip. She has the pictures on her camera so that will be a separate report but after many snags, fly bites and near misses she finally managed to land a little 6" trout - mission accomplished.
Saturday night I was back at Treestand Lk. Once again things got off to a fine start nailing a scrappy little guy within 10min of launching the canoe. Rises were everywhere but they seemed utterly uninterested in anything I threw at them. I had a few hits, but other than that first fish no other luck.
Sunday morning I was back at it looking for redemption. I knew there were tons of fish in there, and I knew they weren't all dinks. The trout gods smiled on me that day. As usual, it started with a little dinky trout:
(Even Chester had to look close to see it)
I guess sometimes you just gotta pay your dues, because then the fun started: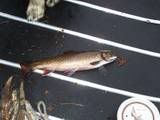 It was fantastic. These fish were definitely in a biting mood, which is good because Chester and I were in a catching mood.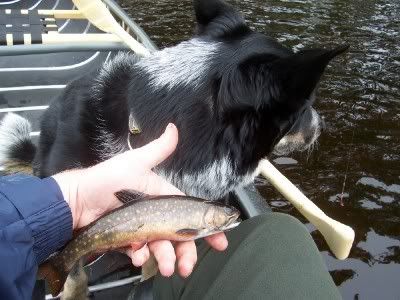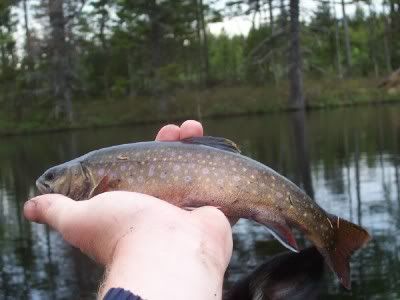 After two and a half hours the wind died off and the blackflies became unbearable so we called it a day. Not too shabby: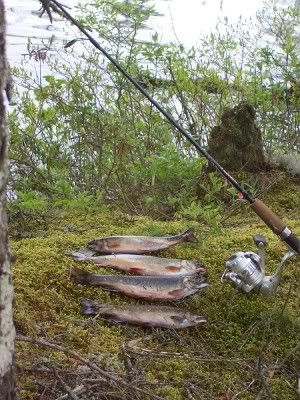 Last night I went back for a quick fish and (mainly) to pick up the canoe which I had been leaving hidden in the bushes near the lake over the weekend. Same story...a couple smallish fish right off the bat and then things seemed to die off.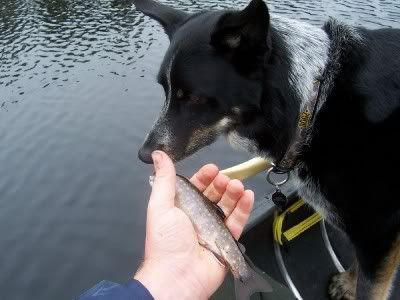 I didn't wait around much this time, as soon as I made two drifts down the lake without a hit I called it a night, packed up and headed back to the camp.
The grand total for the weekend:
Trout Caught: 21
Trout Kept: 5
Pints of blood sacrificed to fishing gods: 2
Priceless....