So a few months ago someone asked what good luck charms people take hunting. At the time, I didn't realize that maybe I had one. And besides I'm not superstitious. Well, I wasn't until the first season opener! No this is not fiction.
First some explanation of why I don't drink coffee. I grew up in Western Pennsylvania, the youngest of three. I chased whitetails with a passion. My parents both chain smoked as they chain slurped coffee --instant coffee. Any surprise that I adopted strong black tea as my morning jolt of choice? Go figure.
I left Pennsylvania for Washington State after college. I found whitetail in the northeast corner of the state, and upland birds in the southeast. My pals and I purchased elk tags for the NE units we hunted but the elk were virtually non-existent. It wasn't until I moved to Colorado nine years ago that an elk tag held any promise or hope for this hunter. Still, it took a few years to get oriented.
It wasn't until 2009 that I really discovered and appreciated the scouting capabilities of Google Earth. After several seasons of being over-run and outhunted by crowds on ATVs, I set out to find a place where the crowds don't go -- ideally one no more than an hour's hike from a road. Somewhere I read the edges between public and private land were good because of what hunting pressure would cause. These border areas are also generally in transitional zones where dark timber meets aspen groves, and where the aspen groves meet scrub oak and sage, and where these meet valley floors.
Prior to the 2009 season, I was re-thinking what needed to go into the day pack. After thinning out a few items, I decided a small thermos would be good addition. Strong, hot black tea heavily sweetened with sugar. Hydration. Energy. Caffeine. Warmth. On impluse I ran down to REI and grabbed one: a 16-oz stainless in burnt orange with the REI logo on the front. I also made sure I had a week's worth of Tazo "Awake" black tea before I headed for camp.
For third season in 2009 I held an either sex tag. Opening morning found me on a logging trail in the Routt National Forest scanning a small clearcut. I was happy to have been on the trail two hours before dawn, but still I was less than optimistic about actually finding any elk – years of disappointment … sorta the cubs fan of elk hunting. At about 7:20 am I remembered the thermos of hot tea in my pack. I set down my rifle, took off my pack, pulled out the shiny new REI thermos, and poured myself a cup of sweet, strong thunder. Then I hear them.
Two cows about 100 yards up on the edge of the clear cut above me, and on a track that will bring them within about 50 yards. After years of seeing no elk in NE Washington and nothing but ATVs and an orange army where I hunted here in Colorado, and years of hunting whitetails in dense brush, I didn't spend more than a millisecond considering my options. I dropped the tea, grabbed my browning a-bolt, and shot the first cow just behind her shoulder. To add some irony to the story, a mature bull stepped out about 2 seconds after I shot. I studied him through the crosshairs, and smiled. My 2009 elk hunt lasted less than 30 minutes, and my first elk was on the ground.
Eleven months later. First rifle season of 2010. The image of the bull that stepped out after I shot is burned in to my mind. I'm a little higher on the same mountain. The weather is painfully mild. No wind but I am moving very slowly on a damp, quiet logging trail across a bench right at 10,000 feet. The forest has been thinned and the grass is still 50% green. Tracks in the damp soil everywhere. An unusally tan-colored rock 60 yards to the right. Binoculars up. A second tan rock 60 yards to the right. One moves. First tan rock lifts his head. Spike. Second rock lifts its head. Another spike. Drop to one knee and raise rifle to scan with scope. Scanning the brush behind these fellas. More tan rocks with heads down. Breath. Breath s l o w.
The twin spikes are slowly feeding in my direction, and I am pinned in the middle of the logging trail. The first one steps from behind a tree at about 25 yards, looks right at me, and freezes as he admires my orange hat and vest. A few moments pass and I realize that I can't hold my rifle up forever. I smile, gently lower my rifle, and watch as Amos and Andy bust for the next county.
Okay, this is supposed to be the one situation where its okay to audition with your cow call so I give it a soft, gentle blow. Ten seconds later one of the tan rocks back in the brush, the lead cow I assume, responds with a bark ... imagine a cow elk imitating a coon hound. I'm seriously busted. She barks twice more. Hooves. Branches breaking. It was probably a small group but with no wind and no other noise, they sounded like a freight train.
Wow. This little encounter certainly made the day. I wander around on that bench for maybe an hour even though every animal within a mile heard that cow barking. I turn around and start creeping back towards the trailhead and my truck. At about 10:30 a.m. at a slash pile at the edge of the bench, I stop for a bit of tea -- the first of the morning.
I set down my rifle, pull off my pack, pull out my REI 16-oz thermos in burnt orange, and pour myself a cup of heavily sweetened Tazo Awake. And then I see them out of the corner of my eye at about 150 yards. Two bulls -- both 6x6s on a track that will bring them to within about 80 yards. This time, my gun is laying down against a log about six or seven yards away. Still, I drop the tea and thermos, and manage to get to my gun. I hit the first bull square in the shoulder and he goes down fifty yards later behind the slash pile with a very loud crash.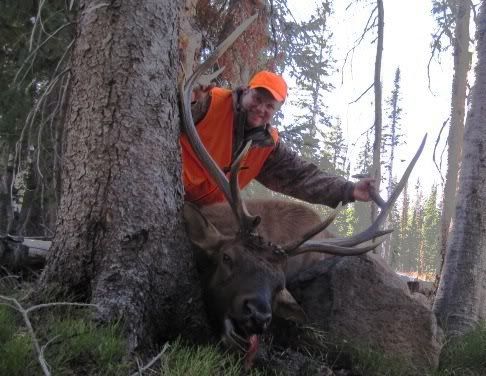 So in the past two years, my elk hunting has been limited to about four and half hours total. And this REI thermos has only been used twice. In fact, I think only two cups of tea have been poured from it. I'm not superstitious but then I never killed an elk before getting this REI thermos.
I'm almost afraid to see what happens when I stop for that first cup of tea next year.