I am going to offer nine, 3 day, one on three, guided archery hunts for whitetails this 06 fall. We will hunt one time in September, one time in October and one time in Novemeber with a three week property rest in between each hunt.The tract is 380 acres is finely managed and borders Lynches River State Park. 2/3 of the over all acreage is classic SC riverbottom and there is a large deer population on the adjoining of 60+ dpsm. There is tons of water frontage and bottom land which is key for bucks in this area it is prime SC buck ground. There is no shortage of 3 year old or better bucks and with a plan of only nine days of archery hunting pressure over a four month window, opportunity should remain consistant and very predictable.
A Classic example of a 3.5 year old Lynches River buck taken by one of my clients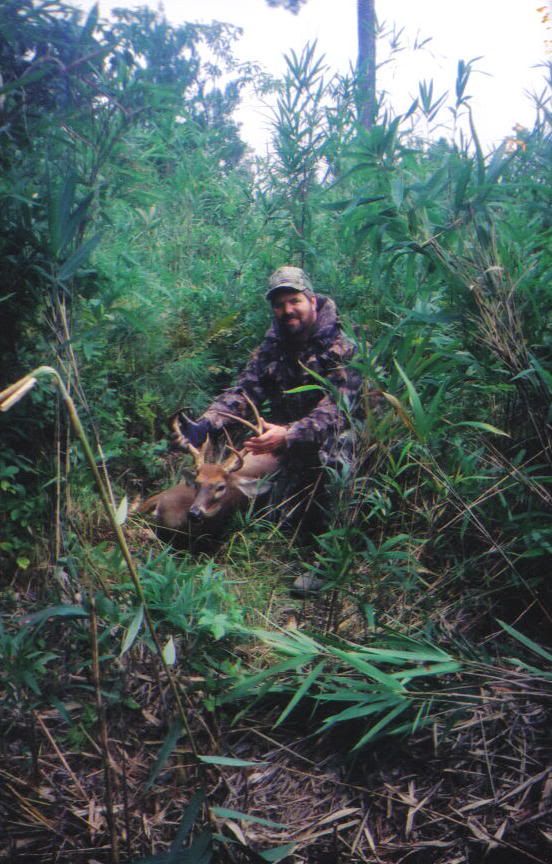 The hunts will be conducted as follows:
2 hunts per day total of 10 hours stand time unless you opt to sit daylight to dark no exceptions and no wandering around the woods. If you are the type whos just got to get down walk around and go see whats over yonder, dont even reply. We will not tolerate hunt interferance by wandering hunters whatsoever.
Each hunter will be given a 100 + acre area with several pre scouted ( by myself ) pre hung loc on, climber. or ladder stand set ups. I am setting each of these stands up based on my scouting and personal observations about deer movement on the property. Each will be designed to archery kill and each area will have ample wind alternatives to insure quality time on stand. Hunters will rotate one time during the hunt. In other words you will be promised at least 8 precisely scouted bowstand options during a three day hunt.
I will take you within reasonable distance of the hunt area and pick up as well as perform the usual tracking ,dragging, and field care of your deer.
Another typical example of a 3.5 year old Lynches River Buck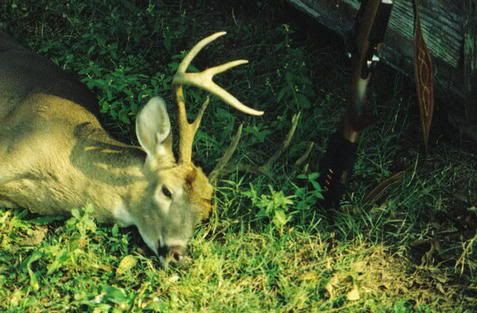 The hunt does not include meals, lodging, liscense.
processing and packing available at an additional charge, cleaning facilties/cold game storage provided.
This hunt will be $500.00 per bow hunter with a 50% non refundable deposit due by August 15 06
1 buck **see restrictions**
1 doe
restrictions
$200.00 kill fee for bucks under 15 inches outside spread
Our management goal is to take only 3.5 year old or better bucks of any point configuration over the next 15 years.
If you tag out early additional animals may be hunted:
hogs available for an additional kill fee of $200.00
doe available for an additional kill fee of $150.00
buck available for an additional kill fee of $350.00
****note**** extra bucks and does as well as hogs will be hunted on an alternative property of similar quality and layout within reasonable distance of property.
Please respond by pm or directly to this post
John Coit
http://www.americasoutdoorsman.com