Well, another vacation home has come and, as usual, gone all too quickly. This one was a little more grand than usual, due to our fly-in trip to Beaver Lodge on Lower Foster Lake. The short version of what will probably turn out to be a very long report is that we experienced the full spectrum of northern Saskatchewan fishing – the good and bad: We had days when we caught walleye and lakers as fast as you could drop a jig, and some days we spent 6 fruitless hours trolling when even the snot rockets turned up their noses at our lures. We both caught new Personal Bests and some days caught fish so small you had to wonder how they managed to fit the lure in their tiny mouths. We were alternately blown off the lake by howling cold wind and rain and suffered through oppressively hot still days that sucked every ounce of energy. We were chased by severe T storms, swarmed by mosquitoes and horse flies and in other cases were shocked to find some lakes completely bug free. We had awesome meals and fantastic shore lunches and others we ate "boiled lasanga" and wieners heated on a fork over the element of a propane stove.
We ate, we slept, we drank…and yes, we caught fish. It was heaven.
We arrived in Sask on 24 Jun, and spent the day getting caught up with mom. The next day we had planned to fish the Sask River at Nipawin however when we woke to ominous black clouds and screaming winds we quickly decided that a run up the river could wait for a nicer day. So we decided to spend the day cruising around visiting and strolling down memory lane. We stopped at the Thunder Rapids power station outside town, where my grandpa used to take me fishing on Sunday afternoons. The fishing there was never very great, but in those days it was definitely the highest percentage spot where a kid could catch something from shore – even if the something more often than not was a little snot rocket or goldeye.
Mostly for old times sake, we decided to throw in a line. Three casts later Kelly lets out a shriek and followed by a big splash. It seems she had been watching the antics of the pelicans when a 30" pike took a swipe at her spoon as she lifted it from the water. Fortunately the pike was faster than she was and we had our first fish of the trip. Not only that, but as we quickly discovered the fishing at Thunder Rapids had improved considerably in since I left. Over the next hour we landed 6 pike from 27 – 31".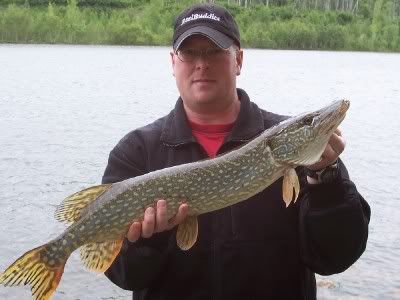 Just as the action slowed the clouds finally opened up so we packed it in. Later, after the rain ended we went back out trout fishing at MacDougal Creek.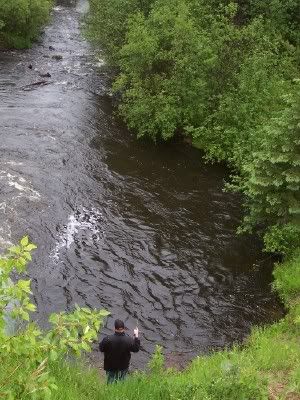 This picturesque little stream has is known for its healthy population of small but eager brookies (and also for a man-eating bear that caused the "disappearance" of 3 campers in 1985 before its fourth victim killed it with a filleting knife when he was attacked while fishing- the story made it into Field and Stream special regarding bear attacks). Fortunately it lived up to its first reputation, not the latter and we bagged 6 scrappy little brookies before the mosquitoes convinced us we'd had enough fun for one day.
The next afternoon it was time to head up to Missinipe. We had a very comfortable night in a motel including a meal of BBQ`d hotdogs purchased from the local store for $30 (next time, just order cheeseburgers at the restaurant) and then sat back and enjoyed the view from our lakeshore motel room.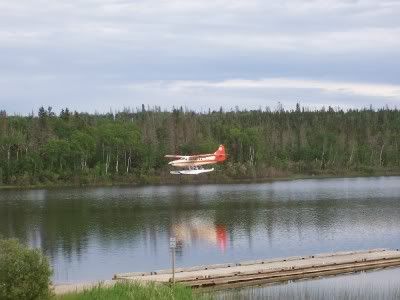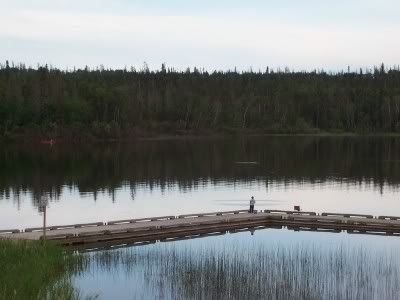 I slept like a 6year old on Christmas eve – and finally, bright and early the next morning we were at the waterdrome for the flight into Lower Foster.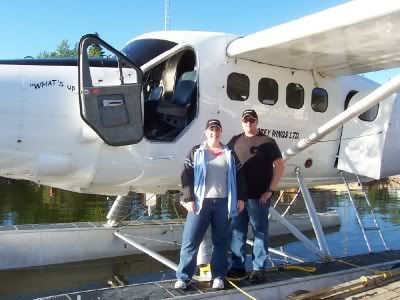 At Lower Foster Randy, the owner, met us at the plane with the news that due to a cancellation, Kelly and I had the entire lodge to ourselves. Sweet!!! He also informed us that the lakers were biting like crazy and after feeding us an awesome breakfast sent us out to try our luck. We started off trolling heavy Len Thompson spoons across a narrow 25`shelf. 20 minutes passed – nothing…then something tried to rip the rod out of my hand and is gone in the blink of an eye. A minute later one took a swipe at Kelly`s lure but missed. We were on full alert, finally another violent strike and I had my first laker: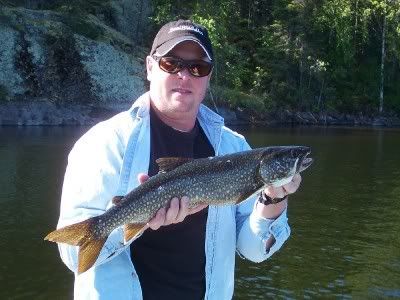 A couple minutes later it was Kelly`s turn.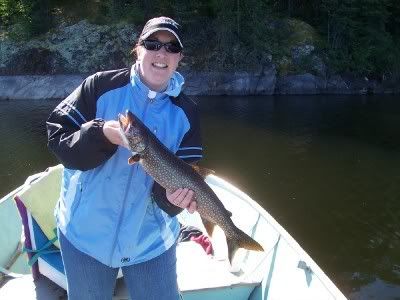 We spent the next hour trolling back and forth along the rock walls, and after a while by keeping track of the strikes and fish we caught focussed in on two or three key spots where the fish seemed concentrated. So we switched to jigging – holy crap!!! I had always imagined lakers as some shy, elusive fish that had to be coaxed into hitting through precision trolling and careful bait selection – not these fish. If you didn't get a strike within 30 sec of dropping your bait we soon learned it probably meant one had stole your minnow on the way down, and often when you reeled up to check one or two would chase your bare jig head up right out of the water. It was some of the fastest fishing for any species I've ever experienced. Getting them in the boat on barbless hooks took some getting used to, but we had lots of practice and caught on quick.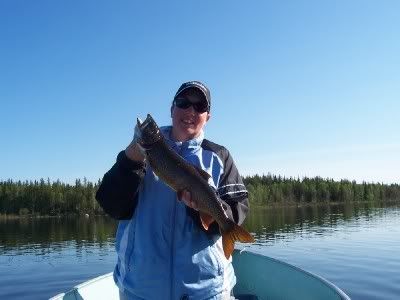 After a couple hours of this, we decided to switch and try for pike – the laker fishing was just too easy. As we were reeling up to move into a bay for pike a fish grabs Kelly's line. Right away we can tell it`s a solid fish, when suddenly it just swims away with the bait. Hmmm – might be a good time to break out the cradle, just in case. Good thing – after several more long runs the fish is alongside and in the cradle. Yep – definitely time to switch to pike…
As it turned out, we probably should have stuck with the lakers, as aside from Kelly's 38" caught while jigging for lakers, we only managed a single snot rocket. The bays were full of pike – in the clear water they could be seen everywhere. But they had absolutely no interest in biting anything. At 6pm we headed in for supper, and after a awesome meal, and little sleep the night before we decided to quit while we were ahead and relax for the evening. Thus ended day 1.
Day two began with a knock on our door at 0630 for 0700 breakfast. After breaky we were off fishing again. Today, we were after pike. Randy suggested a couple prime spots – and he knew his stuff. Every spot he recommended was full of pike. Same as the day previous though – finding them and hooking them was two different things. Kelly managed 10, and me 2 which anywhere else would have been ok but it was marred by the frustration watching hundreds utterly ignore everything – even a minnow dangling right in front of their nose could not entice these fish to bite. At 1230 we met Randy and Paul at "Shore Lunch Island".
After shore lunch we went exploring more pike water. It was the same story – we saw scads of them – big huge brutes too but they just would not bite. After a few more frustrating hours in the blazing sun we gave up and went back to lakers. We stopped just outside the arm where the lodge was located and nailed 4 in less than 30 minutes, but noticed that they were smaller, and deeper than the previous day. Trolling was no longer an option as we had no downriggers and could only jig. These fish were at 32-35 ft.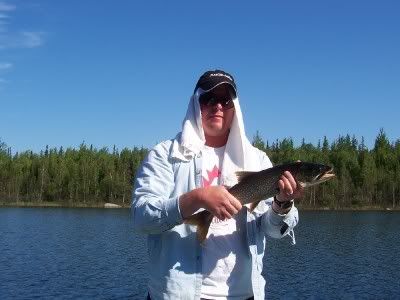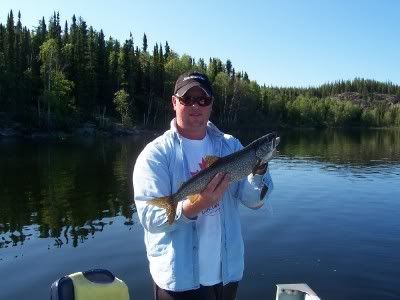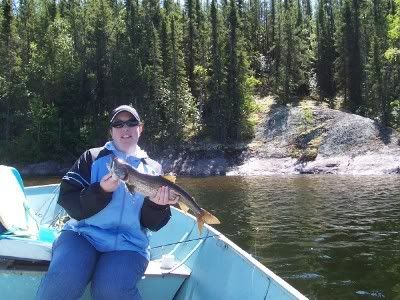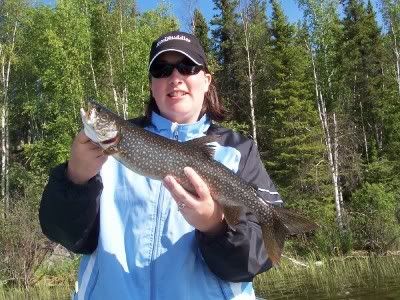 The next morning was our last day at Lower Foster. We started the morning off trying for lakers, having given up on pike. As had been the case the previous day the fish were willing, but noticeably deeper and getting down to them, even with jigs was difficult as the gentle breeze was steadily growing so we ended up slow trolling whether we wanted to or not. We still managed a few fish, and I'm certain if we had proper gear we would have slayed them as we had the previous days.
After lunch the wind was becoming a real issue. Laker fishing was simply not an option anymore so we ended up chasing pike. We had reasonable success for numbers, but no big ones at all. Most of the fish caught came in ones and twos from small weed patches, rather than the larger bays. It was fun, but at the same time disappointing as we had both been looking forward to tangling with some real gators.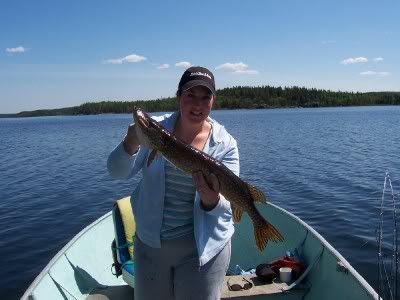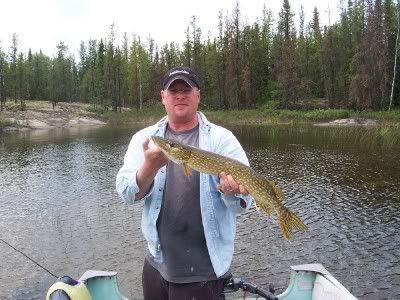 The next morning our wake up call came early – a system was moving through the area and our flight to Pine Island Lodge was coming in early to try and avoid the worst of the weather. The wind was already howling through the pines around the camp, and the usually placid bay where the lodge sat had some serious chop already. Randy told us the main lake outside the arm had 3ft rollers and building.
We were just clearing away breakfast when our ride arrived, and a few minutes later we were airborne again. This ride was much more exciting than the flight in. The screaming wind slammed the plane around the sky and we were very thankful that Randy had ordered an Otter to fly us along with a load of his gear out. This was confirmed when we arrived at Pine Island Lodge and watched a Beaver struggle to get up on plane for takeoff in the pounding surf. 3ft swell, screaming wind and pouring rain greeted us at Pine Island, so we decided to sit out the morning. Robin, our guide didn't have any objections. At noon it was a little quieter so after lunch we headed out. Robin assured us that the pike here were definitely biting, so we decided to tackle them first. Actually, there wasn't much choice as although it was calmer than the morning, there was no chance of us sitting on a point or break line in that surf.
Pine Island Lodge is located on Black Bear Island Lake, part of the Churchill River system. Fishing the Churchill had been a life-long dream of mine, so I was really excited about this trip. Guides are a necessity, not so much to find the fish, but to ensure that you don't come sailing around a riverbend into something like this - or worse: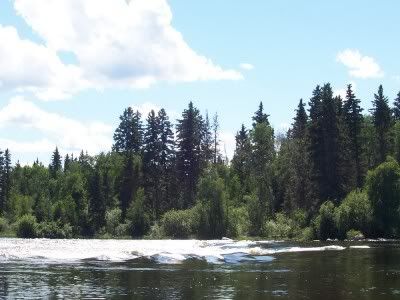 Robin certainly proved his worth as a guide. We'd cruise through a bay or weed line once, and if there were no big fish caught, we were off to the next one. Before heading out Robin took a quick look in our tackle box and pointed to a lure – "that works pretty good here". But I didn't want to use that one – I had magnum skitter props and Musky spinner baits and buck tails, 10inch cranks and ruby wobblers…I had spent $300 on tackle just for pike and was not going to use that stupid thing. So I threw nearly everything in the box while Kelly stuck with the guide's pick. We tried several bays before we even managed a strike, and I was starting to wonder what was wrong with the pike in northern SK. Kelly finally hooked a very fat 30 ìncher, and I immediately knew that we had the right guide when Robin muttered something about "f---king little ones" before releasing it without a chance for a photo. The next bay we found out why he was so unimpressed with a 30" when she landed this 35" fattie: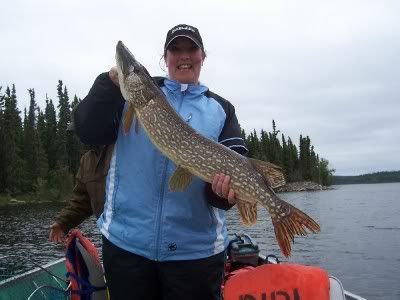 And then from the same bay, a few minutes later, she cracked the 40" mark: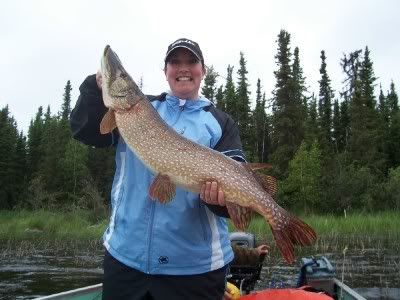 Now we were catching – or at least Kelly was catching. I was still giving my fancy lures a good washing, and every so often catching a scrappy little snot rocket. Half an hour later, Kelly's into another big fish (34").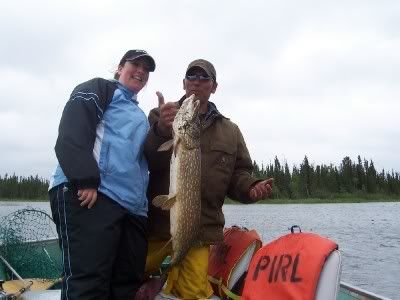 This one was a nasty SOB – once hooked it literally buried itself in the mud and silt of the bay but Kelly did a super job and landed it. Once in the boat the fish wasn`t done being an a - hole and actually bit Robin. Milliseconds after this photo the fish was unceremoniously dumped back into the water.
Finally, I swallowed my pride and tied on the lure suggested by the guide. And in the very next bay – it was my turn (34"):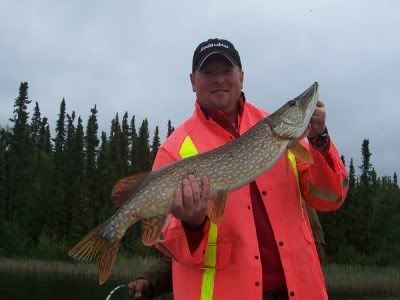 Three casts later a 35"…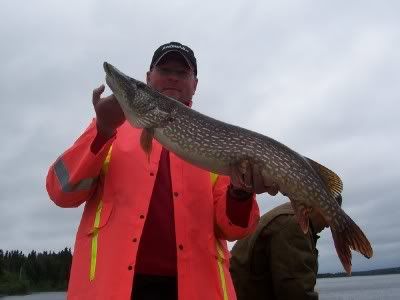 After that, we were finished for the evening (Guides are only paid to work until 5pm, but Robin stayed until 6 since we lost the morning due to weather). It was a great day, and after another awesome meal we settled into our cabin for the evening.
The next day was our last. At 0800 we met Robin at the dock and were off in search of walleye. Once again Robin recommended suggested a particular lure which had been working well, and unlike the previous day I was smart enough to try it right from the get-go. As had been the case for pike it took a few tries to find the sweet spot, but eventually Robin had us on the fish: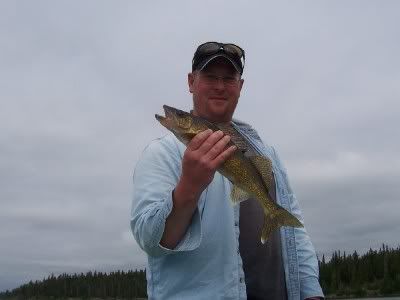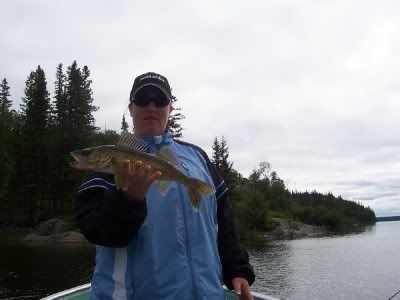 It was impossible to count how many 3lbers we landed. We ran out of minnows and switched to curly tails – the fish didn`t seem to care, in fact if anything they got bigger: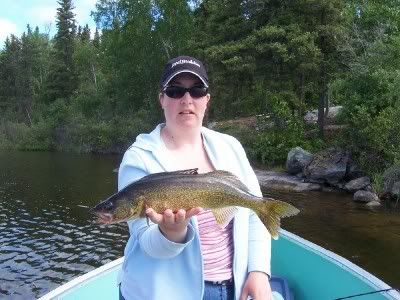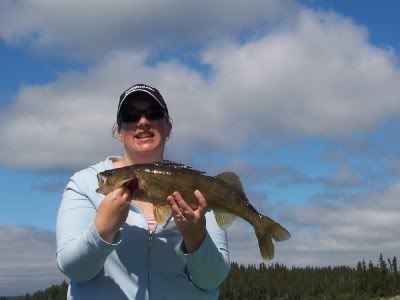 Along the way there were a few pleasant surprises too…
(35" – 10lb test, no leader)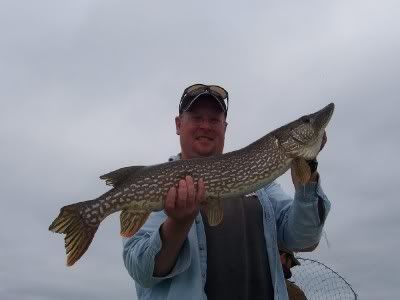 (38" – a new PB and my biggest of the trip)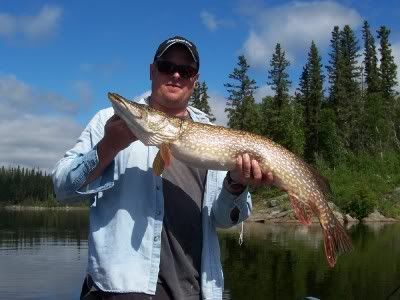 Of course, no bush trip is complete without shore lunch: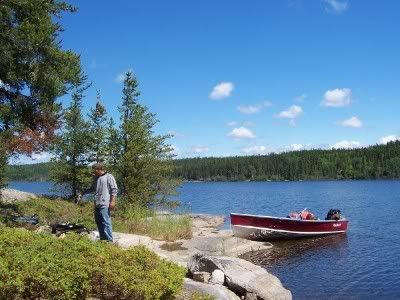 After lunch, the sun appeared and before long it was becoming uncomfortably hot under the blazing sun. Since we had a plane to catch at 5, and we had easily exceeded our expectations so once again it was time to quit while we were ahead. We told Robin we'd had enough fun and asked him to take the scenic route home. As usual, he did not disappoint: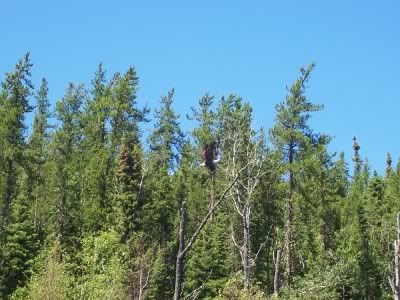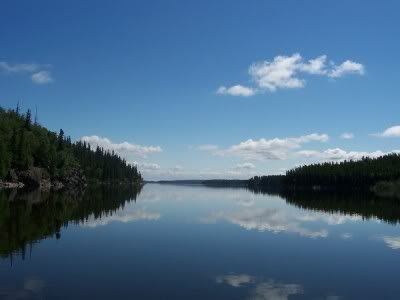 So – I know you`re all curious about what exactly were these mysterious, guide recommended lures were. So in the spirit of cooperation, I give you the Robin-approved secret lures of Black Bear Island Lake: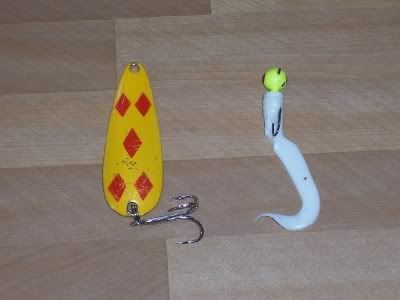 (Robin actually recommended a yellow curly tail after we ran out of minnows, but I didn`t have any yellow so white was his next choice)
Our trip was winding down, but we had one more little adventure yet. My all time favourite fishing spot is Jan Lake and although the fishing definitely has been "affected" by commercial operations I still love being there. This was actually supposed to be a business trip as I had plans to discuss buying the convenience store and campground there for life after the Navy, but unfortunately they had already sold earlier this spring. Damn! Nothing to do but fish. This was max-relax fishing – no early mornings – we got up when we woke up and headed out when we felt like it. It was just as well. The fishing was the worst I had ever seen at Jan. Walleye were all but non existent and the pike, although plentiful were puny little runts. Everyone was having a tough go at it. We did better than most by actually catching some fish every time we went out, even though only two were eating sized (which were released).
Thursday – we left Jan and headed for Saskatoon to catch the plane. While there, I got another nice surprise – the taxidermist in my home town heard I was back and bumped my job up the priority list to have it finished before I left. While at Jan he called and said my mount from last fall was finally ready. The icing on the cake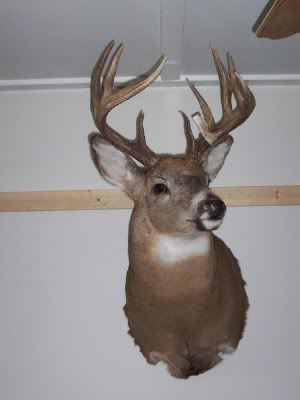 (Guess which one`s from Saskatchewan):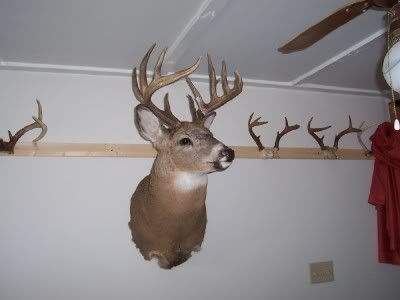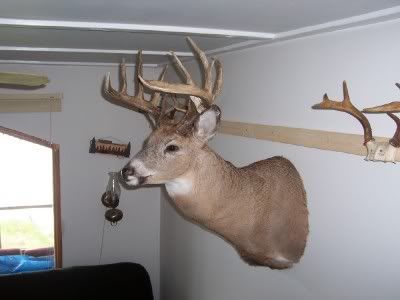 The End