Well, another one is in the books. My hunt has been over for almost a week now and reality is slowly creeping back in. It was a great year; of course any year I get to head home and hunt with my brother is a good year but this one was even better. In fact, I think this may rank as my most enjoyable hunt ever. I guess that sort of tips my hand about whether I was successful or not - I was, if you haven't guessed by now; and not only that I tagged my best buck to date (which ain't neccessarily saying all that much considering where I come from, but I'm tickled about it). So sit back, pour yourself a good one and bear with me while I officially close the books on an awesome season by reliving my hunt one last time with the you, some of finest people I've never met.
Part of the reason this hunt was so special was that it came within a hair's breadth dying a sudden death. My line of work has the annoying habit of playing havoc with my social life, and much as I try and protect my annual trips home sometimes it just isn't possible. After the initial plans were made the unexpected happened and for a few tense weeks it was looking like it was dead in the water. But, thanks to the grace of God, everything eventually worked out and after a mad scramble to book flights I was off.
Ahhh...its good to be home
(there's gotta be a Jeff Foxworthy joke or two in there somewhere)
My brother, who still more or less lives in the area had been busy scouting and this year things were looking especially promising. He had consistent images of several quality bucks on our (his) trail cams and we had been able to establish the home range of at least three, including a monster 7x8 that seemed to magically appear this year out of nowhere. Cha-ching!!!! He had done the leg work setting and checking the cams for us, and this buck wasn't running through my "traditional" hunting area so I left that bad boy (and his more than respectable companions) to him and headed into my usual haunts. A bonus gift of fresh snow made it almost too easy to establish where the main travel corridors were: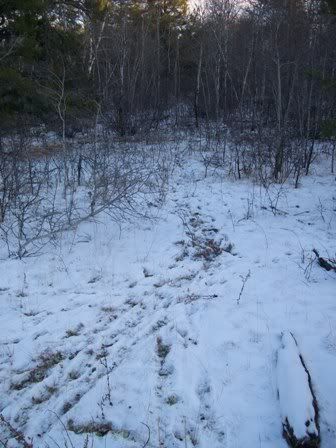 I was thrilled to see that there was no shortage of buck sign too: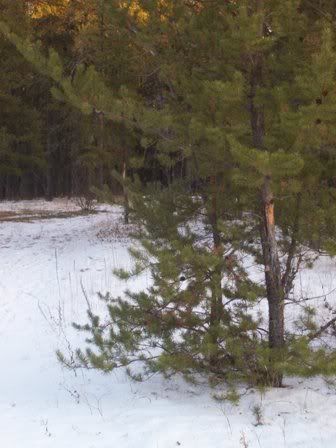 I also discovered that I wasn't the only predator in the bush this fall.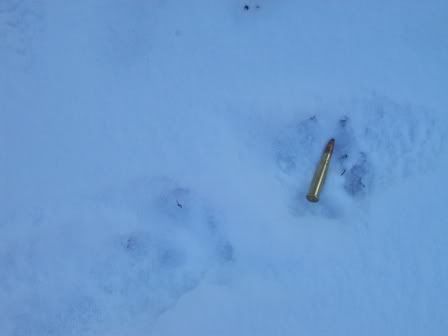 Trail cams are wonderful inventions, but NOTHING can replace good old fashioned leg work when it comes to scouting and after full day of "armed recce" I had three primary hunting spots picked out. One was my old faithful - a decades old deer trail traversing a saddle in a low ridge between two jackpine flats. I dubbed this one "the birch blind"
Spotting deer in here can be tricky as their brown hides all but disappear in the brush against the brown, sandy ground...unless there's snow :wink: .
The second was another perrenial favourite, which I hadn't actually hunted in several years, the secluded back corner of one of our hay fields.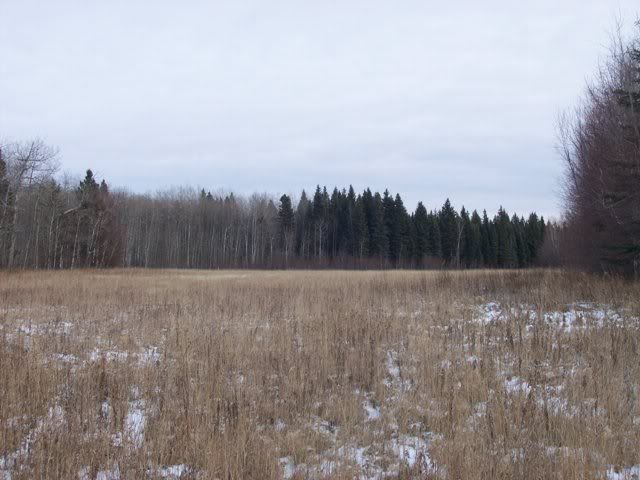 The other was near another of my old favourites, although slightly off our land and on our neighbours property. Being a local has its advantages and asking permission is more of a formality, but we did nonetheless and it was, naturally, granted. Besides, they had tagged 2 elk and a moose earlier that fall so, not suprisingly, they had decided they didn't need anymore meat.
I brushed in a ground blind in on the edge of a small clearing that was crossed by three heavily travelled trails.
I didn't see any buck activity in the immediate area, but thanks to our trail cams I knew a respectable 5X4 was holed up on our quarter less than a quarter mile away, and with the rut coming, "hunt the does" is never a bad strategy
This year I was hunting with my trusty old .303 Brit, my very first rifle that had been given to me by a neighbour when I was 15. Its officially (legally) my brother's now but its understood that when I'm home, its mine to use to avoid the hassle of travelling with a firearm. 10 rounds at an old oil can confirmed that it was still zeroed and I was set.
With the recce and sighting out of the way, I spent the last few hours of day 2 at the backfield. It was a slow night. The lack of activity produced the typical second-guessing that maybe I had read the sign all wrong - maybe deer weren't coming out to feed in this corner...there weren't tons of tracks (by local standards anyway) and the soul-piercing moan of wolf in the distance had me almost fully convinced that the deer were edgy and skittish and this might not be as easy as I thought when a lone 4x4 stepped out and started across the field. Whew! That's a relief. I watched him for a few minutes as he nonchalantly strolled across the field; he was nose-down and slightly quarter-to me, obviously checking for a hot doe track.
"What a pretty little buck" I remember thinking to myself.
Just before entering the bush on the other side he paused, lifted his head and turned to look back. The new angle revealed that my "pretty little buck" was VERY respectable 4x4; and while he did lack mass and height his rack was actually extremely wide with very long mains. Had I known, or bothered to glass him with the binos I'd have dropped him. But I didn't...and he took that last step into the bush and was gone.
Oh well, chalk one up to being stupid....or smart
The next day I hunted from the birch blind in the morning and then, at my brothers suggestion, went and sat for the evening in one of his back-up spots a few miles away. He had reported consistently seeing high numbers of does and small-medium sized bucks every time he had been there but we also had intel on a nice 5x5 in the area, although he had only see him once in late September the owner said he been spotted regularly out in the field. This wasn't exactly my style of hunting - open country and longer shots were not my thing - I like to see how close I can get but the prospect of seeing several bucks made it <ahem> somewhat easier to set aside my preferences. As advertised, there was no shortage of activity: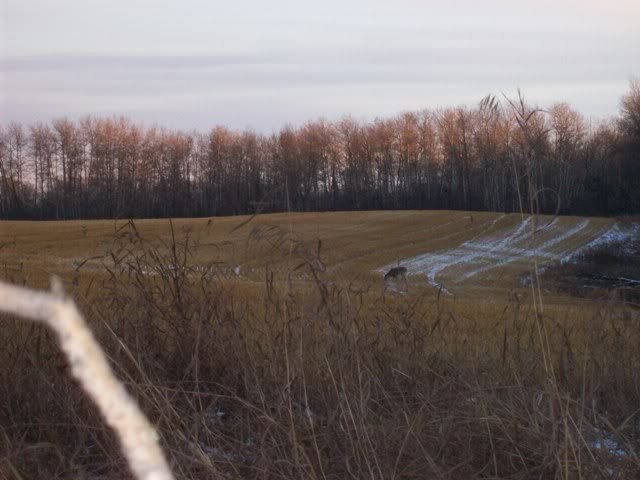 Before long I had 12 does and 4 bucks (2 mediocre 4x4s, a 3x3 and little spiker) feeding about 200-300yds in front of me. But the 5 never showed, and none were "shooters"; at least on day 2 they weren't shooters. But it was encouraging to see them all the same.
Day three I went over to my ground blind. The Sask govt has seen fit to declare that all CF members who join up from Sask are now considered residents so that gave me a doe tag along with my standard either-sex tag. The plan was to hunt the first few hours there and then head back to the birch blind for the rest of the day. The trails it overlooked led from a hay field a couple hundred yards away and the heavy traffic on the trails almost garunteed a chance to fill my anterless tag, without compromising the birch blind which had tons of buck sign. Plus it was ideal for a morning hunt. I settled in in the dark and waited for shooting light. The first sign of life was not a deer but the resident squirrel who was decidedly unhappy about my trespassing under "his" tree and made it very clear I was NOT welcome.
Right on schedule, about an hour after sunrise I heard the thump of hooves and snapping of branches that signalled the does were heading back from the field. Cool as a cucumber, I got ready. It was absolutely classic...the trees surronding the middle trail shiverred as they paused before stepping into the clearing...then....ANTLERS...BIG ANTLERS...its a BUCK...a HUGE BUCK. He strode quickly across the clearing, almost trotting, and my rifle swung with him trying to settle on his shoulder and THUNK! slammed into the trunk of the tree my blind was hiding behind. The buck locked up the brakes and stared straight at me, barely 20 yds away. I like to get close, well...I had my wish only I somehow had to manouevre my rifle around to the other side of the tree to get a shot. "Lord, 'need a little help here"
After an eternity, he turned his head and I thought "its now or never, three more steps and he's gone". I switched to the other side found his shoulder in the scope and fired. He was off like a flash, like I never touched him. There was no crash of a falling buck, just the sound of his running full speed through the bush and then nothing.
It wasn't possible to miss at that range...was it?
I crawled out of my blind and found his tracks, they were hard to miss...and after a minute or two of searching...a tiny drop of blood. Thank God for snow. I waited a little more and then heard it, a single gurgling cough from deep in the bush. I had hit his lungs (at that range, I should hope so) and he was down. A few more minutes just to be sure and I started down his trail. There was very little blood but a buck that big running through snow leaves a trail a blind man could follow. 50yds later, he was all mine: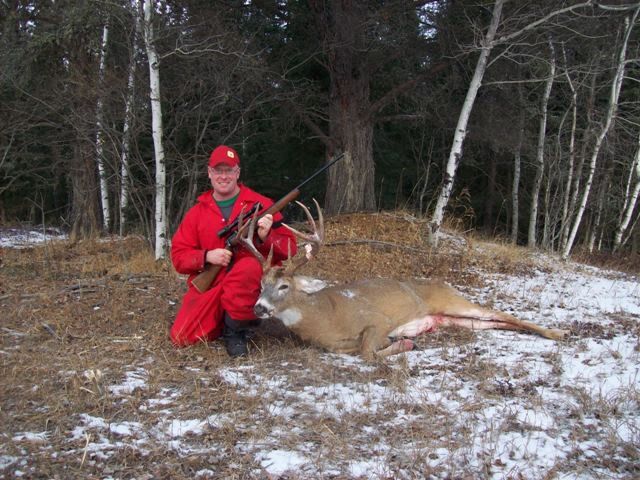 0815 on day 3 and it was all over.
Of course I still had my doe tag, but after that the thought of shooting a doe was decidedly anti-climatic, and since I couldn't bring the meat back anyway (my brother takes it when I tag one at home) why bother. He already had mine plus 2 tags of his own.
After dropping him off at the butcher I dropped the cape and antlers at the local taxidermist. My wife is very understanding about my hunting obsession (she's provided most of my best hunting gear as birthday and Christmas gifts) and graciously acquiesed to me having my first good buck mounted; but has made it clear that she isn't a fan of having a house full of dead animals. I do have standing permission to get my first +160 and any B&C class shoulder mounted but everything else is a horn mount.
Luc does a real sharp job of them (my brother has several), and I usually look for an excuse to go hang out at his shop: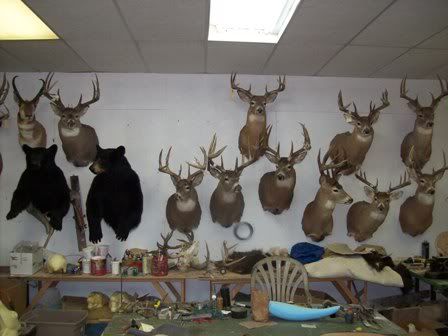 I can't wait to bring him home when I come back in June.
So that's it. I have to thank God, my wife and especially my brother for making this all possible. I can't wait for next season...now that I'm a resident I'm eligible for the elk draw.