Unfortunately I don't have any hunting stories of my own this year, so I'm reduced to relaying second hand tales of glory from my brothers hunt back home....
Don's Hunting Story
I went hunting with a former co-worker (Trippett) this year. The first few days we spent mostly looking around. We saw a few small bucks (3x3's to small 4x4's) but weren't in a hurry to shoot anything.
After the first 3 days had passed we started taking the hunting a bit more serious. In the mornings and evenings Trippett was sitting on the edge of a small field (smaller than a football field) on the trail in the bush between the Doyle homestead (straight west and a bit north of our farm) and the T intersection by the hay lease. I sat in my blind on a deer trail between Trippett's spot and Doyle's yard.
I tried some grunting with my new grunt call and before too long I could hear some rustling in the bushes. I could hear a deer walking straight west of me but could not see it. I finally got a bit of a glimpse but it was coming around to down wind of me (south east wind) and then left to the north to wards Trippett (who was ~ 400 yds northwest of me).
Shortly after that Trippett heard some rustling in the bushes behind him (east). He was sitting in the bush on the edge of the small field facing west. He looked around slowly and saw a buck with 3x3 to 4x4 horns. He tried to turn around slowly but it started to move away to the east out of sight. By now it was nearing 09:30 when we meet back up at the old Doyle homestead so he walked north into the open field and then east to the homestead. He saw the same buck on the edge of Doyle's field straight east of where he was originally sitting but didn't shoot at it. We didn't see much of anything the rest of that day.
The next day we were only able to come out in the afternoon so we decided to try out Merv's quarter together. As we drove into the field we saw a few deer run into the bush where we used to cut firewood from the west. The wind was from the northwest so decided to set up at the edge of the quarter just south of the old firewood spot to try and call something out. I ducked down in the willows right at the east end of that old windrow made out of all the roots we used to pick. Trippett hid behind a bale (looking north) in the edge of the real bush 40 yds straight east of me.
I waited 5 minutes to let things quiet down and started grunting. Shortly after I heard this noise coming from Trippett's way and thought, "what's he making so much noise for!" I stuck my head up out of the tall grass and saw Trippett spin around and duck right down looking back into the bush to the east. From the bush we could hear this god awful snorting and thrashing and having never heard a buck do that before we didn't know what to think. I was fully expecting some big bull elk to come crashing out of there wanting to kill us - but what the heck we got guns right?!
So I called a bit more. I even gave it my best doe estrous bleat (I had been practicing that so hard before) but the thing just stayed back in the bush snorting and thrashing and sounding real pissed off. It lasted for about 10 minutes and then it left. We never did see it. Trippett figures it was as close as 30 ft from him (downwind too) which might suggest why it wouldn't come out.
An uneventful day or two later, I dropped Trippett off at the Doyle homestead and decided to drive back around on the road to check out the hay lease. As I was heading the mile west this monster buck runs across the road in front of me from Dick McKay's heading north. His main beam and last tines stuck out past his nose! I raced around to uncle Terry's and roared part way across the field to where I thought he might come across and there he came, hard as he could go, 200 yds, Bang! Bang! Bang! - missed!
I drove north to the edge of Willy's to see if I could find him. I poked my head inside some of the little bluffs to see if he was played out and hiding but no luck. When I met Trippett he had heard a buck grunting in the bush near him and then three gun shots but nothing after that – Sorry Trippett.
The Next morning, it's Trippett's last day to hunt and he wants to leave town around 'noon so it's last chance hunting now. We leave town in the dark and the new falling snow to reach our spots before light. Our plan was for Trippett to sit at his little field again and I was going to go to Merv's where I had set up my blind the day before.
I walked across Merv's in the near darkness scoping the field every so often to make sure I wasn't chasing them into the bush on my way. I sat in my blind until full light but with the fresh falling snow I was too antsy to just go sit there any longer. So I walked around the back side of Merv's looking for tracks in the snow. There wasn't a single track on the whole back half of Merv's. I went back to meet Trippett at the Doyle homestead and to tell him that the deer rapture must have happened but here he had shot one! No kidding! A little 4x4 but very respectable and it looked a lot tastier than the tag soup I was gonna get!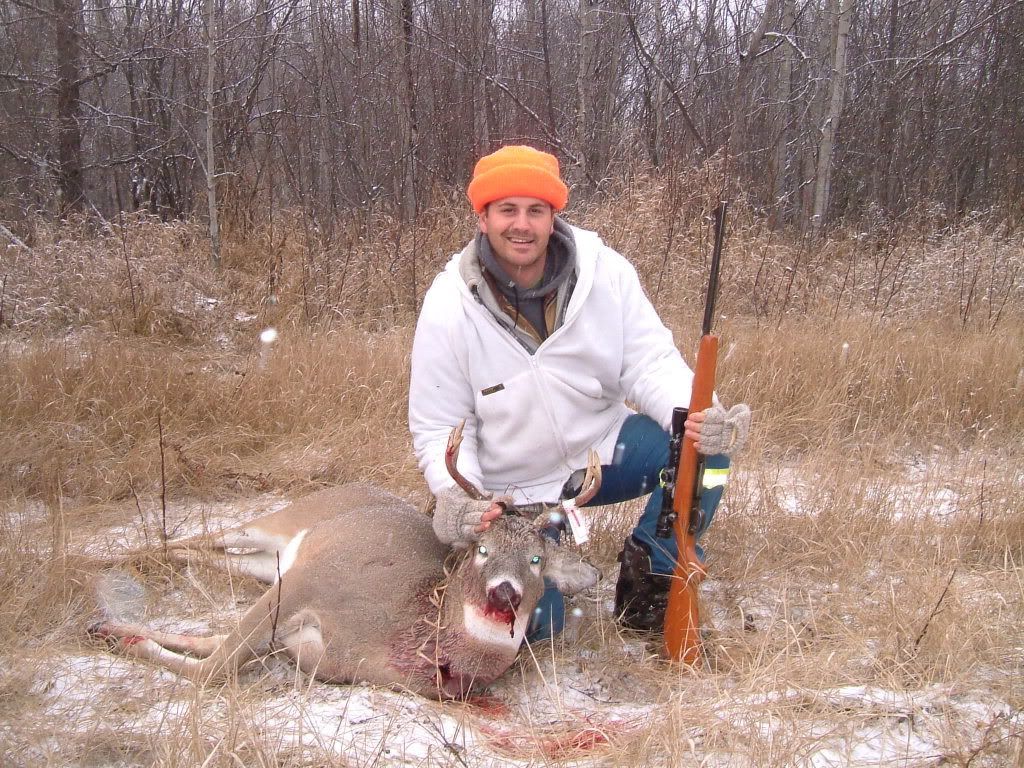 So we gutted it and took it to Terry's. We stuck the head in a garbage bag for Trippett to take home to his wife and off he went. He left in a blizzard, at noon as planned, after a successful Northeast Saskatchewan whitetail hunt. So now I'm on the phone begging my wife to come to Nipawin to visit some family for the long weekend or else my hunting trip is over cause Mom has to work and can't look after the kids during the day anymore – and she came!
The next morning the blizzard had ended as 4 inches of fresh snow and 10 less degrees and it's deer time! I had decided, due to the fresh snow and cold, to try the hay lease / Willy's first thing and if still nothing I would pick up my blind and set it up in the bush north of Merv's for the rest of the weekend. I was armed with my grunt call, some sent sticks and some tiny 3x3 antlers for rattling that I borrowed from Chriss' uncle Andy. I stopped 4 miles north of town to check the wind and it was from the south. I decided instead of driving chasing the dear off of Willy's and the hay lease with the headlights I would drive around by the Doyle homestead and through the trail to the T intersection.
I started walking south slow and quiet. I scoped the first couple openings on Willy's and then looked across the hay lease but no deer. I walked a bit further until I could see across Willy's to Uncle Terry's and I could see a few deer way out in the field walking north. I backed up a few steps so that I was out of sight behind some of the little bluffs on Willy's and stepped into the field. I walked around the hidden side of the first little bluff and then climbed inside where I could see across the field from inside the bluff. I scoped the deer and saw 3 does out in the field and a doe and a buck nearing the first windrow of trees (all heading north). I let out three quick grunts and waited. The buck and doe stepped out of the north side of the windrow. I grunted again and the buck looked up. I gave my new antlers a little tickle and the buck started walking towards me. I rattled and grunted once more but then stopped so that he wouldn't pick me out. He looked really nice in the scope his spread wider than his ears and I counted five on one side for sure. He came to within 120 yds but then (having heard nothing) turned north again and I shot him.
He turned out to be a 5x5 with one pimple of a 6th on one side but short tines. One of his G2's was broken off from fighting to which won't help the score. Terry figures about 120's only now that the one tine is missing. He looks nice in the pictures though and it was really cool to see him turn and come when I called. Now I'm really stoked for next year!
Quote:
Now I'm really stoked for next year!
So am I!!!!