Headed to the farm this morning to run a couple of test projects.
First project was a continuation of the Super Powder testing. and the Second was to confirm FG's findings about shooting with Rain Gear on the muzzle of the gun, which I must tell you I did not really believe his test and I still not sold on my test - I will have to repeat the test.
Test One.... I was set to compare velocities and accuracy of the three powders being tested. Jim Shockey Gold Super Powder, Triple Seven-2f, and BH-209. I chose to use a Knight DISC Extreme 50 MHC for the test rifle, it was out on the counter so I took it. What I forgot was the trigger pull was way to soft for me and after shooting my normal 3# pull triggers get use to the 2.3-4# of the MHC did take some getting use. As usual the wind was blowing well at the farm, easily 7-10 mph right across the target - right to left. But, I can not control that so the shooting went on. Another thing that I now need to agree with Tom on, shooting a Leupold 3x9 Ultimate Slam with the reticule they use is kinda difficult on targets. The circle-dot combination they use really covers a bunch of the triangle bull... It is a great reticule for hunting but I would choose something different for target shooting. To start the testing off, i will start with a picture that I took last week of the Super Powder. Just for drill last week I opened the powder just see what might be happening, you all should remember the power was opened and tested last month also. I was disappointed in what I saw... but I guess it is just an illness that APP has....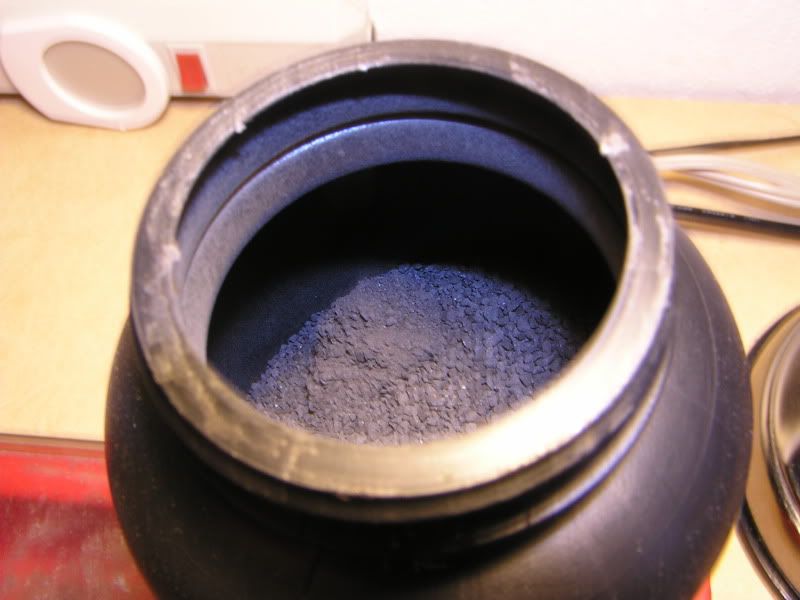 This jug had been resealed after shooting last time. The extra bottle sealed had even been flipped over, installed in the lid and the lid screwed tightly to the bottle. But as you see - a lump was already forming. I put the lid back on and rolled the powder on the tail gate and the lump broke up very easily... Today when I got to the farm, I opened the bottle again and guess what...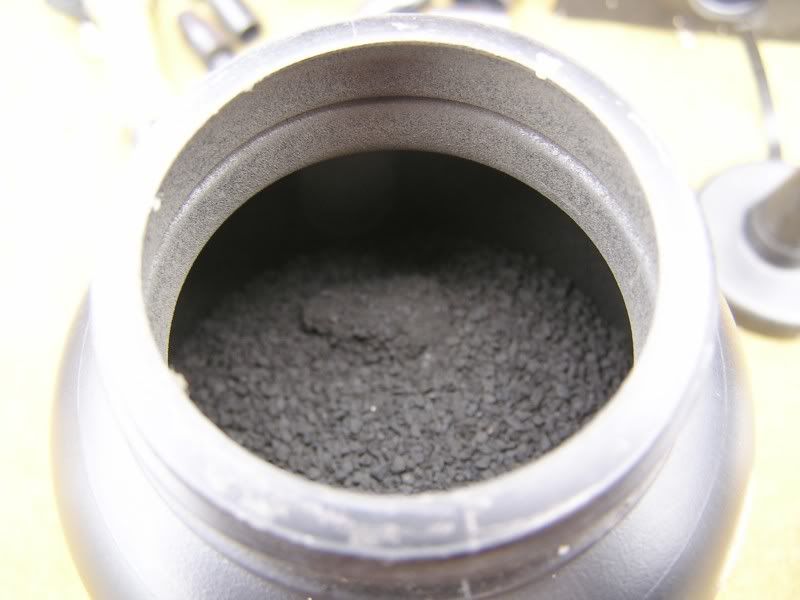 Another lump... I touched it with the volume measure and it broke up very easily. Also I saw that there were now two packages of dryer in the bottle - I had seen one on the original test but had not seen a second one until today. Here is my impression of the Super Powder. I firmly believe that this Super Powder is more lively than any of the older App powders. I was looking for some of my old information from the old days when i was shooting APP but I could not find anything. My first shot this morning with 100 grains of SP and a 250 grain Seer Gold Dot recorded 1881 fps and at that time I thought - that is darn good for an APP. The following shots stayed right in that range. I remember thinking wow! that might be right at T7 velocities. The second powder shot was T7 the first shot with T7 clocked 1931... and my faith in SP moved back down a notch - but really it should not have 1850+ fps is really not that bad for a 100 grains. The last powder shot was BH-209... Here is this morning target... One thing the target does not show. The only primer used was a Winchester T7 primer.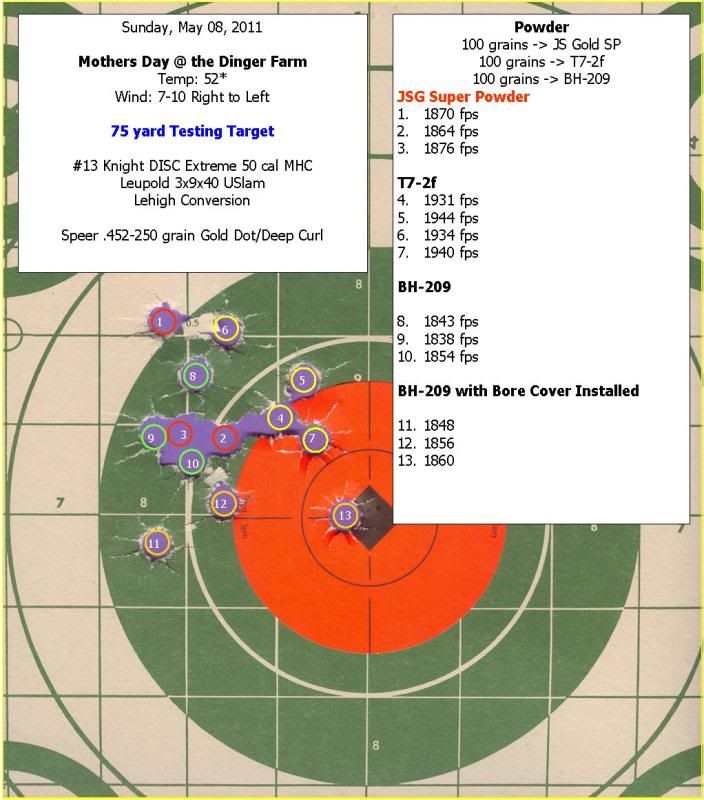 Keep a couple of things in mind... Shot #1 was from a clean bore with primer fouling only... Shots 2 & 3 laid right in there and the Super Powder scored a couple of more points with me. Also no sign of anything that might be thought of as a 'crud ring' Shooting T7-2f... shot #6 was totally my fault along with the very light trigger pull. That is why I took shot #7 with the T7, i wanted to prove to myself again the powder is accurate. Actually I think had I taken the extra shot with the Super Powder it would have been right in the group also. And yes... there was a hint of a 'crud ring' Bh-209 was the same as I expected in the accuracy department but not the velocity that I expected... but then a 250 grain bullet really does not make BH work that hard... it gets out of the barrel to quickly and does not allow the progressive burning powder to work as efficiently as it can. Again I have to take the blame for shot #8 - actually some of the blame needs to shared with the wind and trying to keep everything steady. Some day i should buy one of those fancy gun sleds that holds everything secure for you... them basically all you have to do is pull the trigger. The last test of the day was to check FG's thought that Rain Gear on the muzzle might effect POI. I often shoot with 'Rain Gear' on the muzzle - have for several years but have never really thought or worried about POI. This small test is not enough yet for me to draw a positive conclusion, i will have to repeat it again on another outing...
Rain Gear...