Let me say first that God had His hand on this trip. There were several things that occurred that made everyone on this trip to give God ALL the Glory.
We (Tony Holeman-Co-Director and myself) went to Maine on Friday. June 8, 2007. We met our host Mike Wells, Harrold Stodder and the captain of the boat, Steve Grant. Tony and I toured the boat, so that we may prepare for our next day outing. Everything seemed to be in order and we were ready to go.
We met Jason and his mom and dad that evening. They were tired from their trip from New York, so they decided to go to bed early for the next day adventure. We went to dinner with Mike and Harrold and their wives. While we were eating Tony mentioned about a life jacket for Jason. Harrold said that he had one of those orange ones that just slip over the neck area. Tony said that it would be great if we had one of those life jackets that are water activated or CO2. Well no one had one of those types and it was to late to go find one. After eating supper Tony and I took a ride on Harrold's son-n-laws boat to check a few lobster traps. After we were through we headed to the dock. Once arriving at the dock, darkness had fallen and we were the last to leave the dock area. When Tony and I got in Mike's truck, we were heading out and Tony saw what appeared to be a fanny pack hanging on a nail. Mike Well's told Tony to get it since no one else was around and that it might have some Id in it to call whomever left it. When we opened it, to much of our surprise it was a life jacket that was CO2 activated. We all knew that it was placed there from God and thanked Him for it.
The next morning we were to meet for breakfast, then off to the boat. When we awoke we turned on the TV to see what the weather was going to be, since there was a 70% chance of rain for Sat. We saw a line of thunderstorms on radar heading right to our location. We prayed that the rain would hold off or come while we were eating breakfast. Well guess what...when the rain reached our location it disappeared. We had a light mist and it was cloudy but NO rain. We did not get any rain during our trip and the seas were smooth as glass. Again we thanked God for allowing the rain to stop.
Now with the trip:
Ya'll meet Jason. Jason is 17 years old:

Here we all are: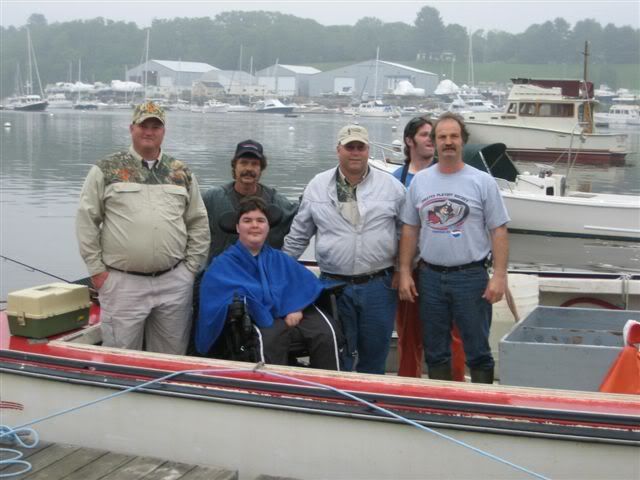 Once we got on the boat Captain Steve showed Jason and his dad Mark how to find his traps.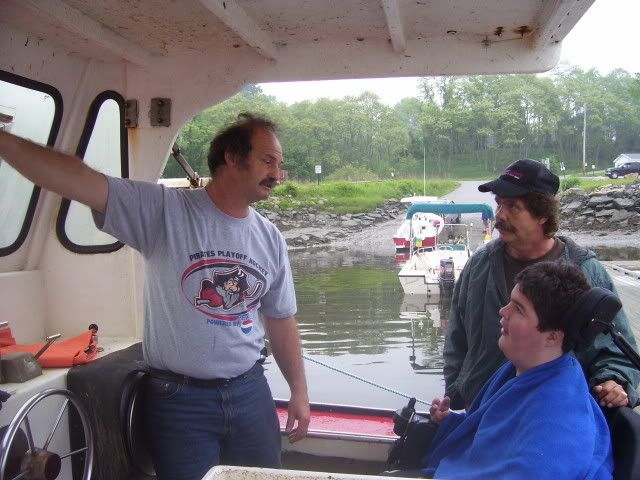 Once we got all the instructions we were off. We caught over fifty lobsters and kept around 23. We took 15 with us to cook that evening. Here are a few pics of the trip: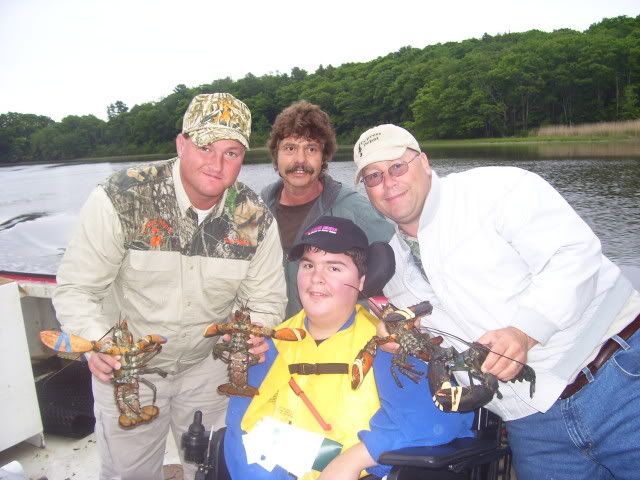 We also saw and caught other things. We saw seals and caught many star fish and weird looking fish..look at these pictures: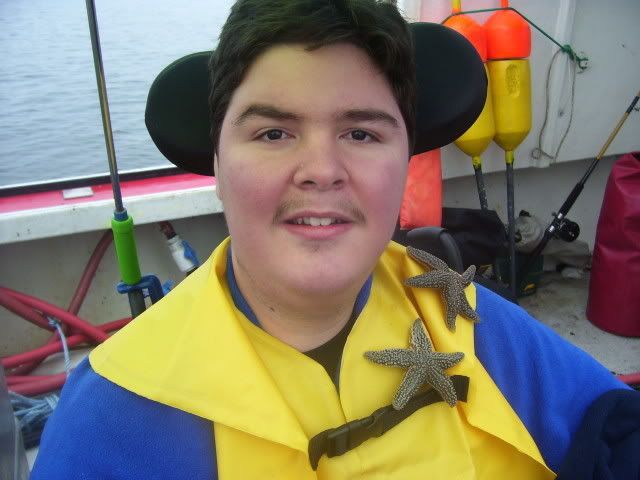 Once we got done we cooked the 15 we took with us and presented Jason with some Bass Pro T-shirts and "A Hunt Above" hat signed by everyone involved with this trip.
Here are a few pics:


Harrold cooking Moose Steaks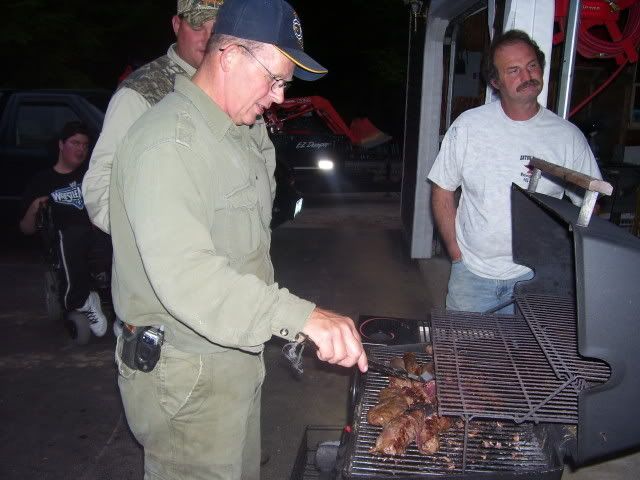 The finished product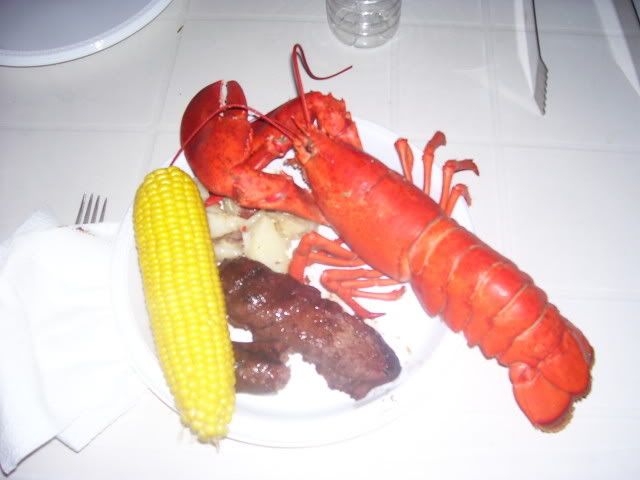 We would like to thank Mike Wells and his wife Sandy, Harrold Stodder and his wife Rose, and Captain Steve Grant for their generosity and hospitality.
Also a special thank you to Allen Smith from Wood's Tire and ATV ( http://www.woodstire.com/ ) and Gerie Gilbert from CFYC ( http://www.cfyc.net/ ) and Tony Holeman for providing funding to make this trip successful.
We also would like to thank Enterprise Rental Car and the Hampton Inn of Freeport, Maine for providing discounted rates for Jason and his family.