What may be my last weekend of this year's softwater season is now history. This whole trip actually started in Halifax, while Kelly and were pouring over our calendars arranging visit schedules and dog-swaps. It became apparently clear that between trips, courses and work my fishing season was winding down entirely too quickly. In fact I really only had one garunteed full weekend left. I wanted to get in a trip for the Pink salmon run up at Lake Huron; I wanted to hit some back lakes for fall bass; I wanted to put some Musky hours in; and I wanted one more shot at the lakers and acid-dropping bass of my buddy Paya's honey hole in Quebec.
So many fish, so little time.
Initially I opted for Pinks but the drive back from Halifax had me reconsidering whether another 7hour road trip was really what I wanted…by Fredericton I was wondering if I really wanted another road trip so soon…by Edmunston I was having serious doubt, and coming into Montreal to a major accident in the Lafontaine tunnel convinced me that I was not doing a road trip next weekend.
So I got a hold of my buddies Grant and Paya to see if they were game for a laker trip…maybe even do an overnighter. Long story short, they were and several PMs and phone calls later we were off; Paya and his posse for a day trip and Grant and I overnighting it.
We made decent time despite the NS-esque fog which really slowed things down, unloaded, launched and pulled up to the first spot just in time to see Paya land his second laker of the morning (T+30min).
"Dude, we're gonna SLAY 'em!!!" Grant giggled.
It took a while to get going but soon we were on fire. I had our first – a dinky trout that was deeply fouled in the eye which became our first keeper. And then Grant went to town on them…I have no idea how many he caught that first morning – probably well into double digits if you count "boatside releases".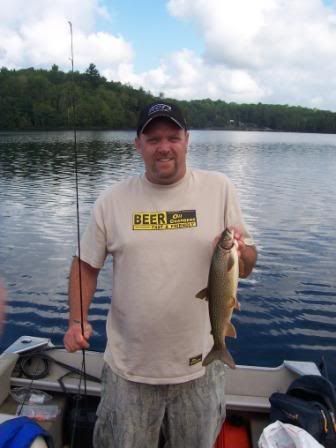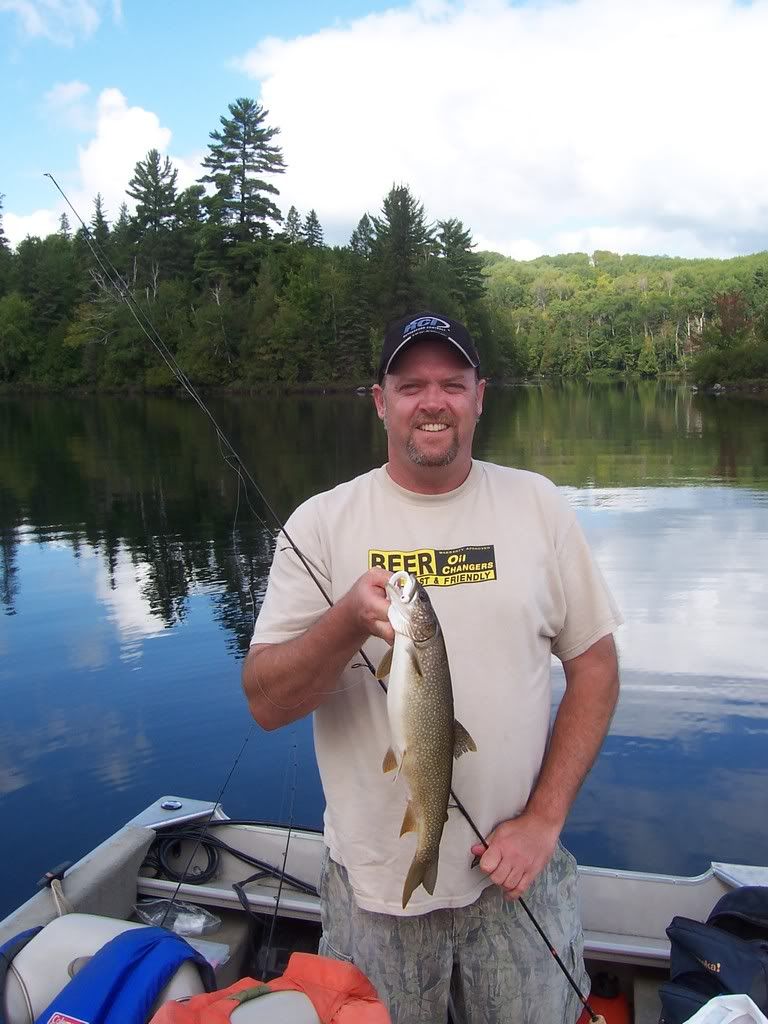 Paya and his gang had similar success.
Around noon we changed up and went looking for the Bass. These bass have a peculiar purple-orange tint, hence the name "acid bass". They certainly weren't shy either. Everything we threw was instantly mauled by a swarm of bloodthirsty 10-inchers. It was hilarious to watch them kamikaze a topwater. It was fun but quickly we were both anxious for some quality over quantity. We saw an abandoned beaver lodge with deep flooded timber and a few pads – it looked bassy so we headed for it.
Grants first cast "split the upgrights" of the first two dead-heads.
"Hey – Field Goal"
Actually, it was more like touchdown: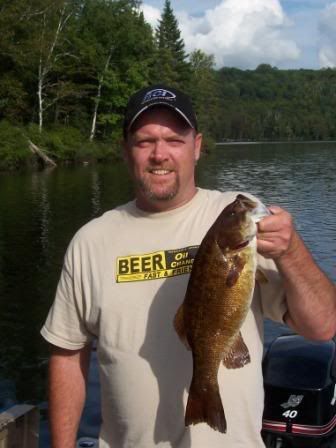 In classic smallie fashion every fish that came to the boat had a swarm following it – except these weren't dinks – these were quality fish. And let me tell you some of the followers were a bass-anglers dream. They were all aggressive. I missed a couple real solid fish only to have Grant tag them a minute or two later with his tube so I could get my senko back, (which they spit up in the net).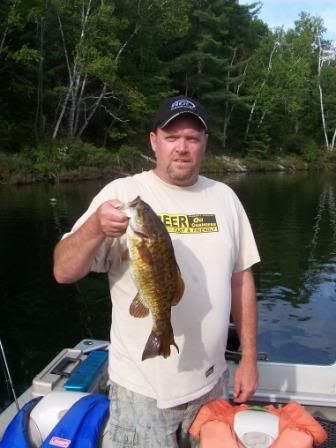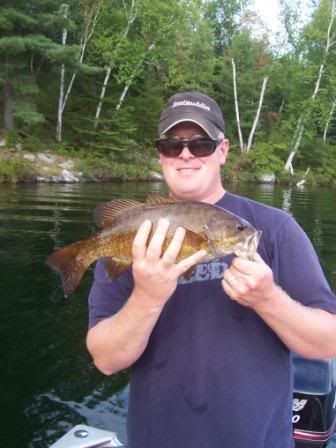 The last couple hours of the evening found us back chasing lakers. They were right where we left them and this time I got in on the carnage going 2/4 with Grant somewhere around 5 or 6.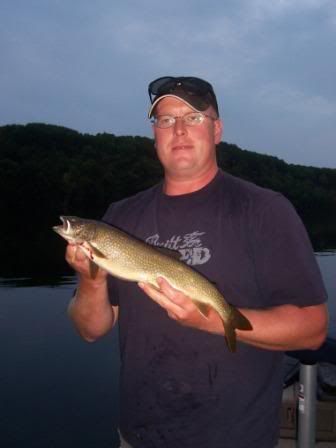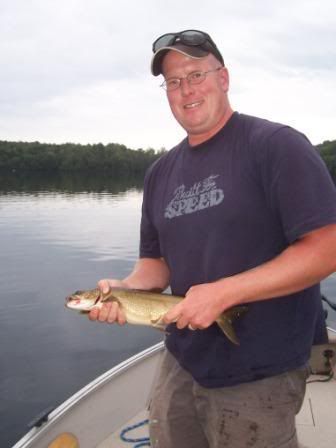 The next morning we back at it at first light chasing lakers. Once again we could do no wrong…pretty much anything heavy enough to get down to them that could be dragged or jigged would produce.
Near mid-morning though we noticed the action was slowing a bit (meaning we weren't getting a fish or two every drift). Reeled up to reset my jig, saw that everything was fine...dropped it down. And down…and down…and down…and down
Me: "Say Grant, how deep are we right now"
Grant: "About 53ft"
Me: "That's weird, something funny's going on here…"
I closed the bale on the reel and the rod instantly bent over. FISH ON
After several dogged runs I happened to catch a glimpse of a massive tail flickering below the boat before it ploughed back down deep.
"Ummm, Grant – I think I might need your help with the net, this one's rather large"
Two runs later he was mine:
SCORE!!!
Fishing rule #2 – Quit while you're ahead.
After it became obvious that there was no school of massive trout below us waiting to devour our baits we went back for another crack at the smallies. This was exclusively a quality fish. A few minutes in out of the corner of my eye I see a big explosion on Grant's topwater and his rod buckles.
Grant: "He didn't look that big…he's really spunky though…"
Well – we said we wanted 3lb bass. I guess we should have been a little more specific:
The truly big boys eluded us again today. Once again we saw some real monsters following, but they were into voyeurism and wanted nothing to do with our lures.
I did have a good sized one take a swipe at my senko as it dangled just over the boat while I was fiddling with some gear. He was on long enough to tell he would have been close to a new PB for me before spitting the lure and disappearing.
We came to the conclusion that that spot was an evening spot, and decided to head in. Since we had to pass by our favourite laker hole we couldn't resist giving it one more crack. Good call: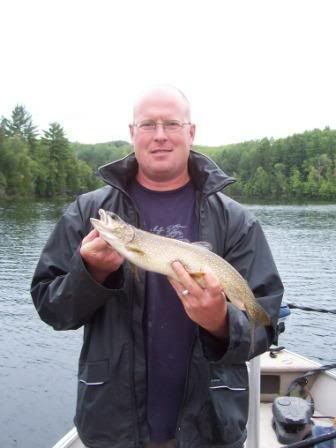 Fishing rule #3 – Always end on a high note.
So we quit and came home.