GRAND COLLECTION OF KNIVES
ALL NEW WITH SHEATHS
(Unless I print different)
MOSTLY COLLECTOR'S KNIVES
But some are affordable
ALL NEW KNIVES
Hi Guys,
I am getting old and have some medical issues, so I have to quit hunting and fishing.
So, I am cashing in my collections, and this collection of knives is presented here for your consideration.
Sorry for the potpourri of prices, I took the pictures as they come out of the safe.
The prices include shipping to your door.
NO TRADES
I NEED THE MONEY
My pay pal is
jcharles11784(at)yahoo(dot)com
It is also my e-mail, so e-mail me if you want to pay with a postal money order
It is also my gun pal account address.
All include top grain original leather sheaths
PICTURE A
# 1 Buck Custom( Laser cut deer profile) stag handle $80
#2 Browning model 65, stag handle one of 1,500 made (as marked) serial #
$200
#3 Puma White Hunter II, stag handle. Germany With serial number $110 SOLD
#4 Just another day in the woods , Italian, stag handle $70
#5 COLT, one of 1,200 (serial #) engraved with "real cowboys shoot Colt's" $200
#6 Muela of Spain gut hook $55
THIS IS THE PICTURE A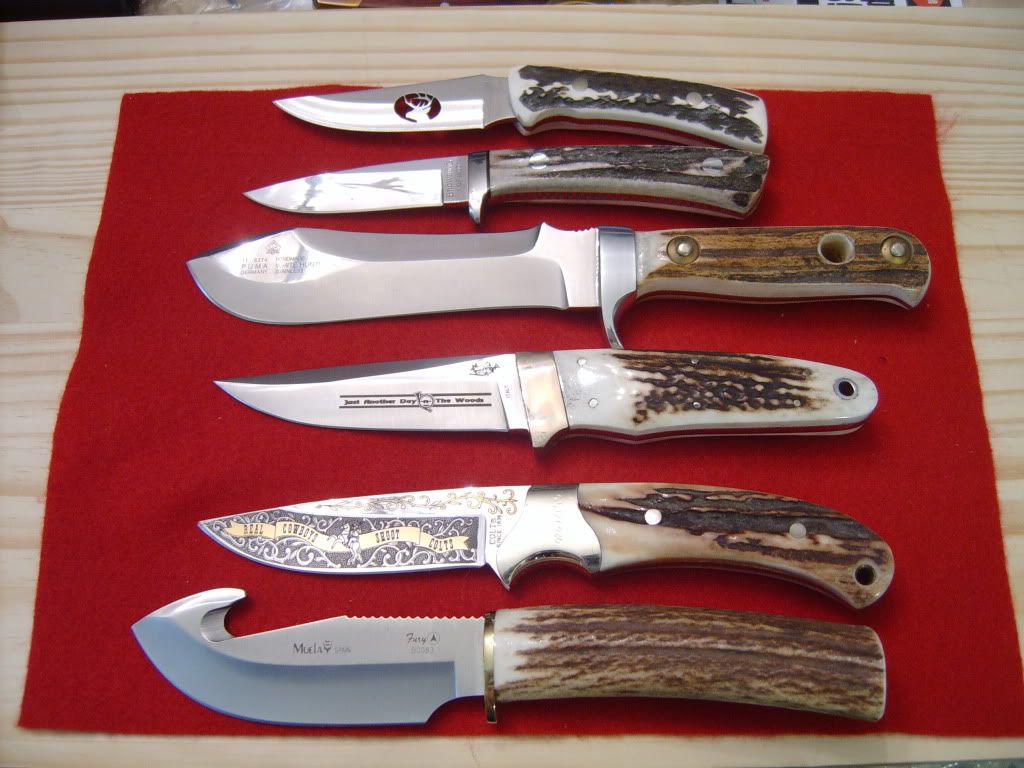 PICTURE B
# 1 COLT D 17, custom. Gut hook $100
# 2 BUCK custom NORTH AMERICAN CLUB 10th Anniversary 1978-1988 one of 2,500
Rosewood handle
$200
#3 Buck Vanguard $70
#4 Browning model 100 folding stag handle One of 1,000 $200
#5 Browning model 121 folding One of 1,000 rosewood handle $180
THIS IS PICTURE B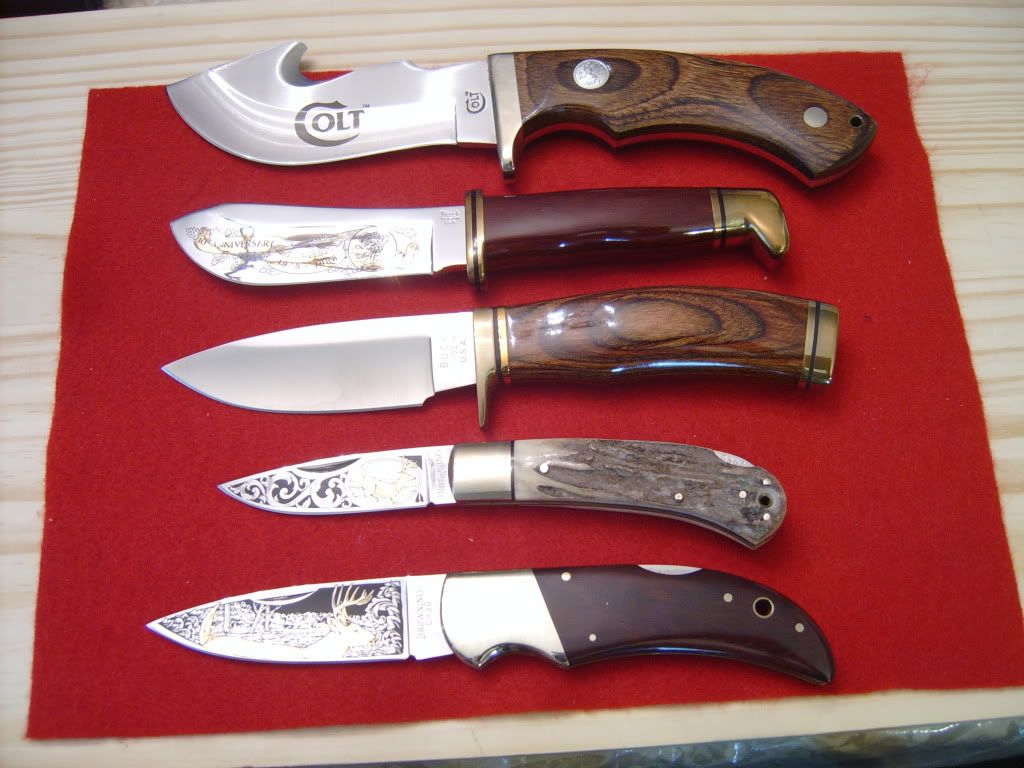 PICTURE C
#1 Browning Limited Edition #2486 out of 3,000. Presentation case. $100
#2 Browning 3018F1 (japan) folding $60
#3 IC cut (3 interchangeable blades) Japan $60
#4 Schrade Bear Paw $60 SOLD
#5 Browning 3318F3S folding stag handle, 3 blades $100
#6 Beretta Loveless Hunter (Loveless design etched in blade) Zytel handle model 205 $100
THIS IS THE PICTURE C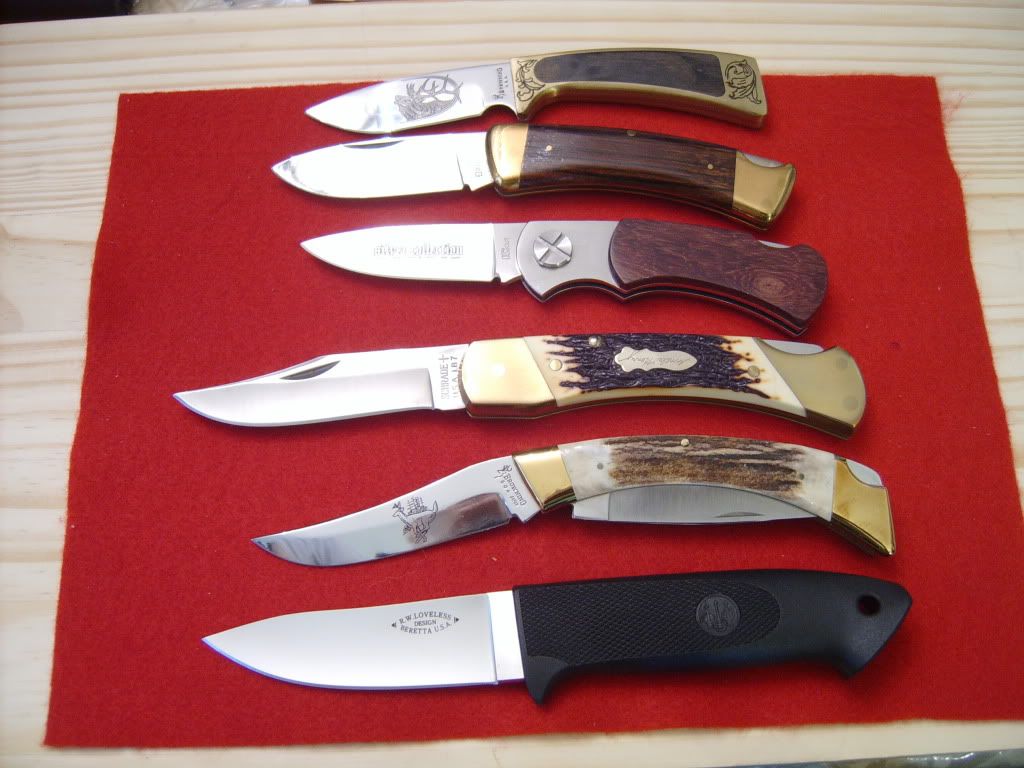 PICTURE D
# 1 Browning USA folding, rosewood handle, model 4018 F, This was one of the first Browning USA made in entering the knife market, this is now a highly valuable collector item as Browning soon moved the knife line to Japan manufacture.
It was NOT used and carried very little by me $250
#2 Browning USA made model 4018 4" blade rosewood handle, same as above knife but fixed blade, was carried but never used $250
# 3 Remington RH 50 $65
#4 Browning model 122, One of 1,000 $250
#5 Rigid RG 100 $65
#6 Rigid RG 24 $65
THIS IS PICTURE D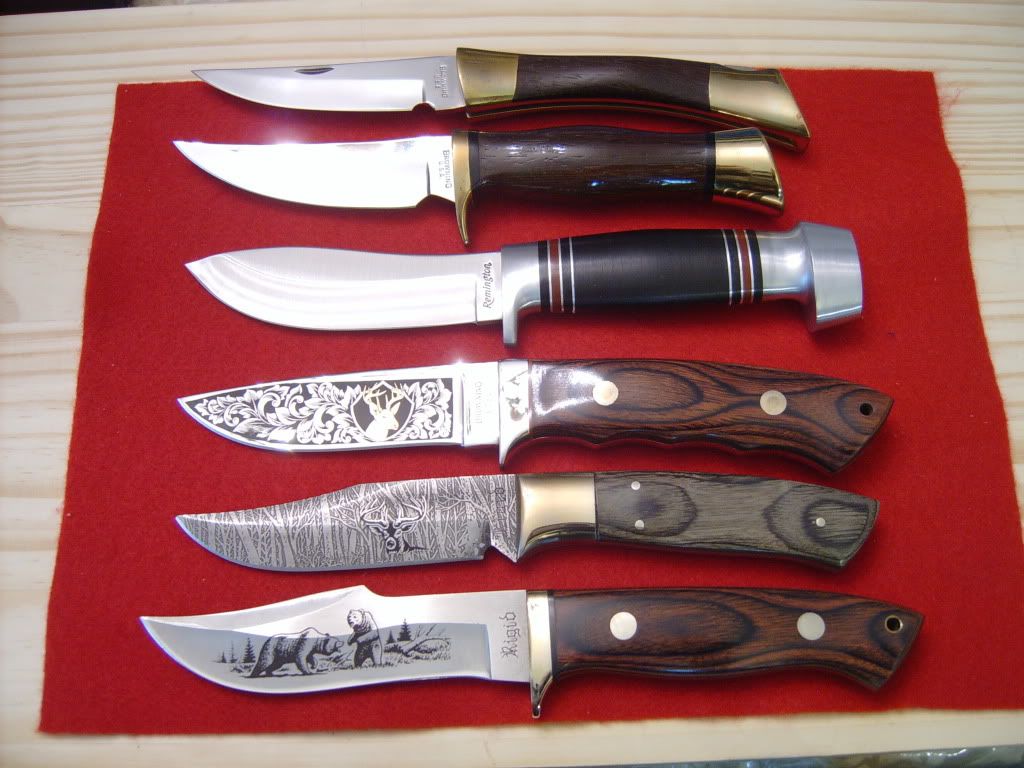 PICTURE E
# 1 Rigid RG 16 $65
#2 Kyber (japan) no holster $45 SOLD
#3 Smith & Wesson CUSTOM USA made, antler handle $85
#4 Gerber Bolt Action Hunter model 7021 $40
#5 FMV folding blade (no sheath) $ 45
#6 PUMA (5 star) model 725, folding Ebony handle $ 160 no sheath
THIS IS PICTURE E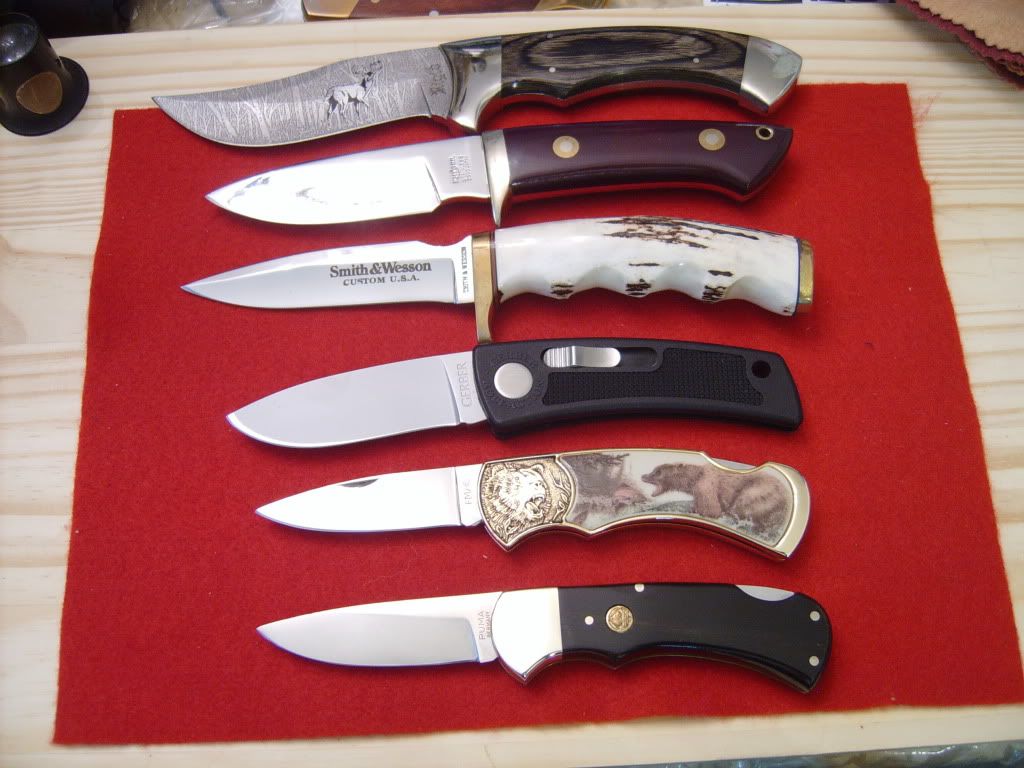 E-mail me if you have any questions.
Thank you for looking
All the best
BB