High grade Cap and ball revolver collection
The entire collection or by piece
Many models not longer made
This is my entire collection of cap and ball revolvers, they are NEW. Unfired, and have been keep in velvet lined collector's drawers.
Some have boxes and some even papers.
Some boxes were lost on moving
The only guns that I fired a few shots, are the Colt Navy 1851 36 cal. (circa 1973 by Navy Arms) and the Ruger Old Army Stainless Steel with one address line in top of barrel (circa 1976). Both are in perfect condition.
These are Italian made, no Colt originals in this collection. Many are made by A. Uberti, some more by Flli pietta.
If you are interested in the whole collection, e-mail me at:
jcharles11784(at)yahoo(dot)com
I can make a 10% reduction in price for the entire collection.
PRICES INCLUDE SHIPPING
NO TRADES, I NEED THE MONEY.
E-mail me for payment with money order or check
jcharles11784(at)yahoo(dot)com
PLEASE DO NOT P.M. ME HERE, I AM WORKING AWAY FROM THE COMPUTER AND HAVE TIME ONLY TO CHECK E-MAILS.
When viewing the pictures please realize that the bottom of the picture is closer to the camera than the top. So, a massive Colt Walker will look smaller than it really is.
THERE ARE ALL NEW GUNS, UNFIRED, UNLESS I PRINT OTHERWISE, THEY ARE MOSTLY FROM CABELA'S AND I BOUGHT THEM IN THE LAST 10/15 YEARS
PRICES ARE THE LOWEST I CAN DO, I WANT A QUICK SALE.
PICTURE A
# 1 Colt Walker 1847 by Aldo Uberti, charcoal blued, 44. Cal. Case hardened frame, box. $ 380.
#2 Colt Dragoon 1848 by A. Uberti, .44 cal. Case hardened frame, box $380
#3 Colt 1860 Army by FLlipietta ,44 cal. Case hardened frame $190
#4 Remington 1858 New Army, by FLippietta, 44.cal target sights $210 SOLD
#5 Colt 1862 police .36 cal by FLippietta, $210
#6 Colt Patterson .36 cal. By FLippietta, $500 SOLD
PICTURE A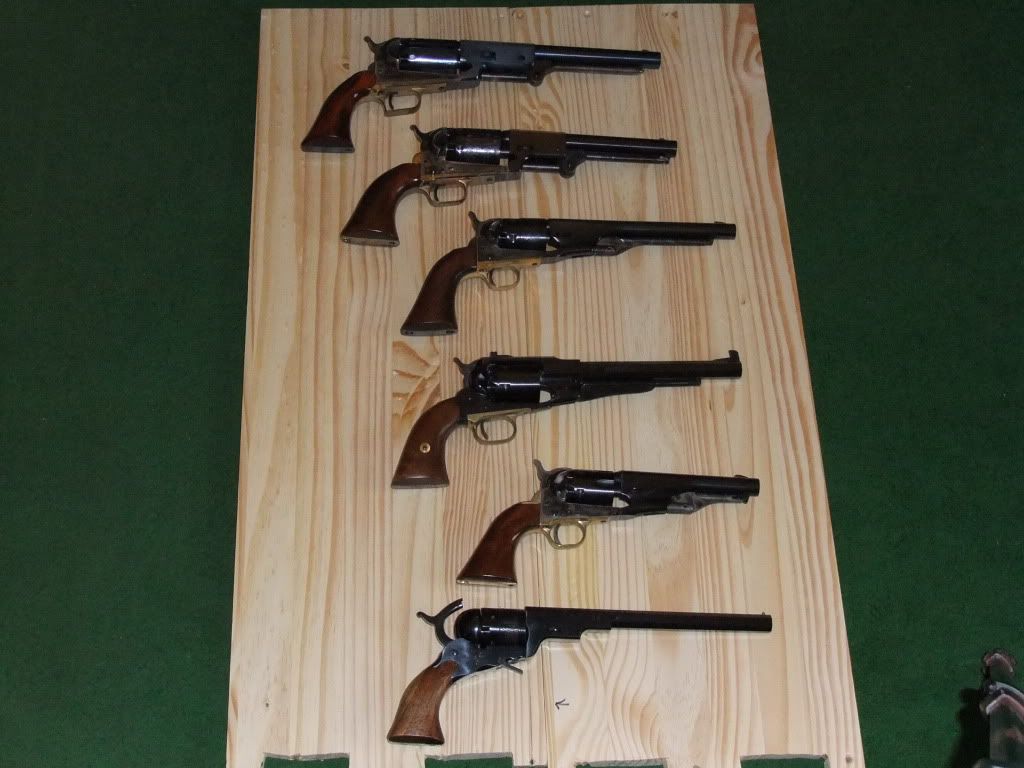 PICTURE B
#1 STARR Double Action. .44 cal by FLippietta, $350. Box SOLD
#2 Spiller and Burr, 36 cal, brass frame, by FLippietta, $200 SOLD
#3 Colt 1851 Navy, by FLippietta, 7 ½ octagonal barrel, .44 cal. Silver trigger guard and strap
$220. SOLD
#4 Colt 1851 Navy .36 cal. By NAVY ARMS, This was my first cap&ball and I bought it from Abercrombie&Fitch in N.Y. in 1975, shoot a few rounds, cleaned and oiled it, still like new
$200.00
#5 Colt 1849, 31 cal by A. Uberti, $240 SOLD
PICTURE B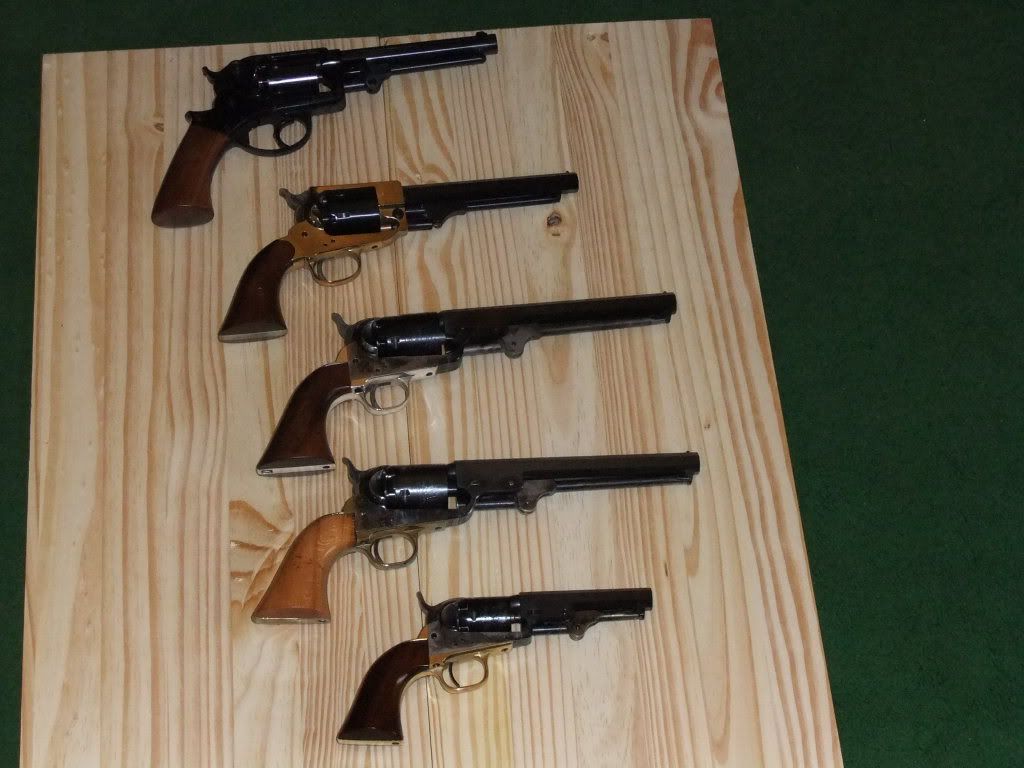 PICTURE C
(These looks like 1873's cartridge guns, BUT are cap and ball)
All with case hardened frame.
#1 Colt 1873 .44 cal 7 ½" barrel, by FLippietta, (slight dent in top of left grip, it came like that from factory)
$290
#2 Colt 1873 .44 cal 5 ½ barrel by A. Uberti, $320 SOLD
#3 Colt 1873 .44 cal 4 ¾ " barrel, by A. Uberti $320 SOLD
#4 Colt Bisley, .44 cal 4 ¾ " barrel, by A. Uberti, $320 sold pending payment
PICTURE C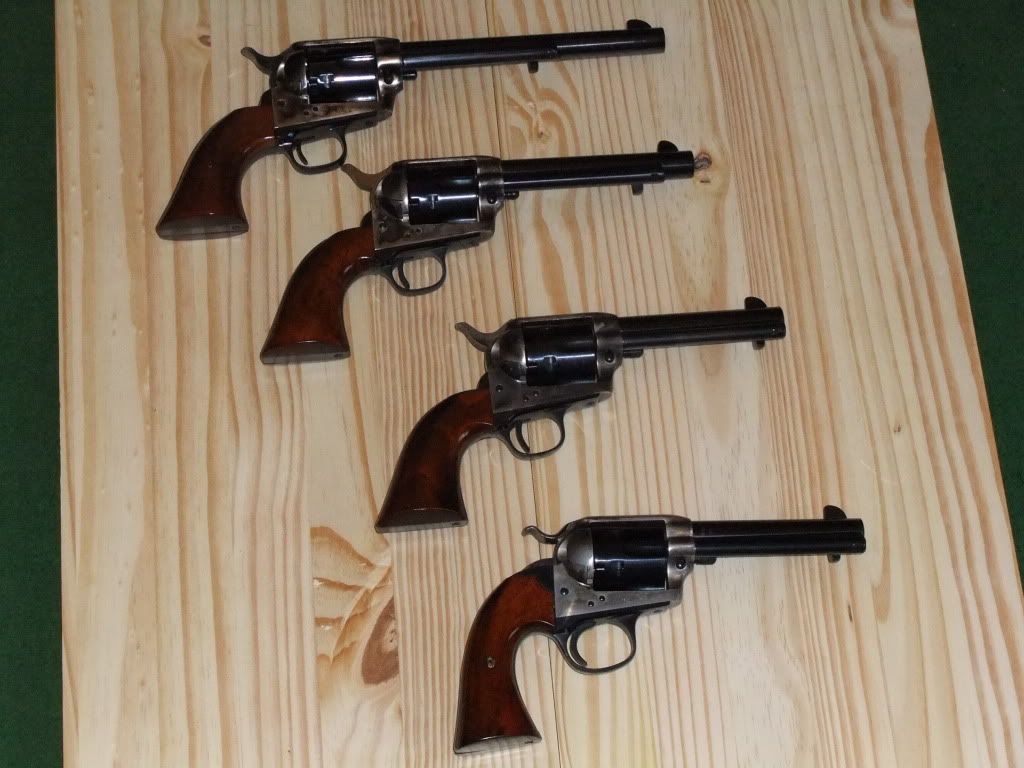 PICTURE D
# 1 Ruger Old Army, unfired, box. 7 ½" barrel .457 cal. Box marked 44 cal, but these use a 457 Speer ball. I never use it, but I did exchanged the plain rear sight blade for an Omega blade with the white outline (all the rage in the early '80's)
Bought in '80 or 81. Box and papers
$500
# 2 Ruger Old Army, stainless steel fired 12 times, like new, no pits or marks. Pristine.
This is a good collector, one address line on top of barrel: Sturn, Ruger & Co. Inc. Southport, Conn. USA
Target trigger (wide) and adjustable sights. Serial # in the 3,700
Bought in 1976, Box and papers
$600.00
Please do not ask for me to take more pictures, the guns are NEW.
I still have to find time to prepare my other collections for sale, Black Powder rifles, sporting rifles, knives, etc.
PICTURE D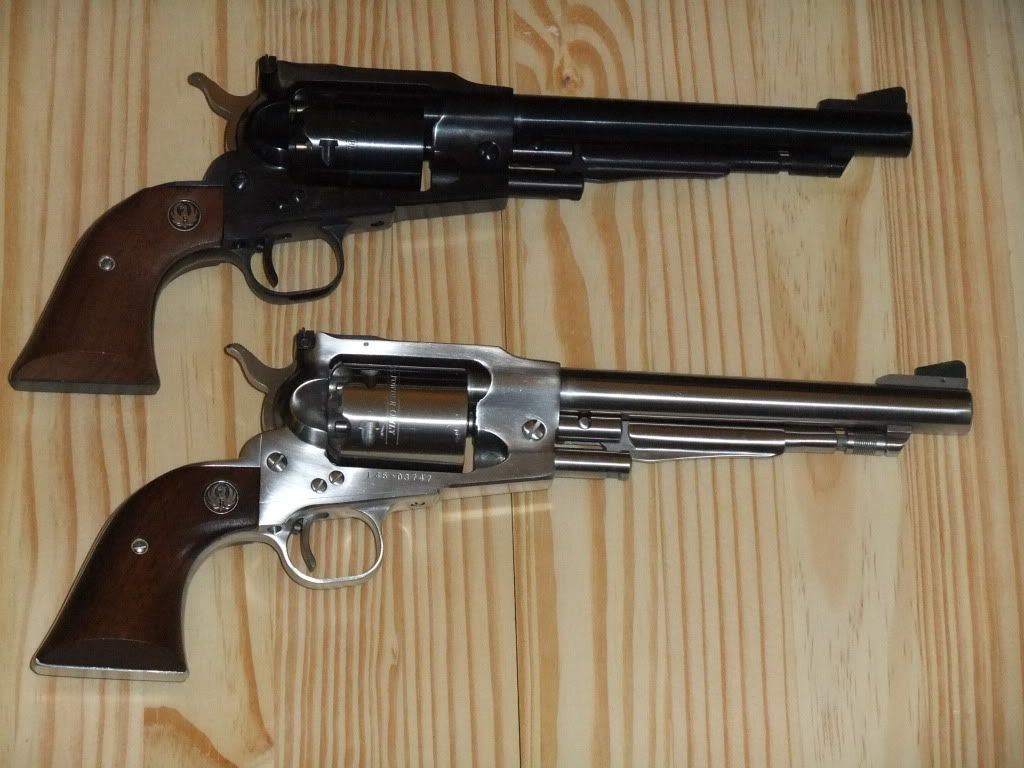 Thank you for looking
All the best
BB