Date has not been set on this one but we are leaning hard towards the second to third week of October to catch the rutting action with archery gear.
So far its me and one of my buddies going we need to get two other hunters along to get the camp exclusively.
Several of my friends in Maryland talked them up quite a bit and from what I understand they are some super fine eating. I just got a line on a new commercial venture thats opening its 1000 acres of private land this season for the first time. The video and reports from the area are very enticing. They are offerring a 3 day hunt lodging at a real nice estate, 1 sika stag and 2 whitetails for 750. Sounding like a potentially great opportunity for some new species hunting and another crack at prime Md private land whitetails. Me and the Lone Yelpa are thinking about doing it but figured some Sika research was in order first.
This is the place the hunt is happening
Ransome's Retreat / Close Guide Service
Heres a shot of the lodge. Clic the picture and you can see alot more on the accomidations. I am thinking a good sika roast cooked on the patio and a little extracurricular waterfowling.
Ransome's Retreat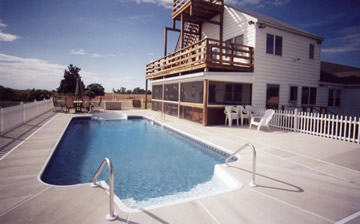 You guys are going to figure out real quick like that I am kinda pumped about the potential for great trophies on this hunt here. The Sikas are plentiful and theres alot of nice stags. Population is stated 80 % Sika 20 % Whitetails with an excellent adult population on both counts.
This is a spotted variety

He just looks like an arrow would fit him well. They do bugle and Ronnie says it in this mid to late October period that they really go nuts fighting and bugeling. The terrain is perfect for some ground hunting with the bow...... stick bow that is.
These whitetails are called nice ones by Ronnie as well. So when he tells me the private land has some very nice whitetails my eyes kinda perk considering his standards.