Xeccon D2X diving flashlight
Reviewer's Overall Rating: ★★★★★
Pros:
l Very 8-mm thick PC lens with the quality of bullet and water pressure resistance
l Two Rubber o rings prefectly lubed with great sealing
l Very appealing design
l Durable aircraft-grade aluminum material with Premium Type III hard-anodized anti-abrasive surface treatment
l IPX8 Waterproof up to 100m underwater
l Nice glossy aluminum reflector to focus the light
l Night aura giving out some light when powered off
l Stand up on a flat surface as a candle
l Three Mode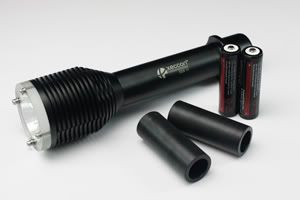 Xeccon D2X is a CREE T6 LED diving torch which runs on 26650 Lithium ion battery x2. It is intended for general use, outdoor use, especially for diving up to 100m under water. The body of the light is made of durable aircraft-grade aluminum, and has glossy or flat texture.
Bulb/Reflector/Len: Sitting behind the lens is a glossy aluminum reflector with a well-aligned XM-L Cree T6 LED sitting at the bottom. Glossy aluminum reflector directs some of the side-spill light forward. Actually D2X can produce a flood of light in the direction they are pointed and are designed to focus to a pinpoint spot for long distance use. The pc Len is greatly charactered by resistance of bullet and water pressure.
Function of groove on the head:
1) Attractive.
2) Easy for changing the mode: There are many groove on the exterior of the head, which has some nice machining touches which help grip the head. This is useful since the levels/mode changes are done via twisting the tail by one hand and griping the head groove by another hand.
3) Lessen the heat: many groove on the exterior of the head can do favor to lessen the heat which is produced by the light or led.
Body:
Xeccon D2X diving torch has a high quality aluminium body finished in black. It's very lightweight and perfect for everyday carry. It measures about 228mm in length. D2X is powered by 26650 Lithium ion battery x2. The body is machined aluminum with the more durable type III hard anodize and anti-abrasive finish. The outside body of XECCON D2X is comfortable for grip and display of the company logos.
Output:
D2X has three mode: High (1000LM)> Low (300LM )>Strobe (1000LM).
All the different levels on XECCON D2X are controlled by true constant current regulation. This means that you will not experience any high frequency effects of lower frequency PWM. The tint of D2X is of a neutral white and doesn't seem to lean much to either the cool or warm side. The beam profile produced by the new reflector is cleaner and focuses a slightly more intense hotspot. The dark ring-shaped area around the hot spot is much more subtle.
Switch: The light is turned on and off by twisting the tailcap. Tighten it to turn it off, loosen to turn it on. The tail cap is not easy to twist due to the tight fit provided by the O-ring. But if you want to change the mode, tighten it to turn off the mode. Wait for at least 2 seconds. Then loosen to turn it on. Changing the mode is ok
What I Liked: great Waterproof standard for diving in 100m underwater, Tough/impact resistant, Regulated/long battery life, Good output, Easy battery change, Lightweight, Stands up.
The emergency or dangerous thing can happen at any time. Choosing a reliable flashlight is very necessary for every diving enthusiast. A reliable flashlight may save your life in some dangerous condition. Xeccon D2X can be your good companion for diving activities.