Here are a couple of nice bucks my brother and father harvested this deer season. Along with the pics are stories they sent me which they wrote up. Enjoy!
First is my father's story and pics.
Got in a little late for this time of year - I think it was about 3 pm. Went to the brush blind Margot and I built the other day, in the rain storm. Put on all my clothes before I got in the blind, even though it was too hot to be wearing too much. It was a drizzly, misty afternoon with not much wind. Only an ocasional light gust from the south.
I kept hearing twigs snap off to my right while I was fixing the chair and rearranging spruce boughs. I figured the twig snaps were squirrels, since I had seen 4 or 5 on my way in. They seem to be fighting each other for territorty the last week or so.
Finally got the chair in position - could still hear twig snaps to the right. Wait a minute, those snaps are coming closer. Damn, it's a deer, there's antlers. He's walking steadily in from my right. I dont even have the gun up.
Gun's up now and I'm watching this buck moving along from right to left. There's points on the beams - STOP looking at the antlers, focus on the deer and what it's doing. It stops behind some trees, only from the paunch to the tail showing. The tail is down and not moving. He moves again, then stops, nose going up into the air - oh, oh. He didn't smell me, he's moving again. He's almost to my second shooting lane. He stops just before the shooting lane. I can clearly see his front half, he's looking towards my left. I figure there's a shot between 2 trees - about a 10" opening. I look down the stock and into the scope. What the... it's all fuzzy. Oh yeah, I forgot to put in my contacts - I've got my glasses on, I've got to move my cheek a little. Got a bead on the boiler room. He's not nervous, just standing there. I've got the new rifle, It feels good. The trigger is a little stiffer than my regular gun. I squeeze. He jumps away from me and wheels off on a quartering away direction, tail down. He disappears for a moment, then reappears in my right shooting lane. He collides with 2 trees, sort of. He almost bounces off their branches and leaps out of sight. All is silent.
Man, is the heart pounding, adrenalin rushing. I convince myself to sit still. Oh yeah, I better eject the empty, just in case I need a second shot. Save the empty. I dont know why but save it . Breathe, keep breathing. Snap, crack. What the hell? The noise is coming from the same direction where this guy came from. I pick up my doe call and bleat once. The snapping and rustling is getting closer. Jeez Louise, it's a buck. He's walking almost the same path as the one I just fired at. Did I miss? It is a new rifle - first time out hunting with it. It was dead on at the range. Did something screw up? Me maybe?
There he is looking to my left just like the buck I fired at was doing. Or is this the same one? I try real hard not to look too hard at their antlers (I've missed bucks in years gone by because I've concentrated too much on their antlers - that's my excuse and I'm sticking to it). Geez, this guy looks a little smaller or does he? His right antler is screwed up - did I shoot the antler on the first shot? He's standing broadside, I've got the crosshairs on him and the safety off. I'm trying really hard to remember the picture in my mind of that first shot. I'm sure that first shot connected (I think). This must be another buck ( I think). He turns toward me. He stops (I found out later he stopped 9 paces in front of my blind), puts his nose in the air, I can hear him sniffing and see his nostrils moving. This is it man, make a decision. I'm looking at him square in the eye. He doesn't acknowledge I'm there - how rude. I decide to move the gun, I put the scope on him, he sees the movemement but for some reason it doesn't bother him - is he hit? I look him over in the scope. Look for blood, ruffled hair - anything abnormal. He turns to my left and slowly walks away. I move spruce boughs on the left of my blind and watch him through the scope. I put the safety back on. My minds eye says I hit a deer with my shot. I let him go.
After 15 - 20 minutes I get out of my blind and head down to where I fired at the 1st buck I saw. At 26 paces I see the telltale signs of a deer in a hurry. No hair, no blood. I start to follow the tracks - it's not looking good. I follow what I believe are the tracks for about 35 yards - nothing.
When I wear my glasses in the woods, I really struggle. Everything looks like I'm looking through a fishbowl - that's why I got contacts. What a difference they make to me. After taking my glasses off and looking around and then putting them back on I was really getting frustrated. It's a dark day, especially in the heavy spruce where I am, and daylight is running out. Should I have shot at the 2nd buck I saw?
On the 3rd trip back to the shot spot, that I marked with orange tape, I found a small amount of hair. On the 4th trip back to the shot spot I found a piece of bloody flesh about half the size of my baby fingernail. Right on.
Slowly I follow the tracks in the leaves. There are lots of them - it is a well used place. Tracks and droppings everywhere, in this place where they move out of a swampy thicket. I'm at the place where the deer literally ran into the trees. I can actually smell tarsel glands in this spot. Then, over to my left, I see the skid marks - I'd been going in the wrong direction (following the wrong tracks the first few times), there's blood on those leaves. And there he is, laying behind a tangle of blowdowns.
Yeeha. Another rush of adrenalin and the heart pounding a mile a minute again. What a feeling. With darkness closing in on the forest I pump my fist in the air and thank mother nature for allowing me an experience such as this - a hunter, living an experience that is real (that's why it feels so good), ingrained with time, a natural act. For me, the successful hunt is being both proud and humbled at the same time - being what I am, a predator.
Gotta love it - it's a big part of what I live for.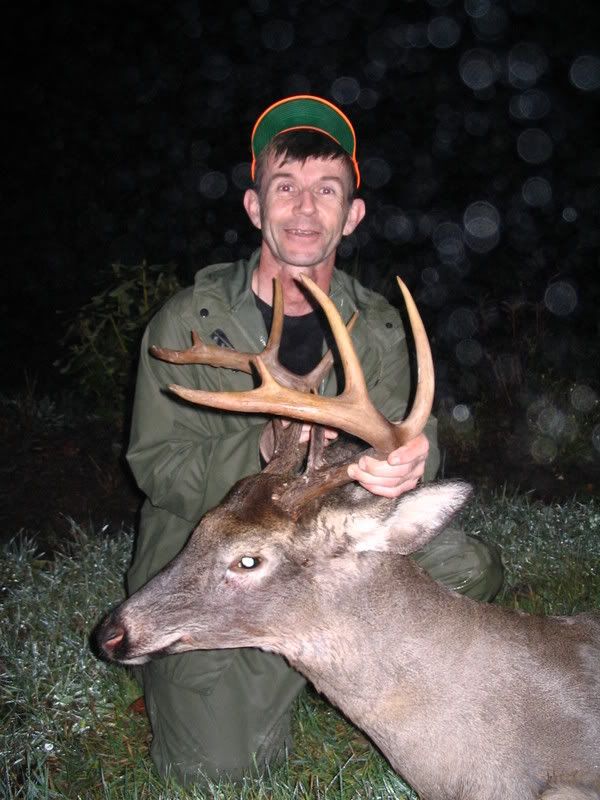 Now here is my brother's pics and story.
Well my 2006 deer season ended November 20 at 4:45pm. Here's the story, this
morning hunted my usual spot, only stayed for about an hour cause the apples
haven't been taken for about 4 days, seemed to be nothing around. Walked out
to an old chopping to have a look and noticed there seemed to be a lot of
deer tracking through, cut into the woods on one side of the chopping and
found lots of rubs and scrapes, but didn't see anything. Headed home for a
bite to eat and a nap. Got up and headed back out and figured I would sit on
the edge of the chopping and do some rattling. First time rattling this year
and have only done it a few times in the previous years with no luck. Was
using two plastic antlers off an archery target (they sounded alright to me)
During my second stint of rattling 2 tines broke off one antler so it became
useless, but luckily enough I had brought my brothers (Bigbuck152) rattle
bag. After waiting another 25-35 minutes picked up the rattle bag and went
at it again for about 5 minutes, Roughly 20 to 30 minutes after I stopped
rattling, down across the chopping to my right I noticed some brown movement
and kind of a whitish color above it, I was like okay maybe a buck. Put the
scope on my 30-06 up to make sure it had antlers, DEFINITLY! He comes
trotting out on a diagonal across the chopping, he stops and looks around.
(Wind perfect he cant smell me) safety off almost decide to shoot but hold
off because there's a better opening in front of him, he starts trotting
again and stops perfectly for me right in the opening, put the sights on him
and take a breathe to try and calm down. Squeeze the trigger and down he
goes. Feel like screaming YESSSS! But don't. Can see him in the scope, no
movement but still wait about 15 minutes before I go over, look over the
deer and congratulate myself. Start to clean him (don't really remember
exactly how to do it, only 2nd deer and the other one was 3 years ago)
anyways I get it mostly cleaned and my headlamp dies, Perfect!
Anyway I go home and get some help, come back and finish the job. Figured
out with the GPS it was a 156 yard shot right through the neck. Beautiful
deer, 6 point or a 7 pointer depending if they class that little stubby as a
point, doesn't matter to me still a beauty! Weighed 140Lbs dressed,
absolutely no fat on this deer. Anyways there's my story, definitely one I
will never forget. Congrats to all who have tagged out and good luck to
those who are still out there.
Weapon: Bolt action 30-06
Location: Hmmmmmmm?. I can't remember. LOL
Method of Hunting: Sitting and rattling
Animal: 6-point whitetail buck
Weather: Overcast and windy
Thoughts: An experience and memories that will never be forgotten