We at "A Hunt Above" took a young man on a deer hunt. This particular hunt was in memory of Kurt Bourne who lost his battle with cancer on Thurs. 11/19/2009 at the age of 11.
You all meet Ben.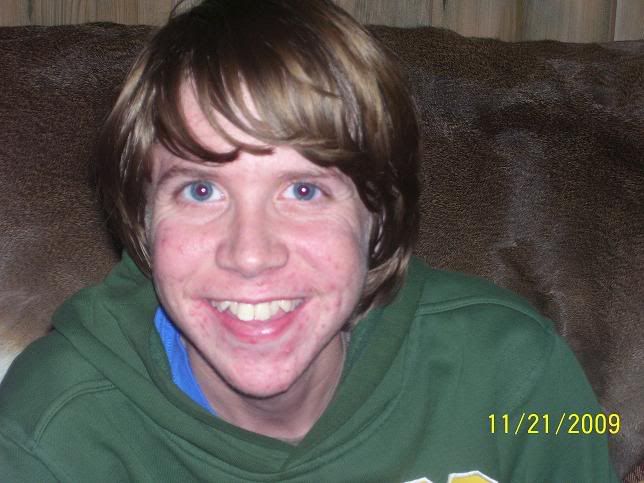 Ben is from Illinois and has Becker's Muscular Dystrophy. Becker's Muscular Dystrophy is one of nine types of muscular dystrophy, a group of genetic, degenerative diseases primarily affecting voluntary muscles. Becker's muscular dystrophy is very similar to Duchene's muscular dystrophy, except that it gets worse at a much slower rate. There is no known cure for Becker's muscular dystrophy. Treatment tries to control symptoms to maximize quality of life. Some doctors prescribe steroids to help keep a patient walking for as long as possible.
Now with the hunt details. Ben and his father, Tim, arrived on Friday Nov. 20, 2009. We at "A Hunt Above" got them settled in there home away from home. Mike Macko (Director of "A Hunt Above") cooked up a great steak supper. After eating supper and telling stories, it was time for some rest after the long drive. That night Chuck Bagwell from "A Hunt Above" showed up to help out for the weekend hunt.
The next morning Ben and his father were placed in a blind overlooking a nice green field. That morning all that was seen was a few turkeys. After the morning hunt we went to Don Wynne's place (West Wynne Farms) and were served a great lunch.
We also got a peak at what was going to be served for dinner. Take a look:

After lunch we settled into Don's fine shooting house, where it wasn't long before we started seeing deer. At first it was all does and then a six point came out. We watched the deer for quite some time and saw 21 deer in all. Ben decided he was going to take a doe, then changed his mind and decided on the buck. Ben was a little nervous, but not as much as his dad was. Ben made the shot and downed the deer immediately.
Here is Ben with his first ever deer and it was a buck!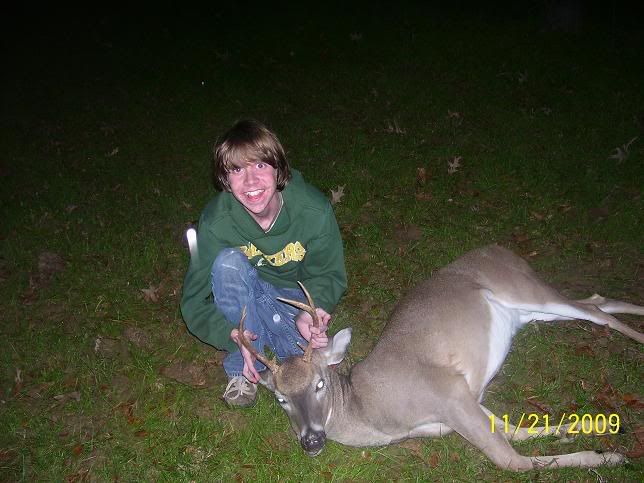 We went back to Don's and enjoyed BBQ ribs and chicken, but Ben's favorite was the chocolate chip cake that Mrs. Beth Wynne had baked. It was very good.
We retired for the evening and the next morning we attended church. After church we went back to the camp and enjoyed some sandwiches.
That afternoon we went back to West Wynne Farms and got Ben and his dad settled in another shooting house. Again it wasn't long before they started seeing deer. A buck came in the field but was smaller than the one Ben got the day before. They watched several deer and daylight was about to be gone and Ben decided to harvest a doe. He placed another well placed shot and the doe expired immediately. He was very excited and told his dad that he had now harvested more deer than he had, we all laughed.
Here is Ben with his 2nd deer ever, a doe.

The group: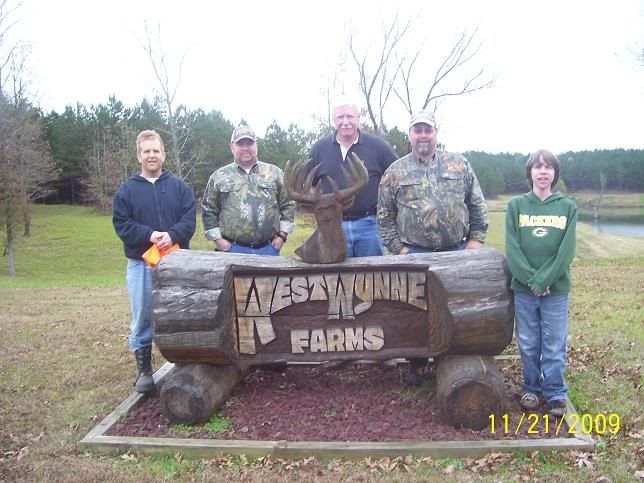 We had a great time and Don and Beth Wynne were excellent host. We would like to take the Wynne's for their hospitality. We would also like to thank Joe Malone at Joe's Taxidermy in Lexington, MS. for providing a free mount for Ben's buck.
We would like to thank all the donors who helped with this trip.
Please continue to pray for Ben's recovery.
For more information about "A Hunt Above" you may go to our web site at http://www.ahuntabove.org
May God Bless,