Well, sometimes there is just a need to get the heck outta town!
The place is definitely not some hot spot for big fish, but if you are looking for good numbers of stocker trout to keep the kids occupied, then Hohnholz Lakes may just be the ticket to success!
Only had the weekend, so we headed out as soon as I could get off on Friday. After an easy drive, we were lucky enough to finish making camp with still an hour of daylight left! Finished the night with a couple of beers by the campfire, some smack talking and mosquito fighting under a crystal clear night, that despite the skeeters, made for the ideal evening in my book! I SO NEEDED THAT!
Woke early, but in NO RUSH at all! )
Fresh ground coffee, followed by a couple rounds of "Washers" to begin the bragging rights fight, and still it was only 8:30 am. …though we still needed to go down the hill a bit. My niece, her husband, two kids and two friends WERE supposed to be leaving up early Saturday, along with another couple. So we passed on the fishing to drive down the mountain and try and find some cell coverage to connect with them and make plans to meet up. Upon finding a spot with good reception, I checked my messages only to find out that they had tried to come up late Friday, and missed the sign (which is way off the road) and when they saw the sign to Chambers Lake & Hwy 14 near Glendevey (sp), they kept going and went back to Ft Collins for the night, and the other couple would not be coming up at all.
I called the niece and found them at their FTC hotel just waking up. They were happy I had called, and we made plans to meet back up at Woods Landing, at high noon. We had a couple of hours to blow now, so we headed directly to the lake and I made quick work of a couple dozen trout, mostly cutts, but a few bobos mixed in, while my buddy landed about 15ish on worms and Pautske's, while I used the long rod, with an olive/yellow hare's ear for everything I landed. (I THINK, I actually make it look like I can use a long rod when wading a calm lake with nothing to snag-up on!! LOL!) Everything between 8"-12" though, as per the norm at #2.
Kiwi had to be on the leash which she sure hates, so even while I was wading around she was fishing too!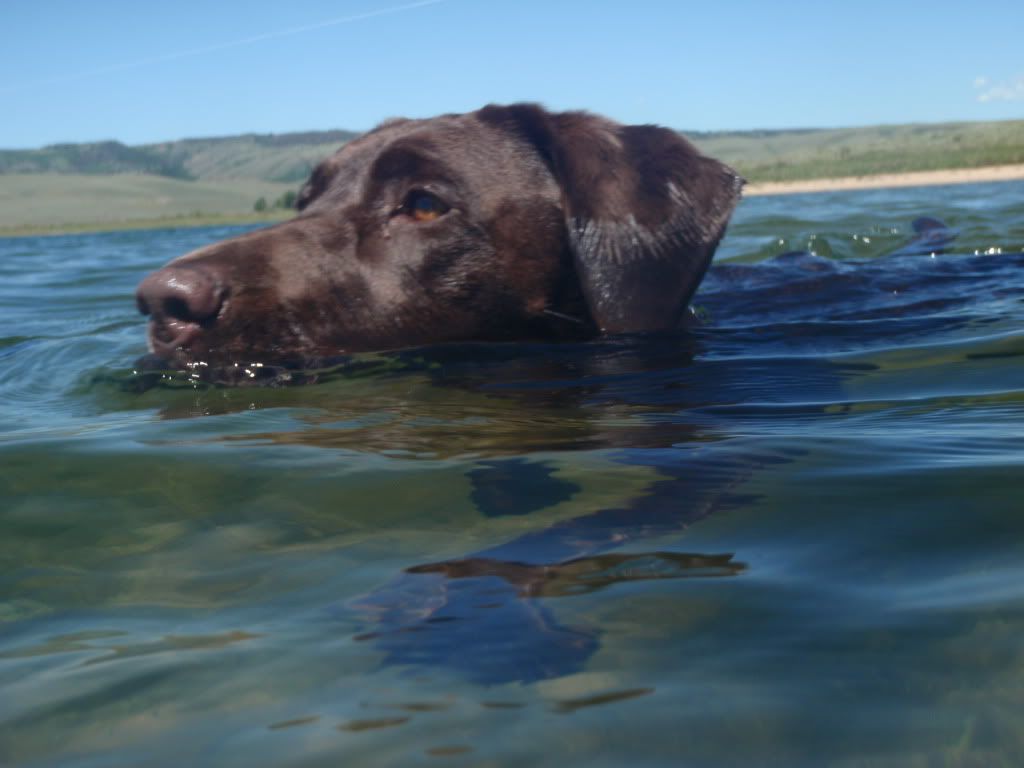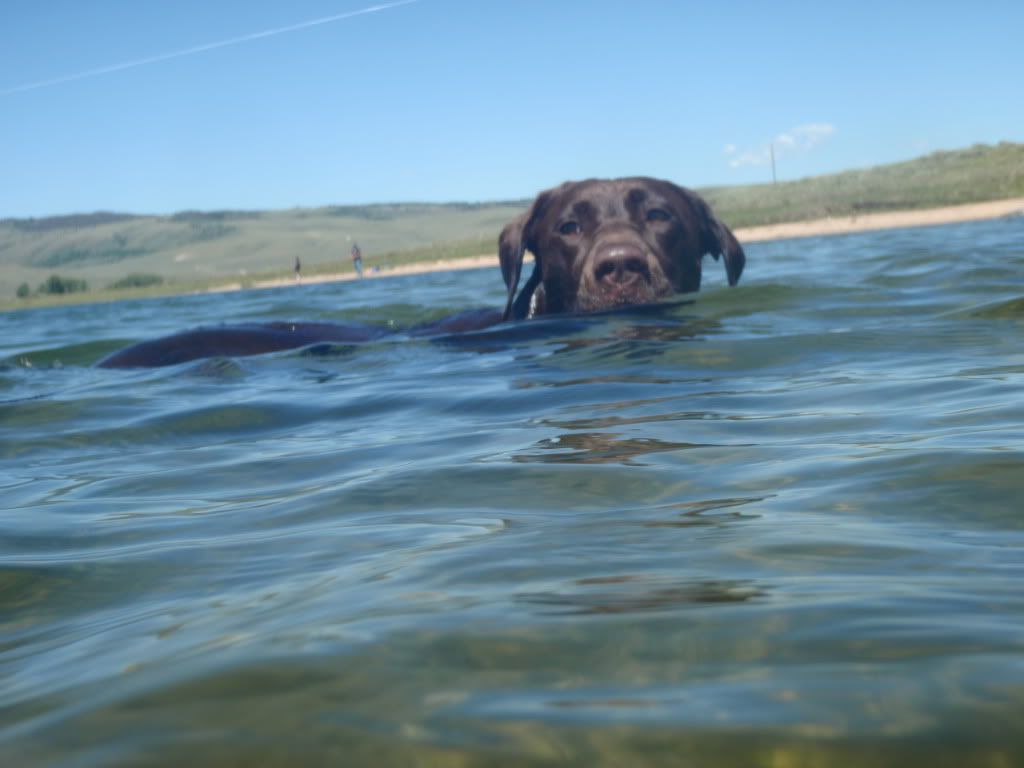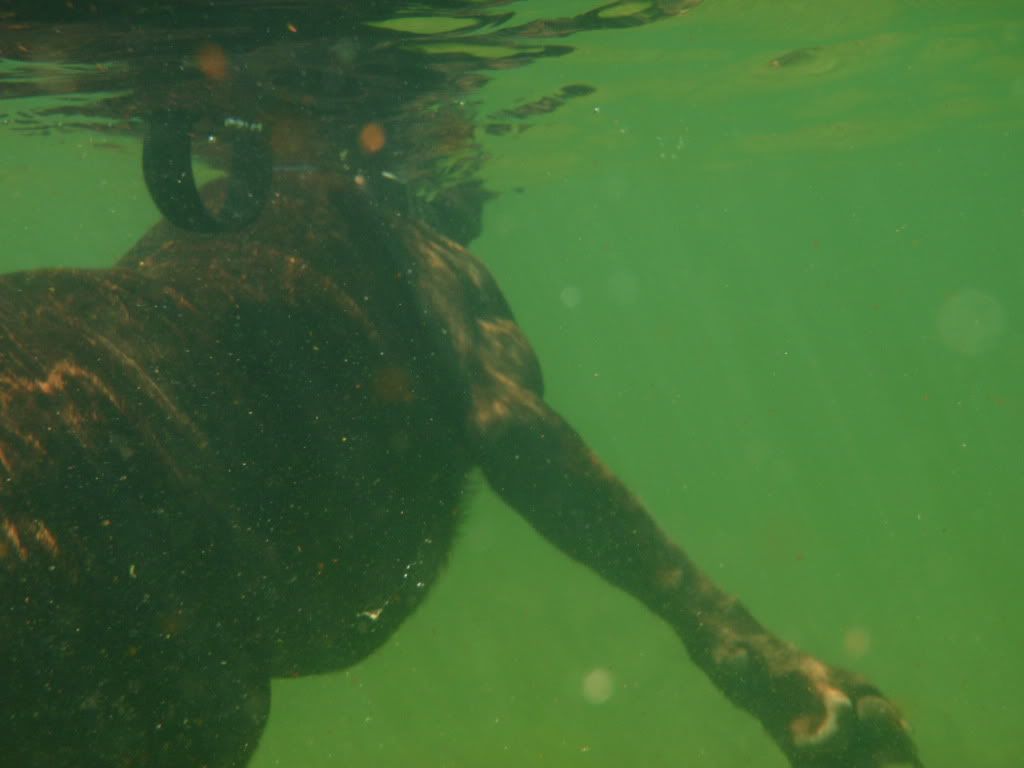 Video: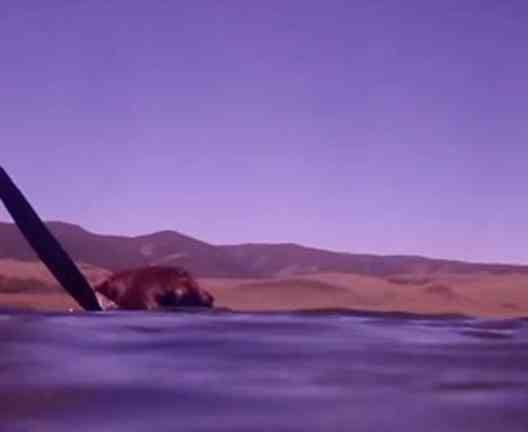 My buddy Toby watching his poles closely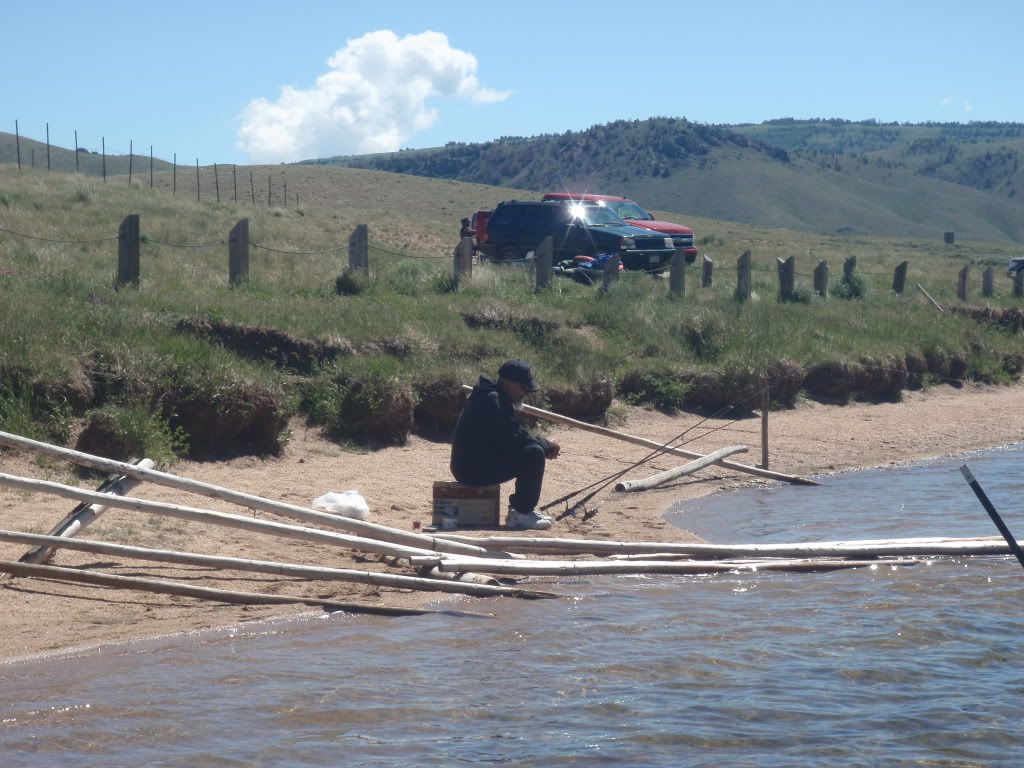 My niece & her familia were there in short order, even a little early, and we headed straight to camp to set them up for the night. Dogs & burgers made for a quick late lunch/early dinner, and everyone was headed for the lake!! …except me of course, I grabbed the binos and spotting scope, took along Kiwi & a buddy of mine to the goat trail, and we crawled up to a high spot, to scout out some hunting grounds. Didn't take long for us to see what we needed , so we packed it up, and quickly headed down to the lake to meet up with everyone else.
We arrived to find most everyone was, or ready to, limit out, and the kids had already made plans for eating fresh fish cooked up at camp! (That was nice to see! ) So I did my best to catch-up, and quickly had a limit to provide my share at camp. I managed a few more, before everyone had packed up, and this time I too was using my trusty ol "Balls-o-Fire!"
Back to camp, a few trout in foil were thrown in the campfire, while all of us just stuffed our faces with whatever munchies were laid out about us. Several bottles of water, a few beers mixed in between them; followed by my nephew's PERFECT smores, he hooked-up over the campfire, …were all thoroughly enjoyed under yet ANOTHER perfect Colorado night! …man I love this place! Only 2hours drive time from my place of work, makes this area an idyllic choice for yours truly!
The ladies…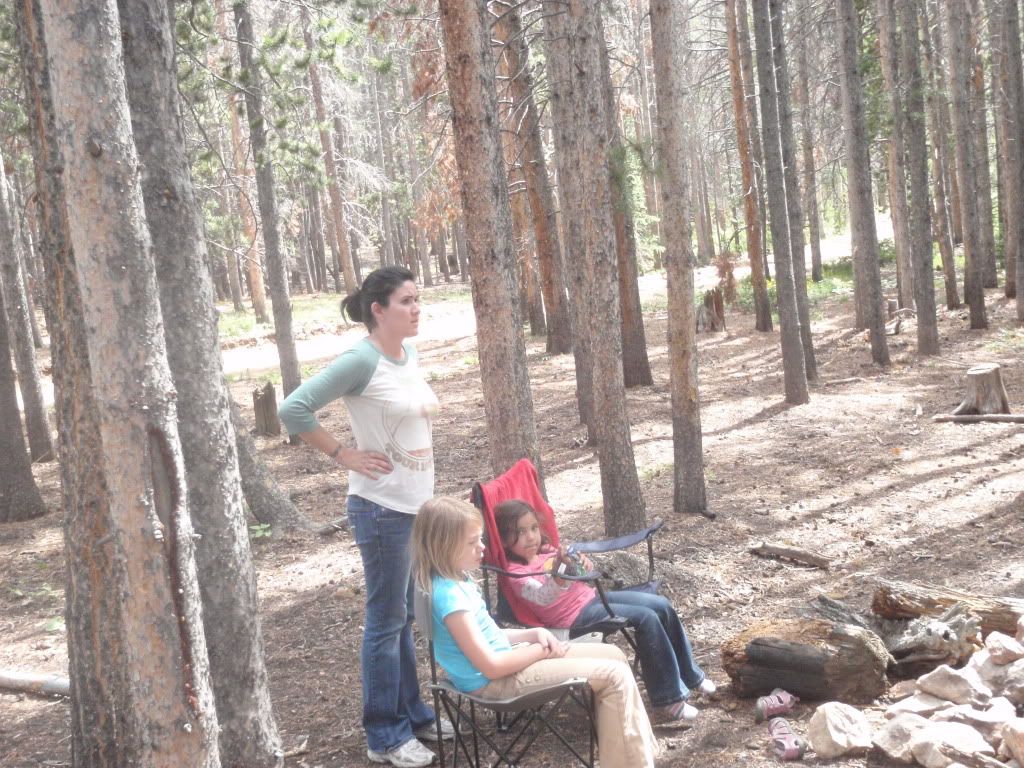 A beautiful Sunday morn, reminded us once again that we were in no rush to get up early, so we all partook in a late breakfast of pancakes, texas french toast, bacon, eggs, potatoes o'brian, tortillas, toast, cereal, bananas, grapes, granola bars, juices, milk, & surly some fresh ground coffee. Then "the men" (YES, we are 'old fashioned" LOL!  )…enjoyed a few more rounds of Washers, so I could remind everyone else; who "El Guapo" was, as well as who's boxes they truly are!
We did finally make it down to the water a bit after 11am and everyone involved instantly began to work on daily bag & possession limits of these gorgeous taker trout! Before I headed off to scout hunting locals from yet another mountain top a couple miles south from the last one, I somehow managed to miss just as many, but still land 8 more(of which four were) smoker bound fishsticks!
Kiwi was also watching everyone's poles very closely …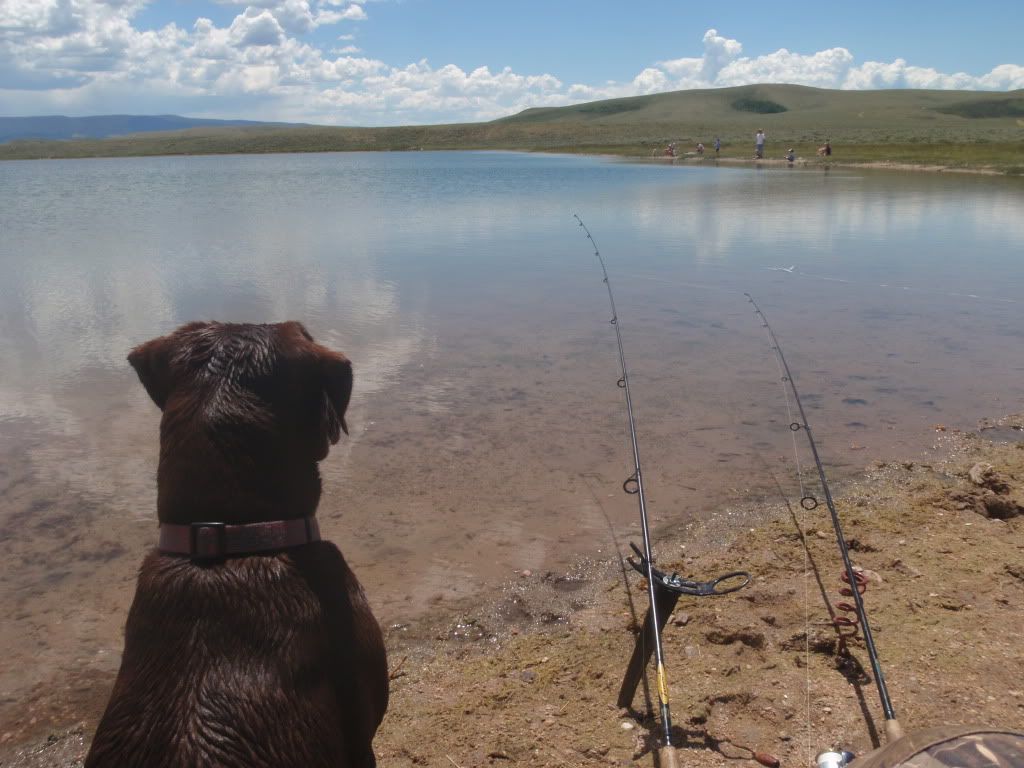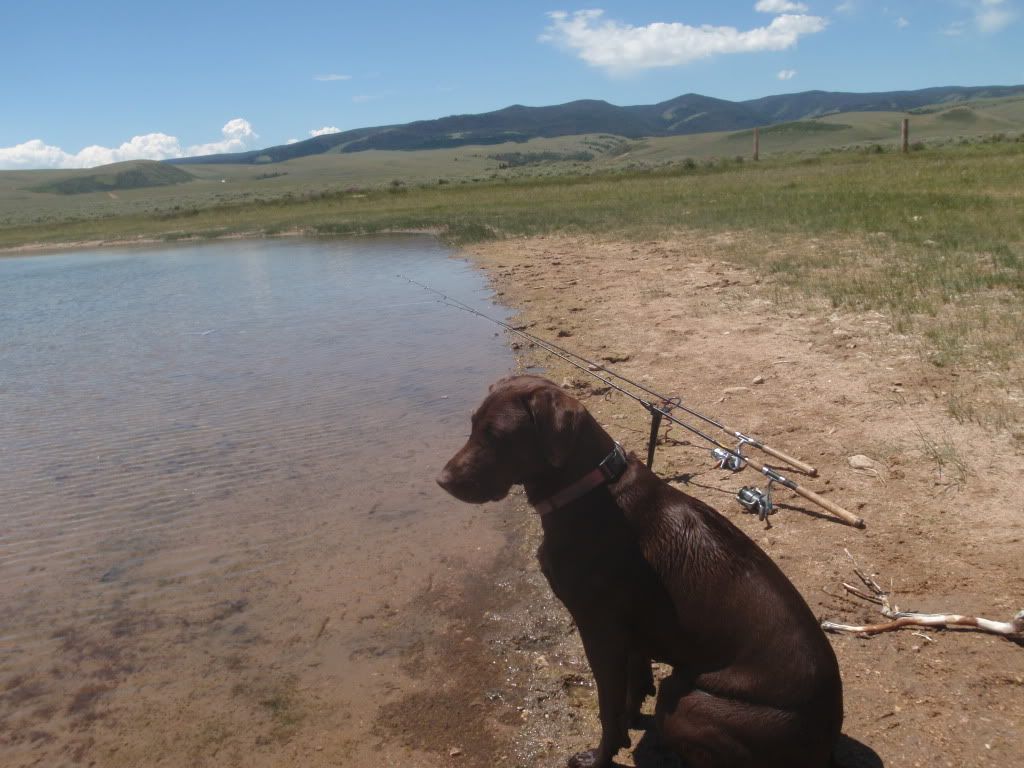 Typical catch…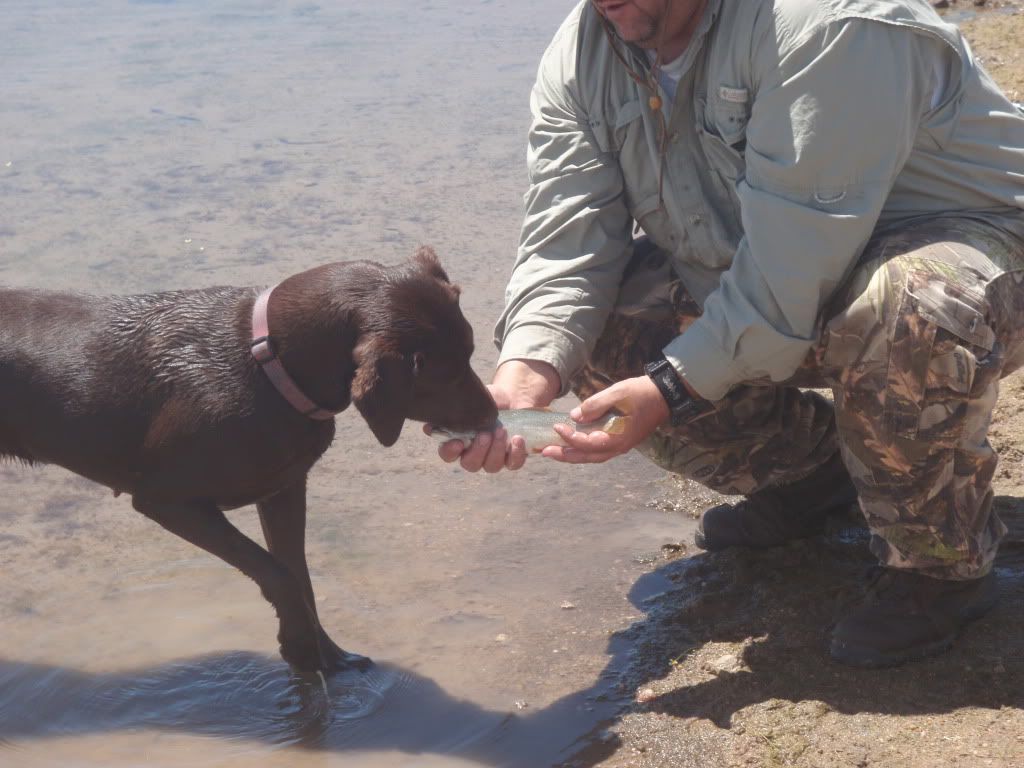 Had a young man stop by and say hey…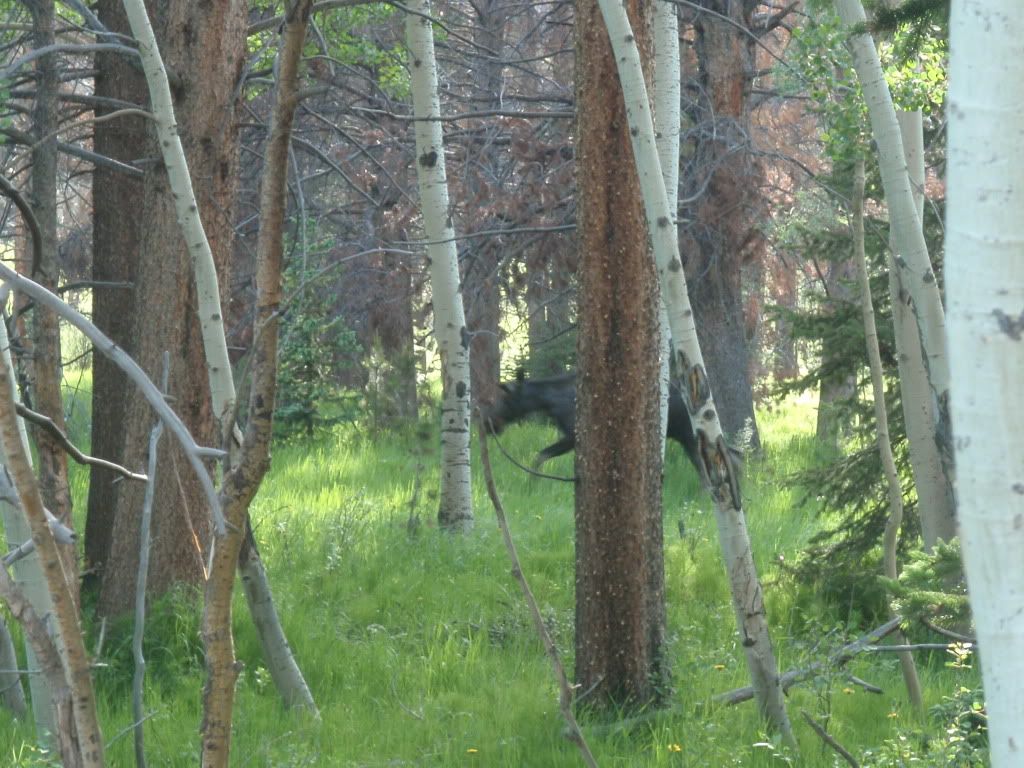 Started off our last flawless night with some bbq (chicken & sausage), corn on the cob, zuccini, and every other kind of snack you can think of. Ended the night with more beer, a couple of drinks(with several waters mixed in between), more smores, and watched a movie next to the fire on my XL notebook! 
The 4th brought with it nothing less than an extraordinary morning, and to which we woke ever so slowly! We then feasted on eggs, potatoes, chorizo, pork green chile, and the normal drinks. (WOW! I think that topped, more than I had eaten in the previous two weeks! LOL! ) We then worked just as slowly at cleaning-up, and breaking camp apart, but by the time the sun made it high enough to cut through all the trees and warm everything, we were already packed and ready to roll! I even had time to "put belly up" a couple of smack talkers, after only two more games of washers. They should have just kept quiet, now I can talk smack about it for life! I liked that deal!
We stopped by the lake on the way out. Did not take long, as we easily had our daily limits of cutties and rainbows, and were loaded back up and on the road within an hour!
Smoker bound!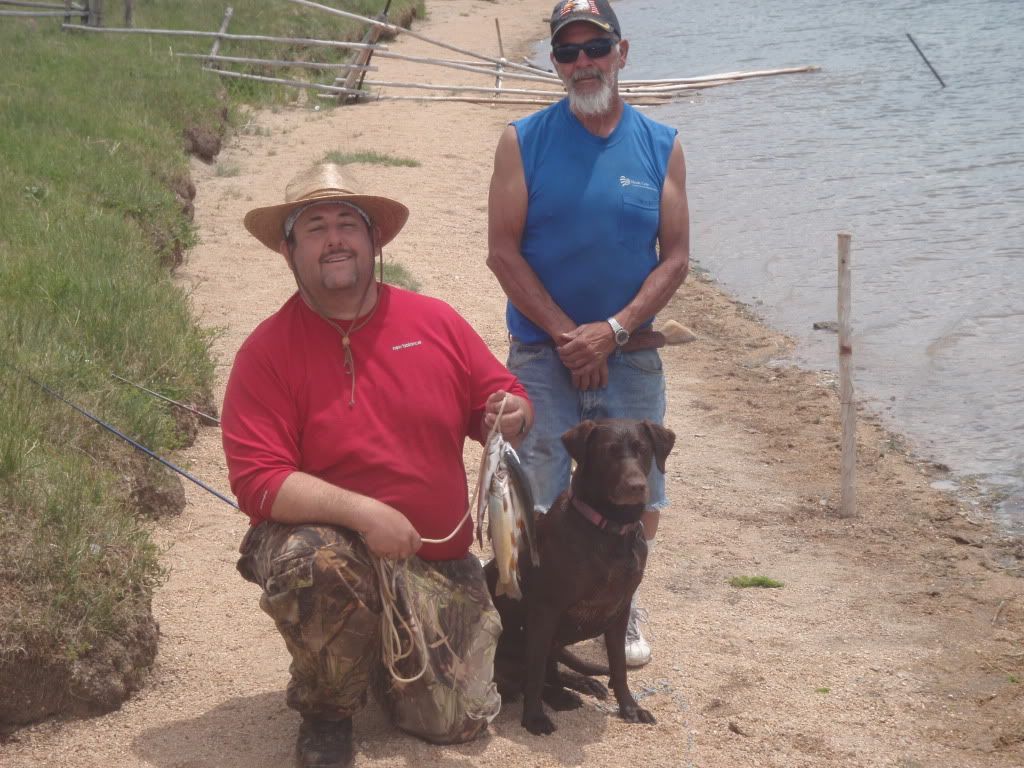 (…how redneck can someone look?!?! …nothing quite like a bottom feeding bait dunker is there? LOL!)
Less than 2 hours later, we were greeted by the heat that everyone down here had to endure, and three and a half hours later we were unloaded and sitting in front of the cooler with ice waters, lemonades & iced teas!
Like I always say about this time, I do so love this Colorful Colorado!
… I tell you what though, THESE DARN MOSQUITOES HAVE GOT TO GO! I am going broke between gas & bug spray!
HC Out!