With all this recent success in the air, I SHOULD be a bit embarrassed to re-cap my weekend turkey hunting! …but it was a great weekend anyway, and I have thick skin!
I am just going to have to leave it as a "report" since for the third consecutive spring I am making the results of my turkey hunts, a fishing report! 
I just returned from a short weekend jaunt trying to find a big ol thunderchicken that might want to play with me and my longbow. ...though as far too often these days, I am again eating "tag soup," and this one of the turkey variety.
...though it was an incredible weekend just the same, and we sure as heck chased birds all around the mountains for two days!
)
We began by passing on around the Spanish Peaks while getting to our spot to chase these spur wearing birds!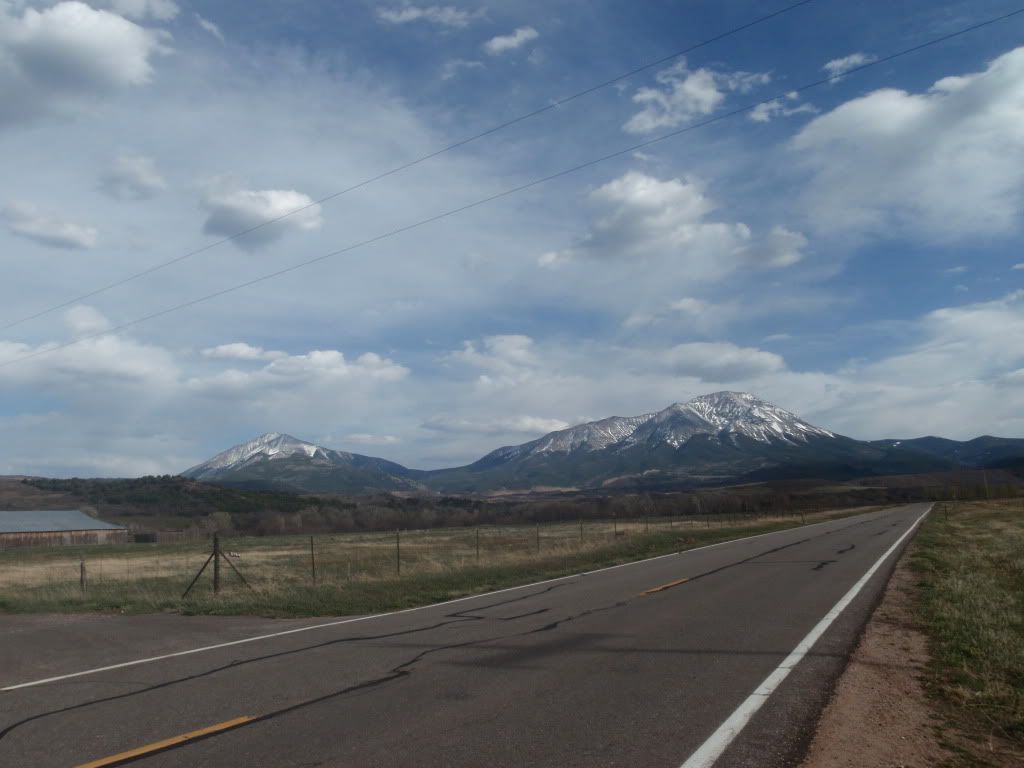 With no chance to scout out anything prior to darkness on Friday, we decided to just walk around close to camp at day break to see if we would hear anything. We really did not want to go marching into someplace in the dark and run all the birds out of the country.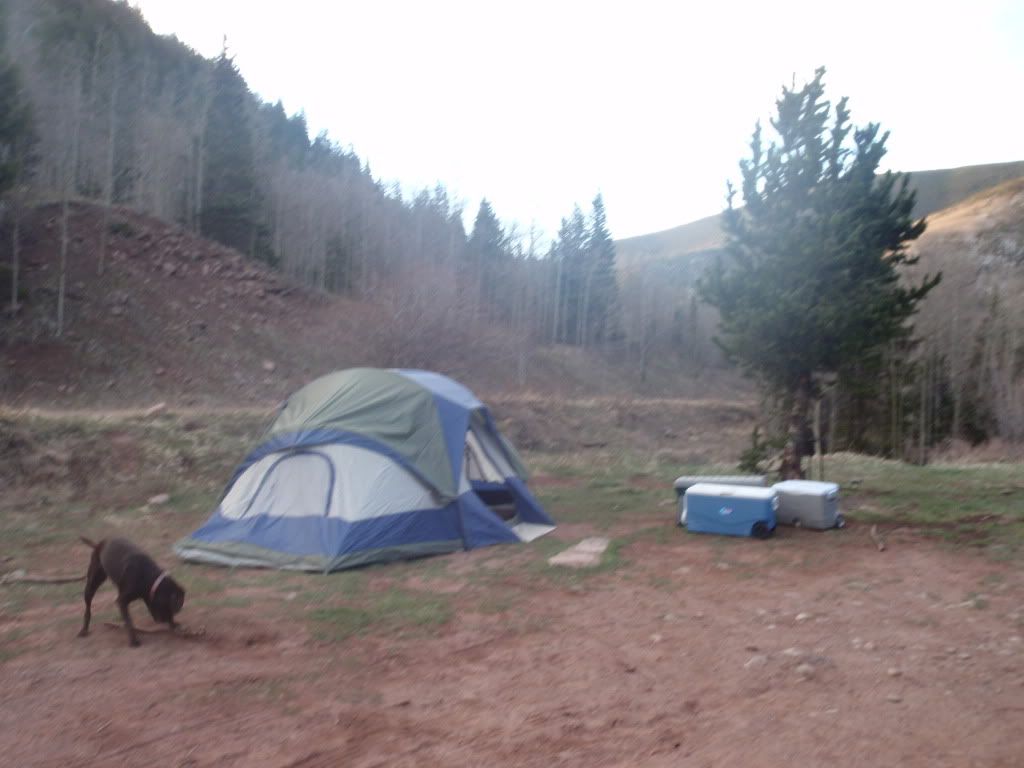 Soon after the sun came up though, we headed down the canyon a bit to park, so we could hike up to a nice plateau I am familiar with (I already told the story about this place two years ago, of when [9] hens absolutely shredded my She-Mobile decoy!) Upon arriving at the parking area, we were greeted by a few elk crossing by, while heading up to the higher ground & some shade to snooze away the day.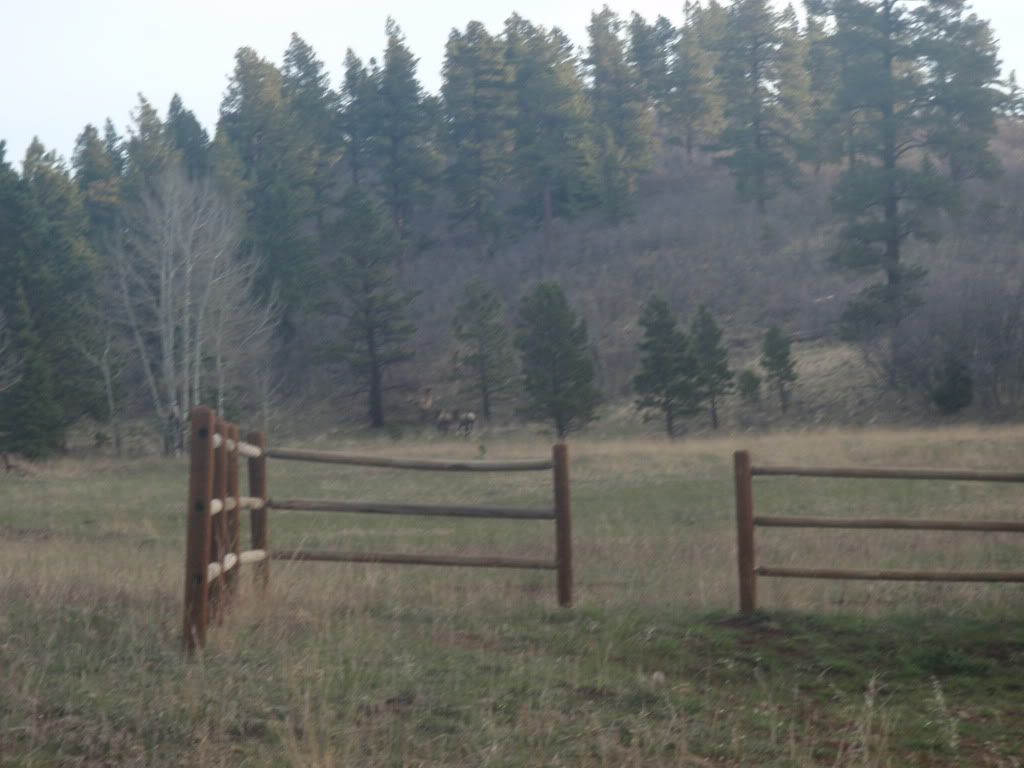 Well, due to my tendency towards long windedness, I'll shorten up the amazing morning of trying everything possible for over an hour, trying to get a gobbler to close the last 50 yards. Literally including, coughing, sneezing, whistling and barking like a dog; all of which he immediately answered with a loud gobble! After more than an hour though, he high tailed it the opposite way, and we decided to take a stroll around and scope out the layout of the land before heading back down to the truck.
Must have been a gem of a unit during the fall, because in the several square miles we covered this past weekend, there seemed to be a scraped -up sapling that scratched some bull's itch about every twenty steps! here are a few…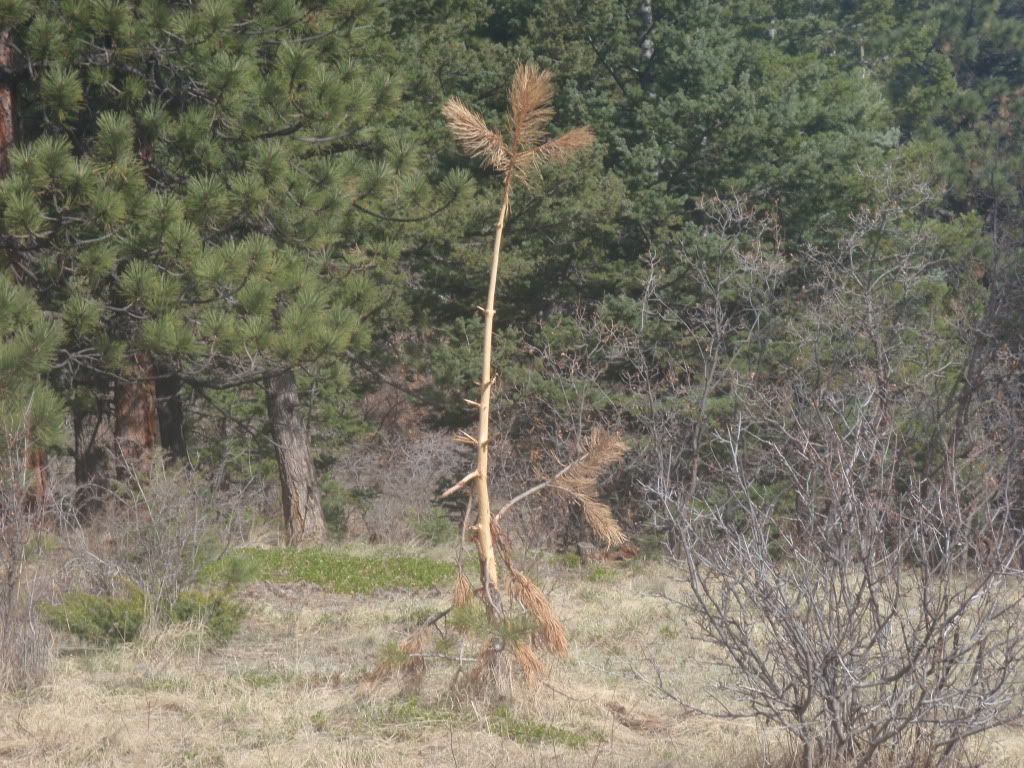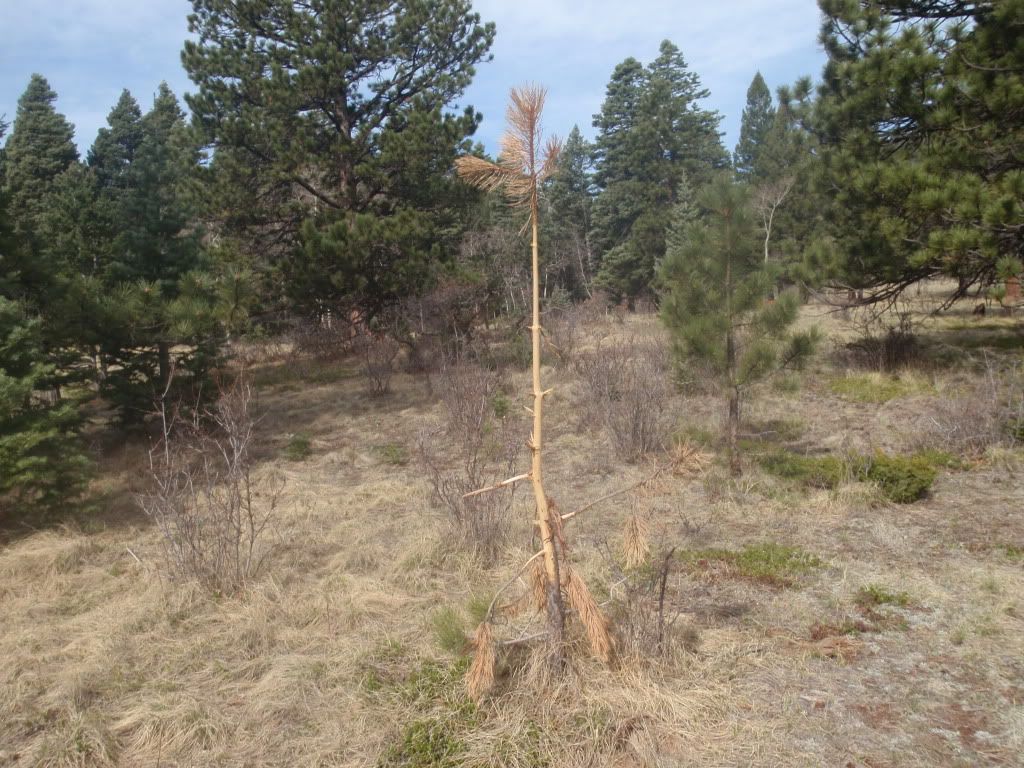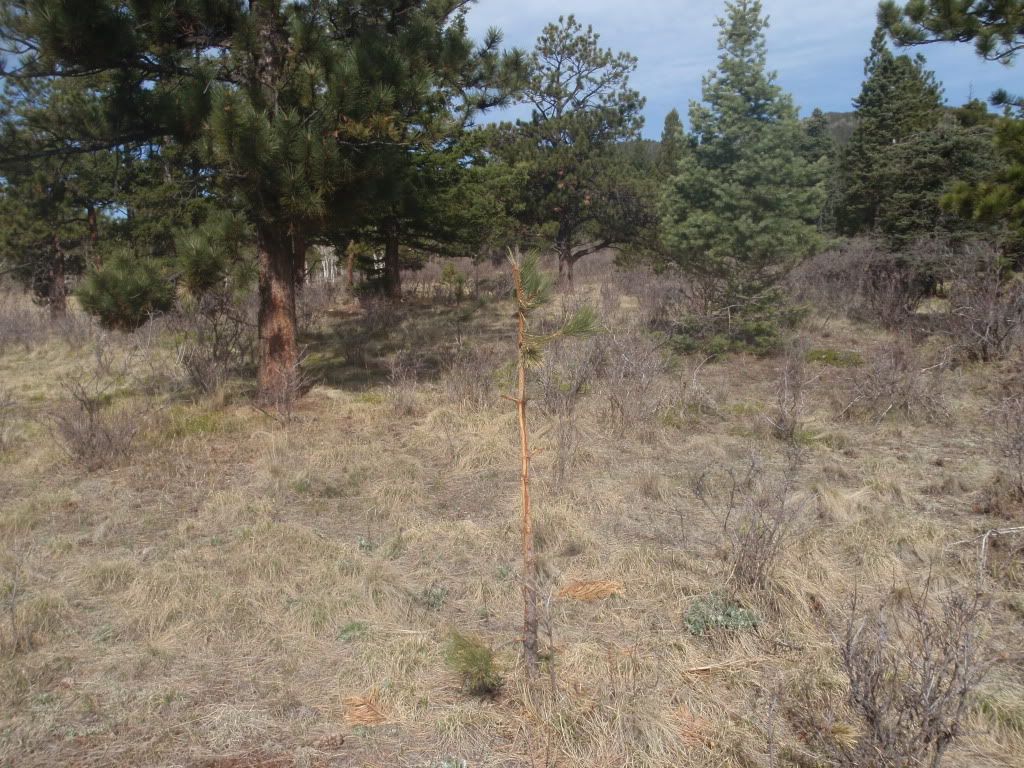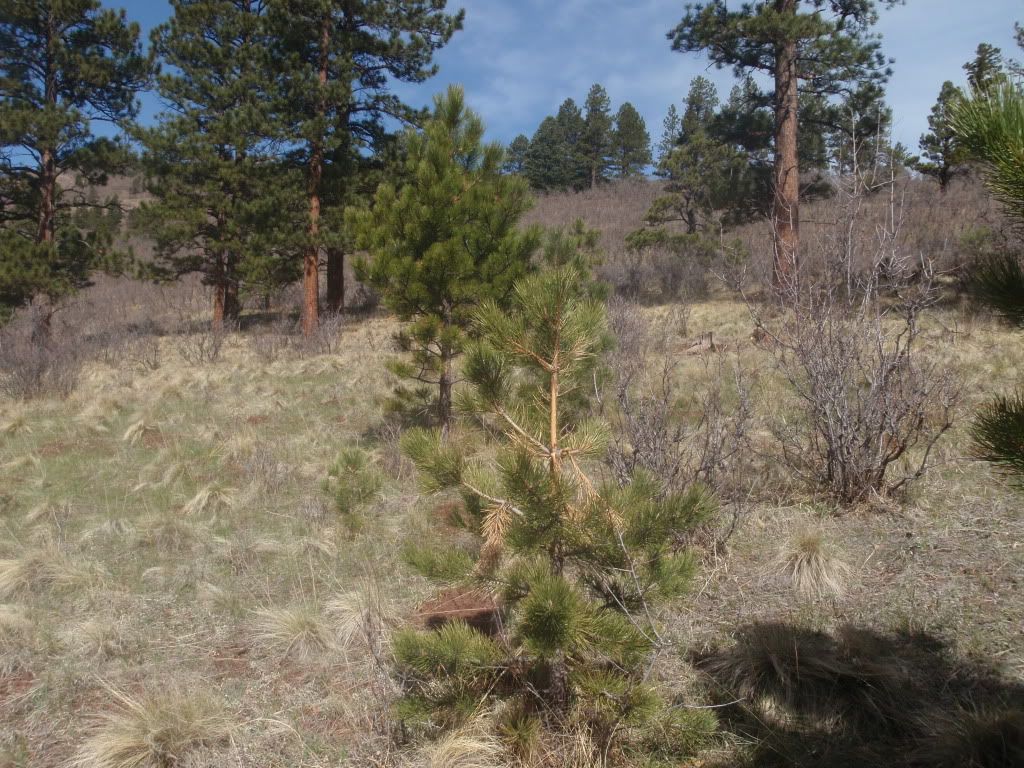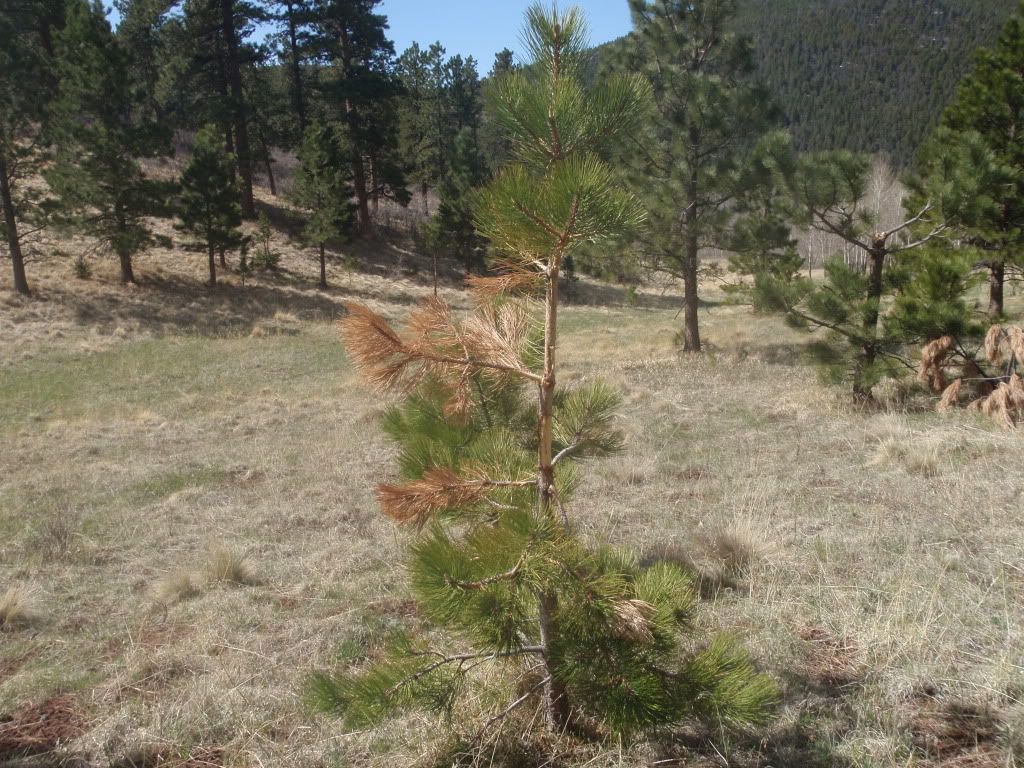 Once back to the truck, I let Kiwi out and she immediately found where a tom had recently been plucked, as if to remind us what we were supposed to bring back for her as her reward for getting left behind in the truck!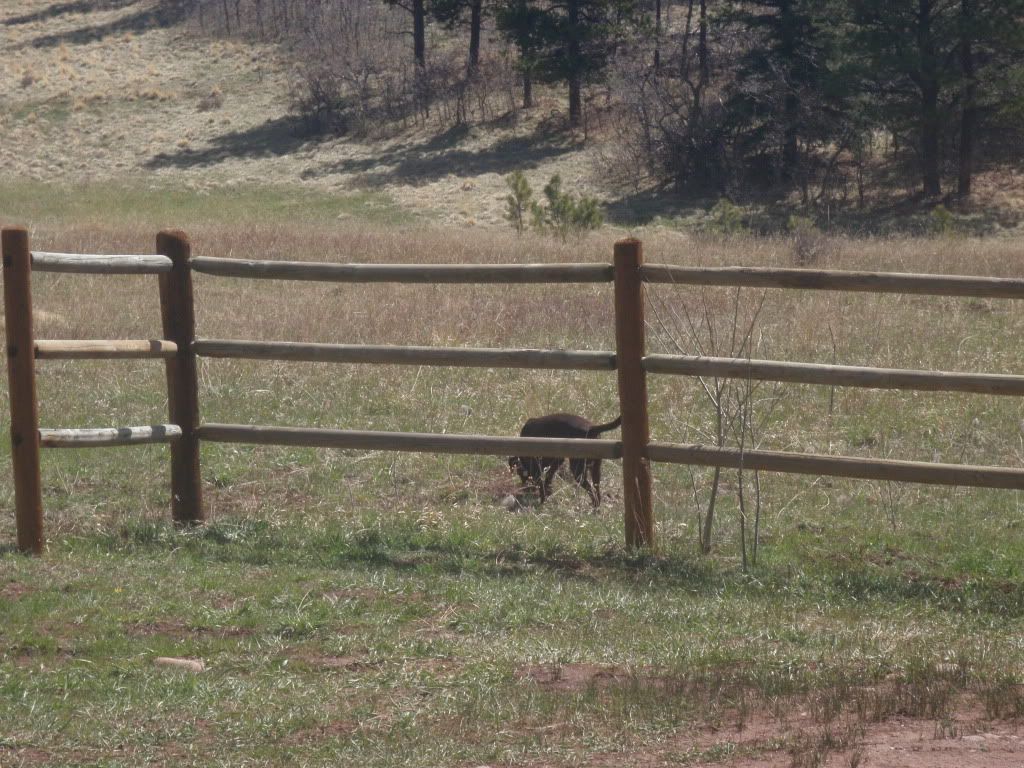 Heading back down the hill, we ran into a jake & tom just off the road, and even though we had parked, moved off the road, and even loaded up the boom stick, Manual decided better of it and let them be for another day. Bravo! (I actually passed on toms twice! …on this very same stretch of road two years ago, on that same hunt, that I mentioned earlier!)
I did manage to get out and wet a line once, and unbelievably enough to everyone that is in the know...it was of this funny type kind of floating line, where the pole is 9ft long and you throw things at the fish that I needed a magnifying glass to tie onto the end of the line!!!
LOL! First long rod catch of the year!
)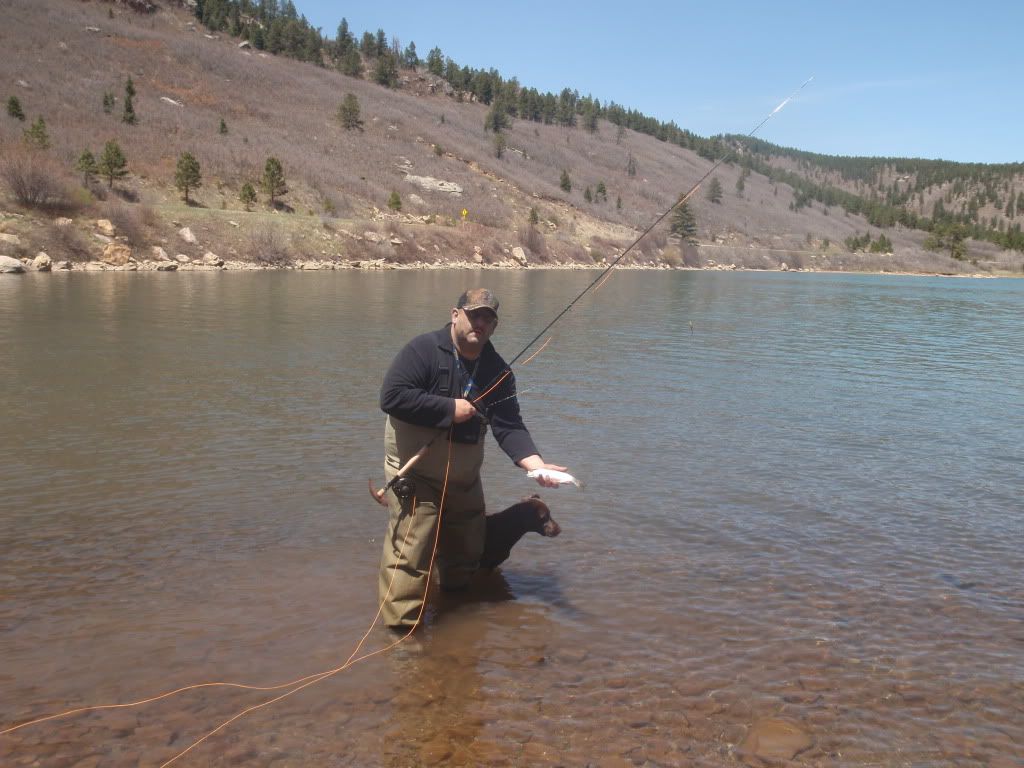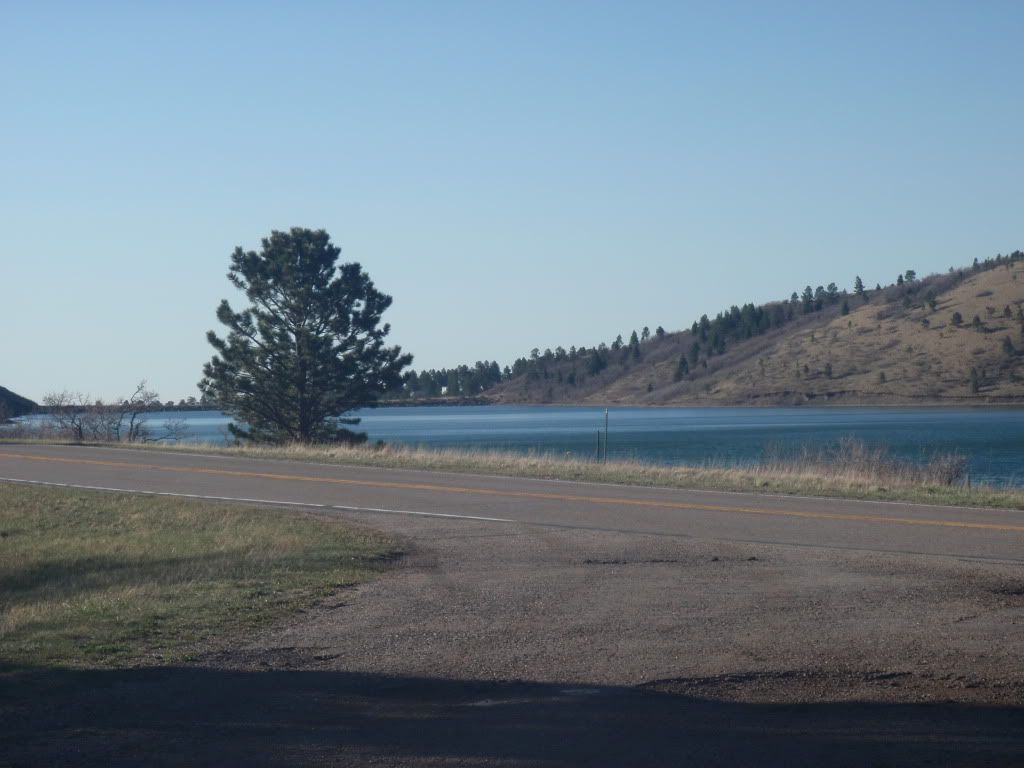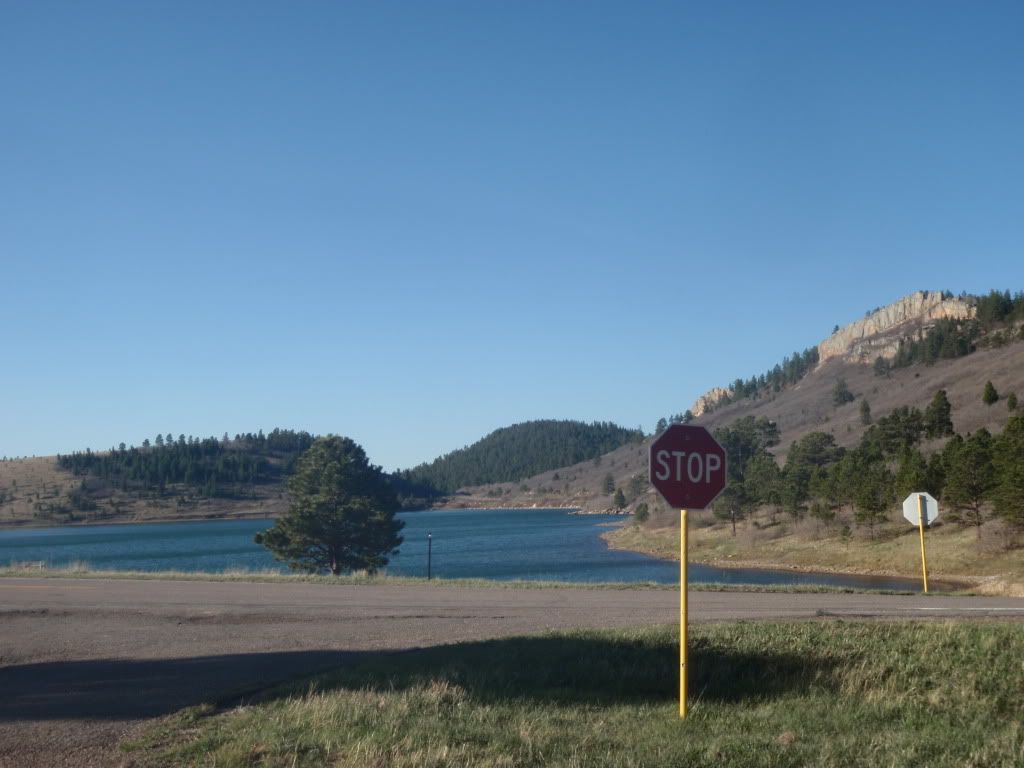 ...And right after that catch of course, back at camp went the last of the backstrap! Sad days begin until fall! 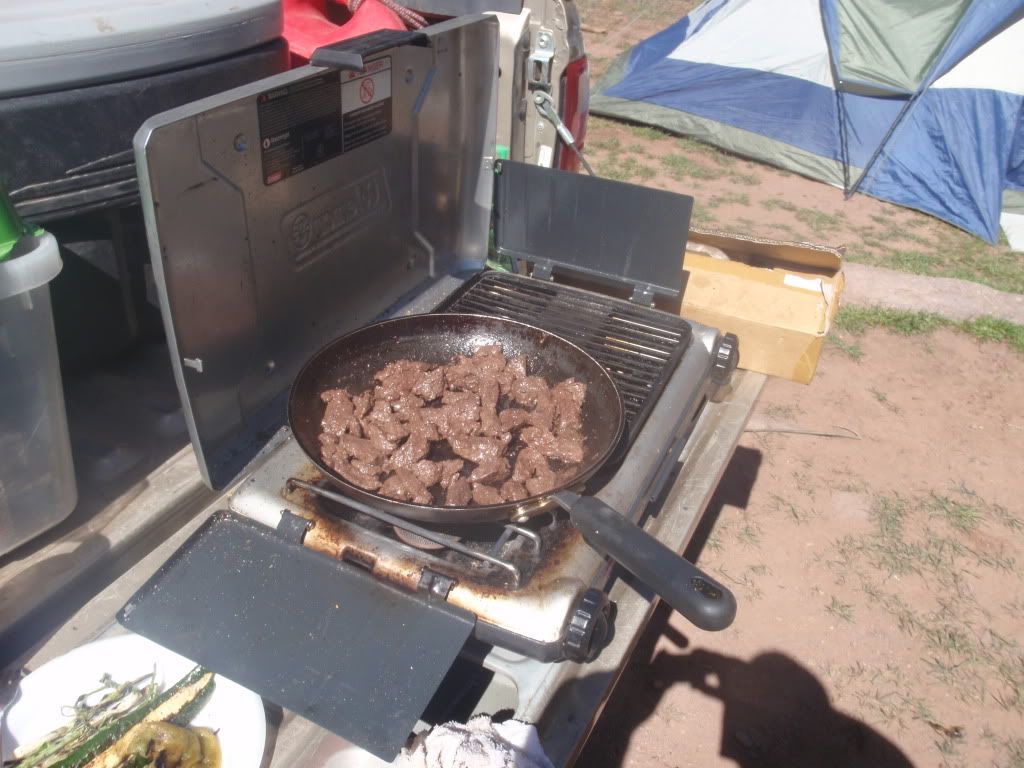 Followed that with an awesome evening hunt, while sitting up under this tree, listening to gobblers down off in some distant canyon somewhere, and watching all the wildlife head downhill to wet their lips at the local watering hole!
Up early Sunday morning, with intentions of hiking around and trying to find some quiet birds hiding away someplace. I would do this while my buddy went back up near the same meadow on top of that plateau to put out a set and try and call in a stray tom tom close enough for his 10 gauge to touch him!
Up the hills, down the hills! Huffin & a puffin all the way! Ran across this neat little photo opp while up on top of one of the hills! This long since dead tree, must have picked up this big ol rock one heck of a long time ago!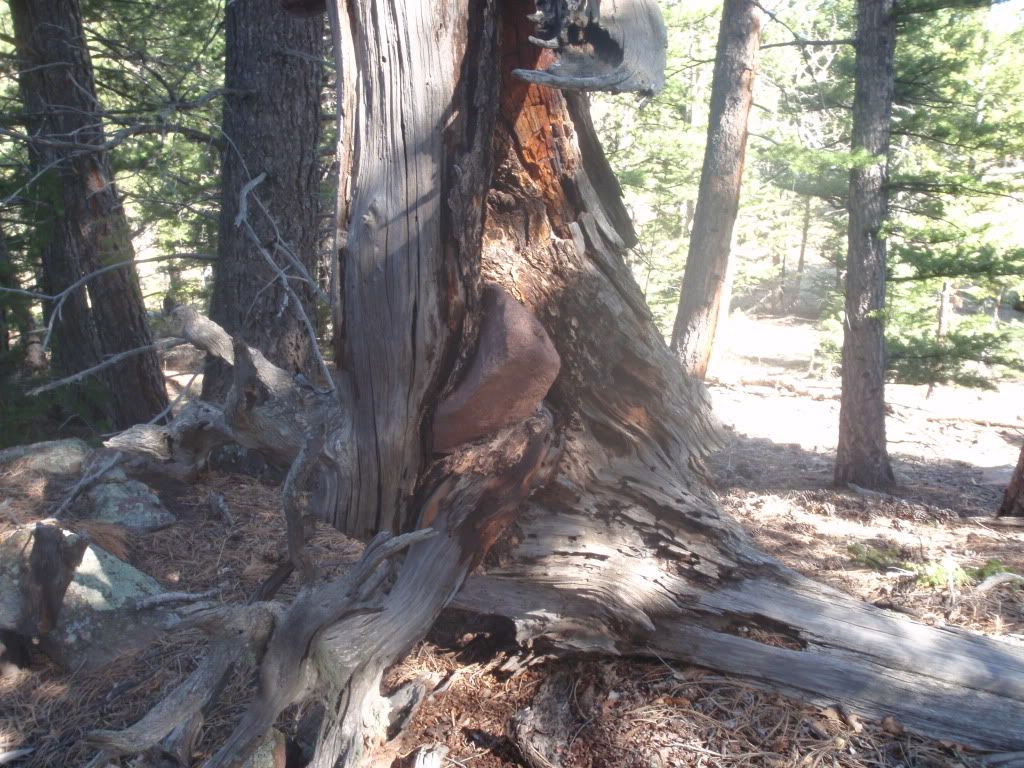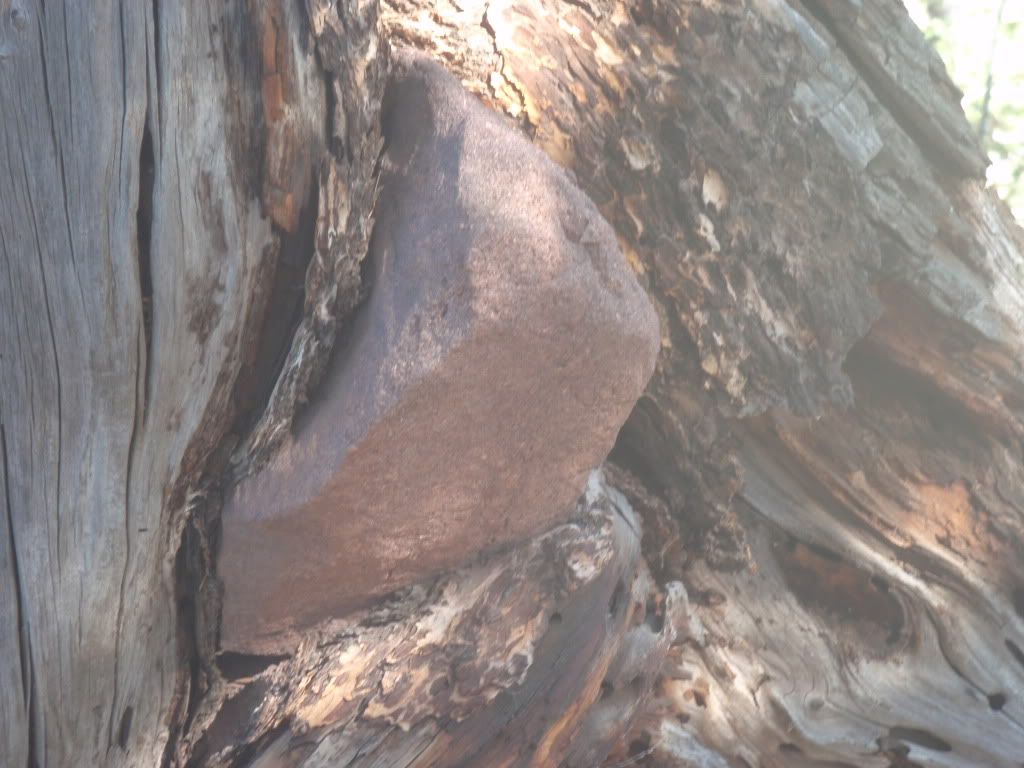 One of the Spanish Peaks peaking over the hill far off to the northeast.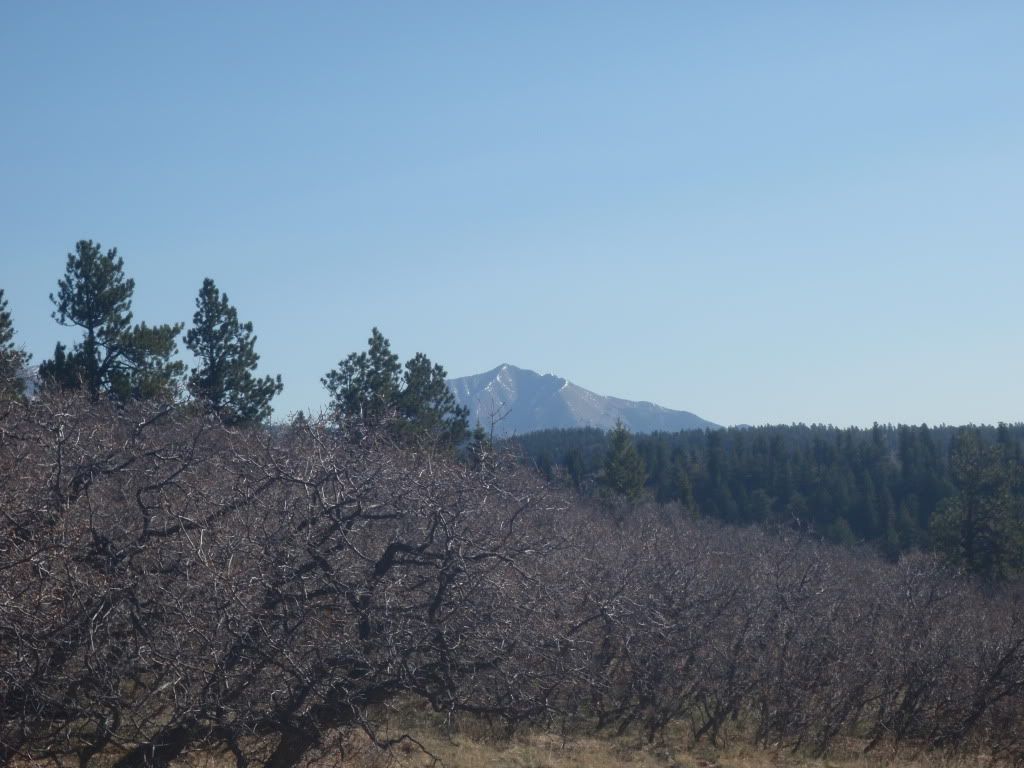 …and Quatro Peak (13,488') to the west of us. With one of my favorite sights of all in the foreground!! …ALL THE TREES ARE STILL GREEN!!!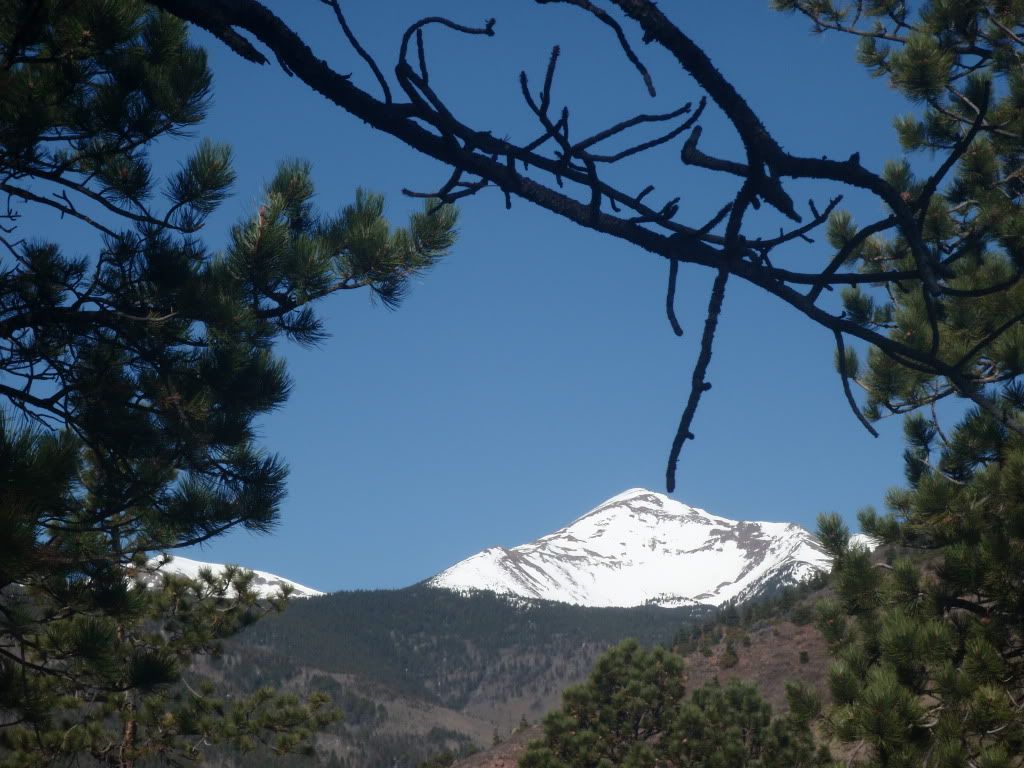 Even though that gosh darn wind wouldn't give us a break even for one weekend, I do believe that I saw a few signs that SPRING might even be on the way! LOL!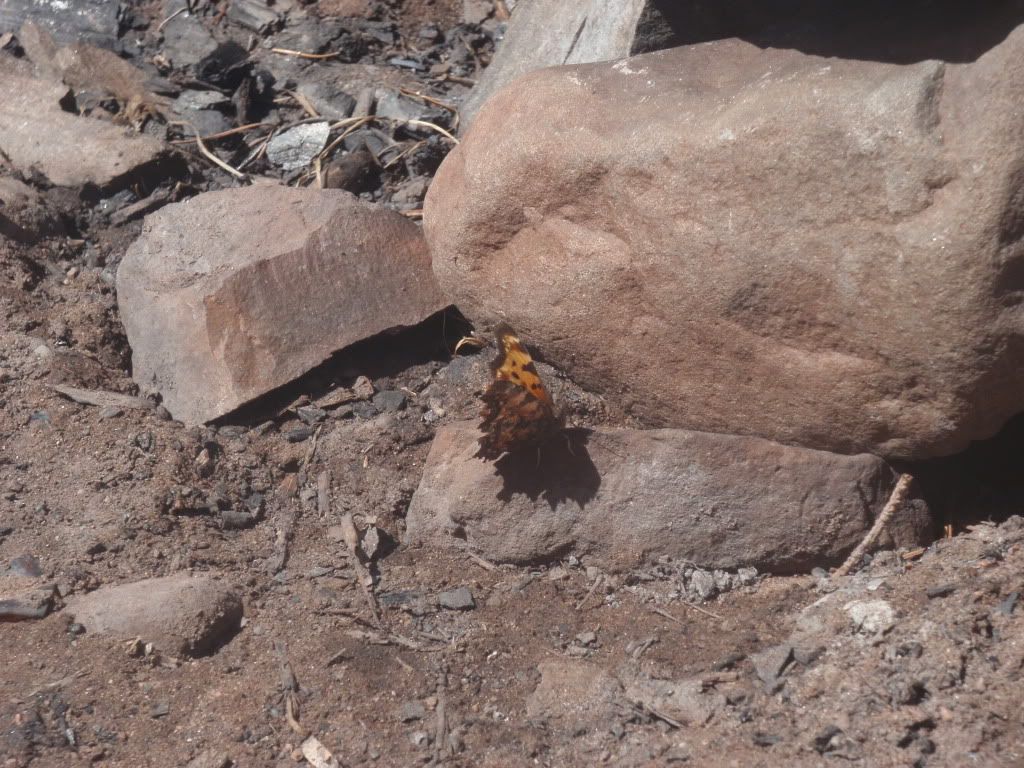 I ended up bumping a nice big tom while sneaking around the woods, but of course he spied me seconds before I laid eyes on him as he scurried away well within shotgun range, but here be me with my longbow in hand! 
Met back up with Manual who not long after he got in place had a bird hang-up again just out of sight, and then decide better of it and headed for safer grounds!
With camp still to break, and a good 5 hour drive ahead, we ended yet another incredible hunt! …even though we did not get to validate our tags! …AGAIN!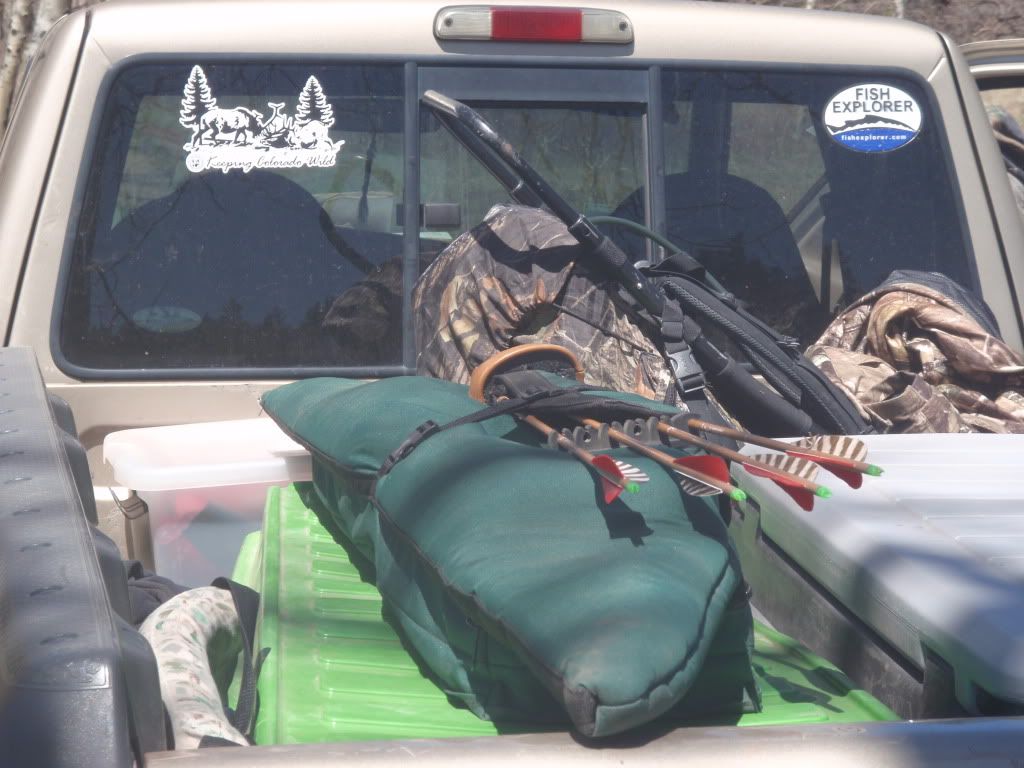 My hunting buddy Manual giving the one last "coulda shoulda woulda!"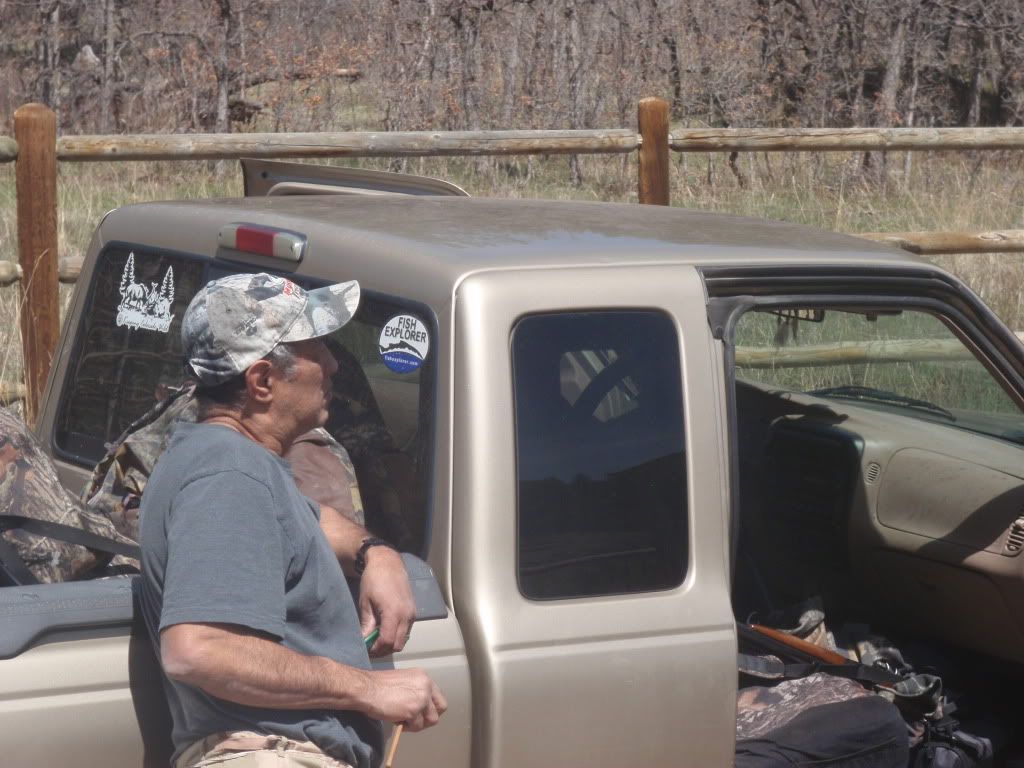 So yeah, maybe it should have been a fishing report as it already has been twice previously!