Well...another one is in the books and its back to reality. This fall was really challenging - as usually I was busy beyond belief and, yet again, it was nip and tuck whether I'd actually be able to make it hunting. But, yet again, the Lord came through and (yet again) at the last minute everything fell into place and I was on a plane back home. I have to say - I am Canadian...and I am from N Sask...but the climatological shock of leaving +15C Ottawa and landing in -15C Saskatchewan (in the middle of a blizzard, no less) was a bit much. But cold is good. Cold means the deer will be moving. Snow is good. Snow, even 6" of fresh snow, means deer will be easier to spot in the bush, dating tracks will be a cinch and blood trails will stand out like a sore thumb. To say I was excited would be an understatement.
The conditions were perfect, except for one small detail...we had yet to have a single truly decent buck show up on any of our trail cams (since late August at least). We were puzzled...there had been several decent (~160) bucks which survived last hunting season (if any of those bruisers had been tagged, we'd have heard of it); last season there had been a ton of young-ish medium bucks (120-130 class), the winter had been mild with little snow and predators minimal. But for whatever reason the big boys seem to have moved. And moved FAR. In fact we only knew of 1 quality buck (a 150 class 5x5) in the area and it was literally living in the bush 200yds behind a neighbours grain yard.
Anyway - I could care less. After the stress of the previous few weeks I was just tickled to be home and hunting. And there was no shortage of "deer" around; Life was good.
I arrived at the farm noonish on Sat and first on the business was to confirm that I could still shoot, that out of the way - it was time to pick some spots. A quick tour of the usual old-faithfuls confirmed what my brother had been saying...lots of deer but no big bucks. The lack of scrapes *could* be attributed to the recent snow (a stretch, but its possible)...but there were no monster tracks and very few rubs on big trees (I only saw 1 in total) and very few rubs at all. That left only one realistic option...hunt the does. Where the does are, the bucks will be sooner or later. With only a week to hunt, I was praying for sooner. I had three spots picked; the first was a perennial favourite - the confluence of two well travelled doe trails which have been actively used by deer to cross a small ridge as long as I've been hunting.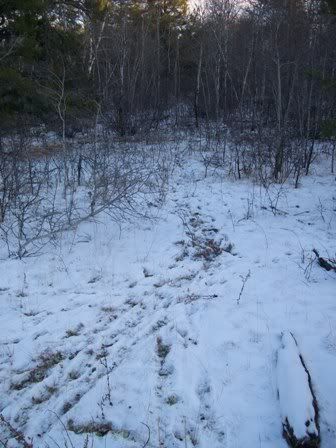 Some of you might remember it from last year as "the birch blind"...
well, this year it became the "pine blind" (the birch tree was about 50yds further up the ridge):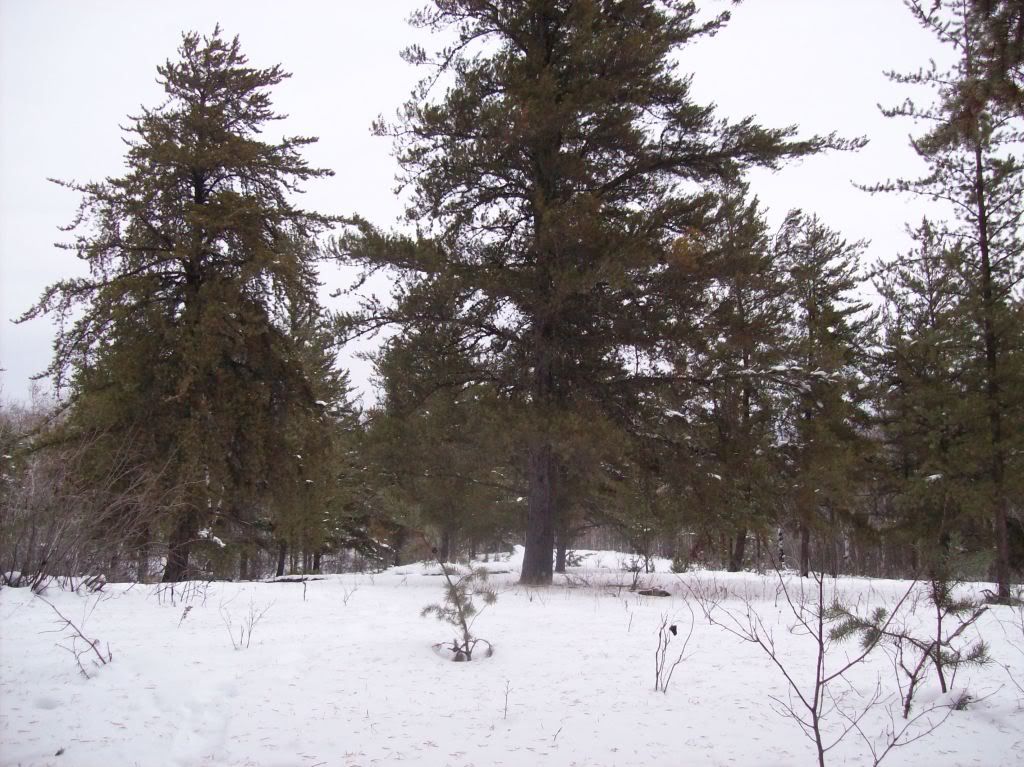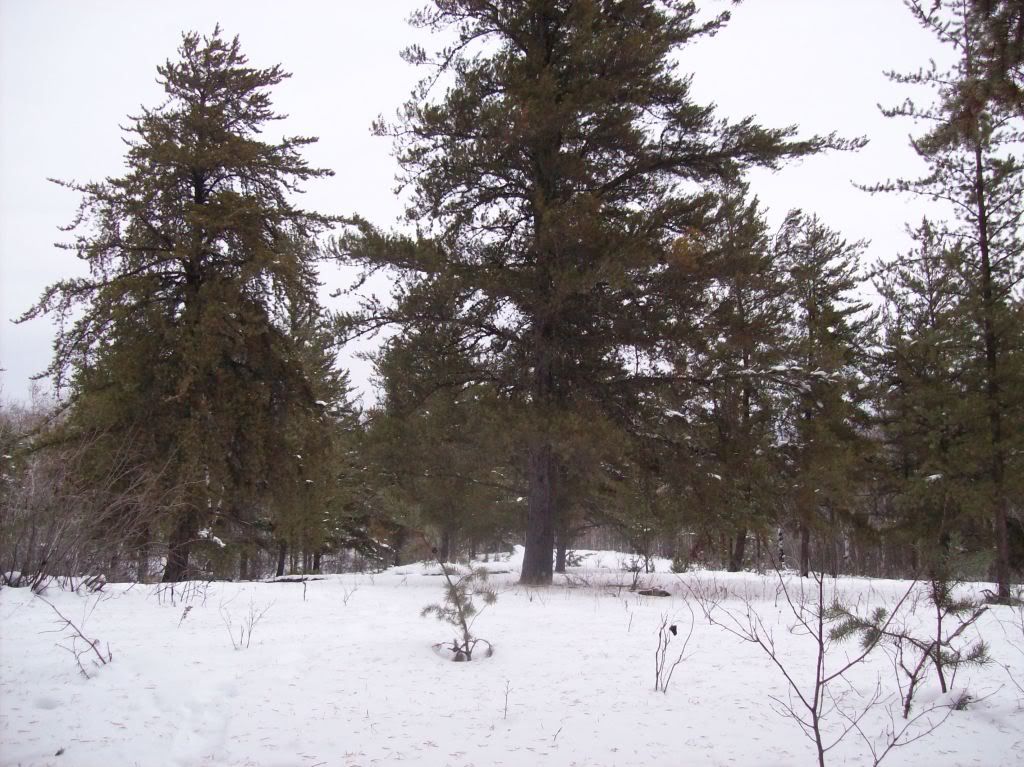 This was intended to be my morning/mid-day spot for an east or west wind (it was just a question of which tree I sat under)
The second spot was new, sort of. There's a particular hill just north of our land that locals know not to come flying blindly over because there's often a deer on the other side of it. A quick glance at the tracks in the foot-deep snow made it obvious that this trail was still in use. I followed this trail until it crossed the remnants of an old homesteader road and the power-line before angling up over a slight rise toward what looked like a potential bedding area. I liked this spot - why I had never hunted here before I have no idea - the old road is a known natural travel corridor and I have many times just walked down it, picked a spot and sat down when I didn't know what else to do (in fact that's exactly how I killed my first deer). So is the power line. From just up on the ridge I had a clear view of all three. It was ideal for any wind with an southerly or easterly component and after 41 years of close-calls on the road nearby I knew that it could produce at any time of day.
The other spots were one of our hay fields (north or west-wind afternoons) and the spot where I killed last years buck for mornings with southerly winds.
Sunday was Remembrance Day, which pre-empted the morning hunt and I spent the afternoon working on a Plan B and C...just in case.
Monday...I was ready and settled in at the scene of last year's success an hour before sunrise. The deer weren't. It was a great day in the bush all the same; even better as this year my brother had "stored" his ice shack out in the bush near one of our hayfields and it became our rally point: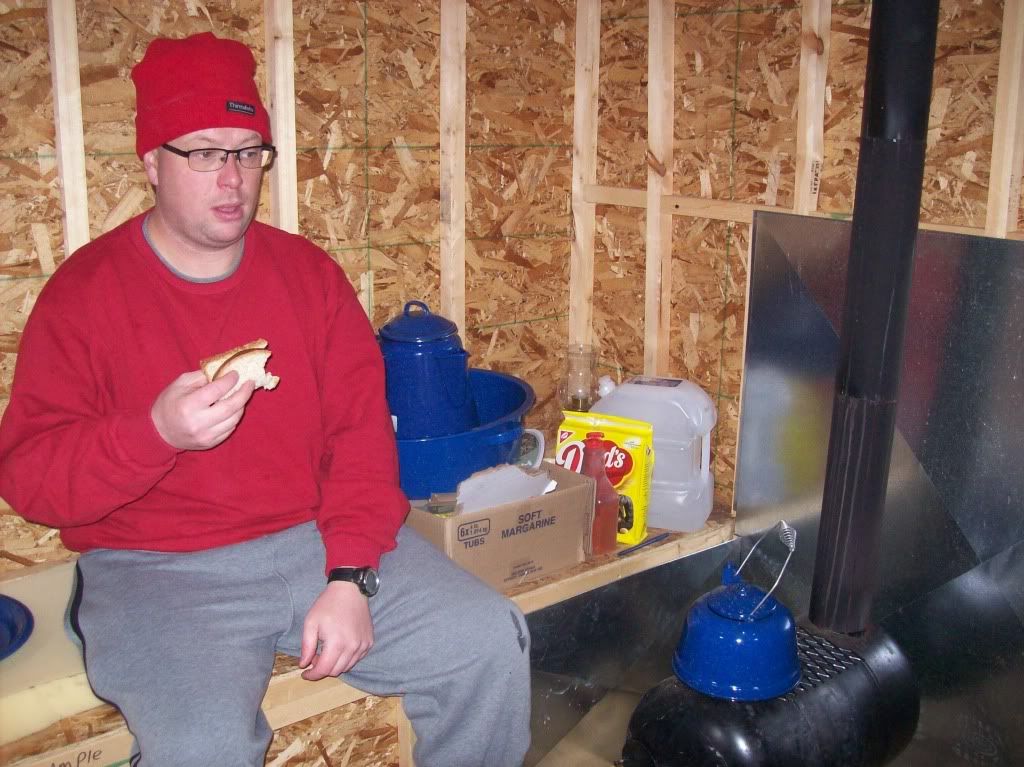 The afternoon at the hayfield was also a bust. Tuesday I set up on my new ridge spot. It was another slow morning, but in the early afternoon two young bucks came trotting down the power line, a 2nd year spiker and young 4x4. Spikey continued up the old road but the little 4 picked up the deer trail. 20 yds right in front of me he stopped, perfect broadside.
"Bang" I whispered under my breath and smiled. Oblivious to his near death experience, he continued up the trail and over the ridge. That one experience made my hunt.
The next morning (Weds) I was back. The sun had barely risen when a lone doe came down the trail. I waited thinking surely there would be more but it wasn't to be. Over lunch I weighed my options...although I had seen some deer there hadn't been many; and there was still the pine blind to try. I decided to sit the ridge one last day and if there was no improvement in the activity level hunt the pine blind the next day. It was going to be an early hunt anyway as I had committed to speak at my nephew's Air Cadet Sqn that evening and had to be back in town in time to get cleaned up and changed.
I was back settled in by 1230. The only action was from a pine marten who checked out so fresh squirrel tracks before heading up over the ridge to my left. About an hour later I heard a little crunch-scurry from that direction and, thinking he was back slowly turned to try and get another look at him. Nothing. After maybe a minute, I looked back to the front and RIGHT INTO THE EYES of a mature 4x4, who had came out of nowhere and was locked on with both eyes and both ears less than 20yds away. I was pinned. He was nervous, but not completely spooked and started to scamper nose-down along the trail keeping an ear on me the whole way. At 40yds I let out a little grunt and raised the rifle. He turned and looked back...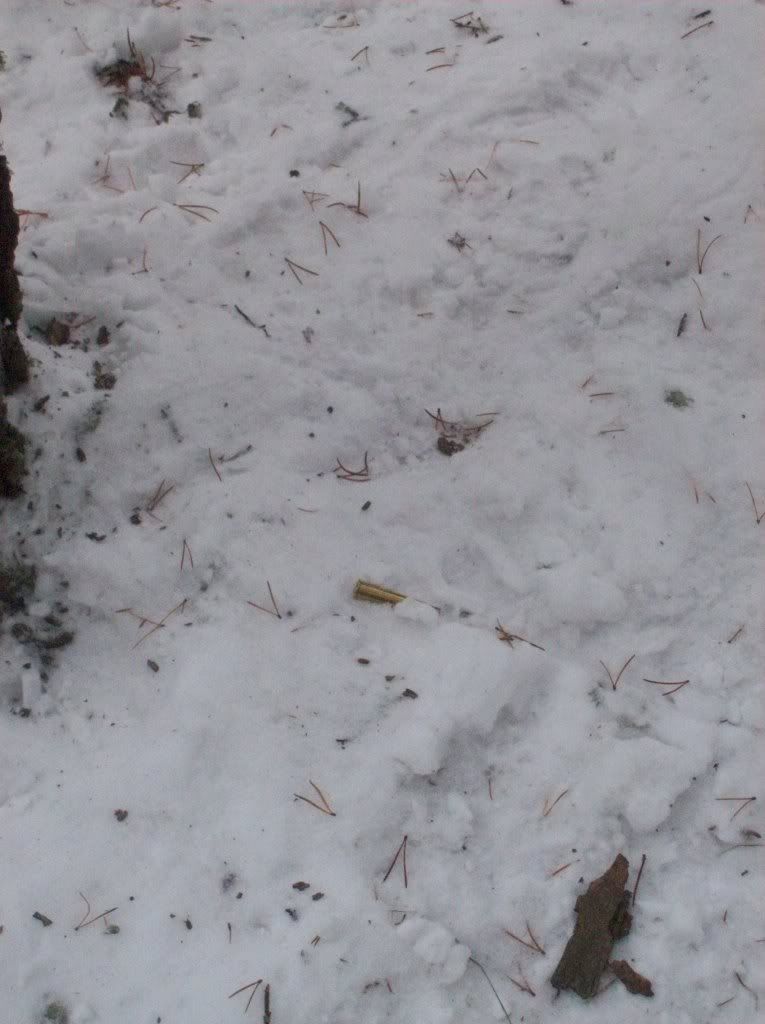 That's a good sign....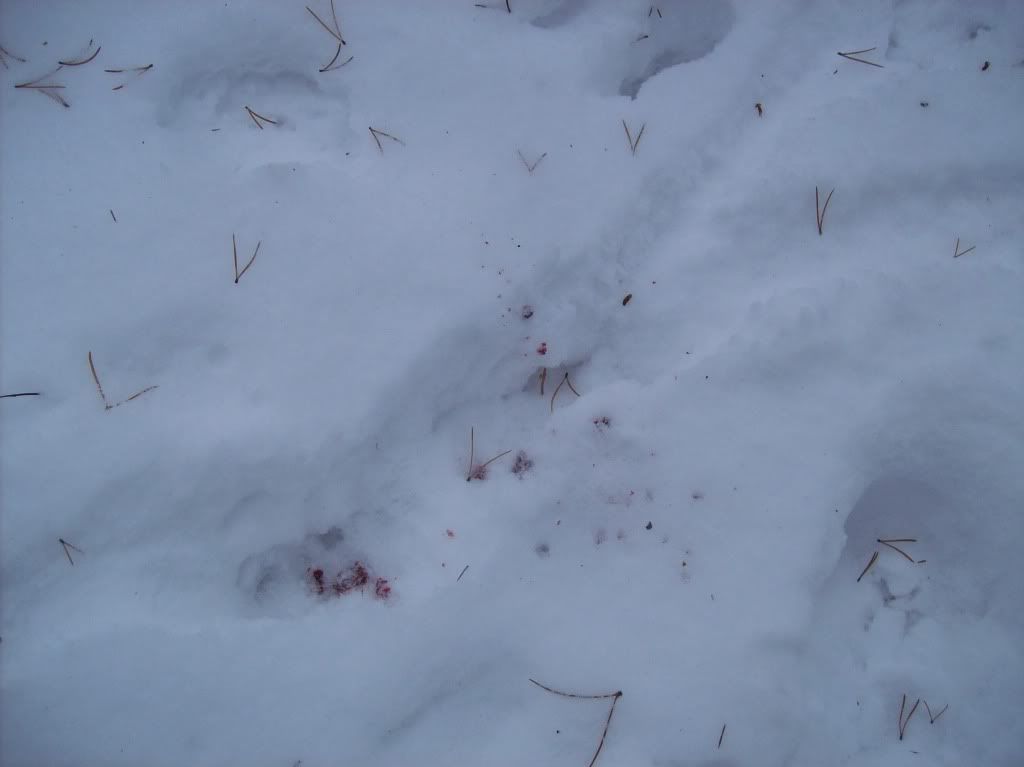 TAH-DAAAH!!!!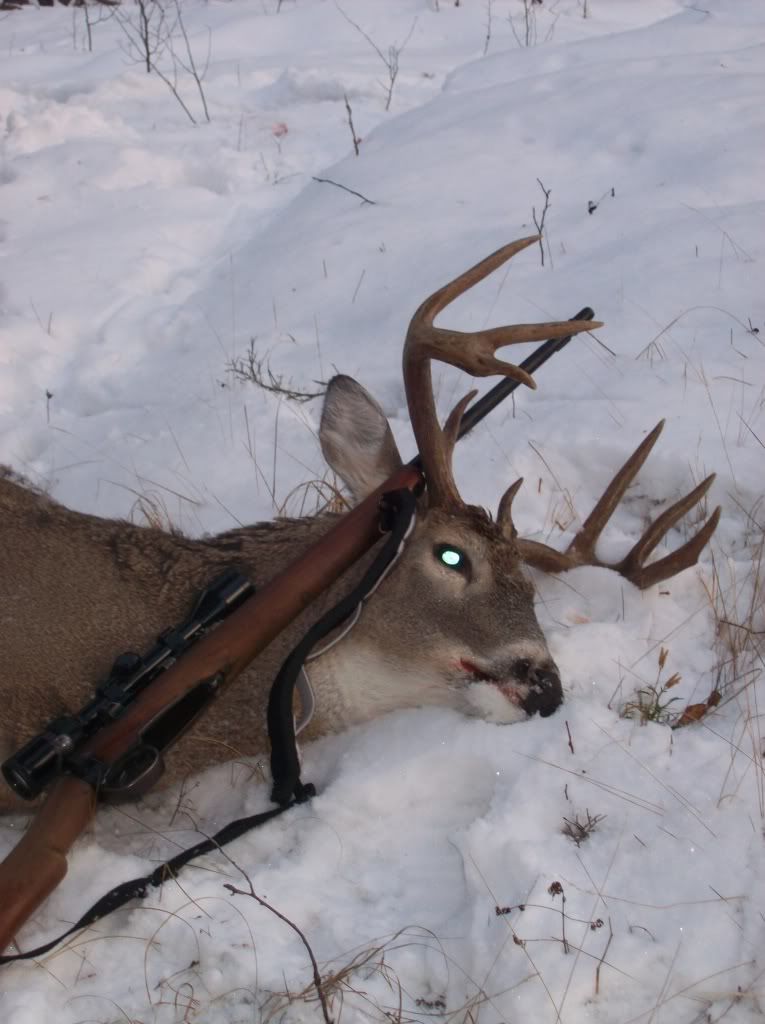 He was nothing like last year, probably won't even crack 130 with only 8 scoreable points...but I was happy.
But wait....there's more....
My nephew turned 13 this year which meant he was eligible to hunt under supervision. He had been out on the weekends and seen several does and young bucks, but with school and an Air Cadet winter survival-ex scheduled for the weekend he too was running out of time. My brother agreed to let him miss 2 days of school (Thurs/Fri). Thursday was extremely windy, and he missed his chance on a young 3x3 when an errant wind swirl betrayed him and the buck spooked. Friday, he had to be back in town by 1500 to catch the bus for the winter ex.
The clock was ticking. That morning was the only morning that none of us saw a single deer. It was 1100...what to do? While enroute to a new spot we spotted a lone deer from the truck out in the middle of a field. It seemed to be ambling east toward a 10ac patch of bush. My brother's knowledge of the myriad of back trails enabled us to get around almost a full half mile in front and downwind of it. We parked the truck and the stalk was on...the two of them quickly and quietly bee-lining it to get to the bush before the deer did and ambush it. I stayed at the truck chain-smoking. They disappeared into the trees.
A half hour later...BANG!!! One dead deer and one ecstatic first time hunter.
We never did solve the riddle of the disappearing big bucks. This past week my brother tagged a average sized 4x4; it was nice but nothing like what he's accustomed to. Oh well, that's what makes the big boys special...if you tagged one every year then they'd be normal.
It was a great season, a great hunt and I'm just thankful to God that I was able to go.