Well, I'm back from my hunting trip back home. Actually I've been back for almost a week now but getting the pics sorted out between me and my brother took some time. That was probably a good thing because I needed a few days to process and absorb everything before posting it here, so that I wouldn't sound like a whiney sooky baby. For those "just the facts, please" folks – it was certainly the toughest hunting since I was 15, quite possibly the toughest hunting ever back home. I never even fired a shot. Heck I never even cocked my weapon. So…no deer.
I arrived on Saturday to find that there had been a miscommunication and I had no powder. The gun shop in Prince Albert (the nearest place to get muzzle loading supplies) wasn't open Sunday so right off the top I had lost at least half a day, as Monday I'd have to go get powder and then check the sighting on my rifle. Anyone planning to fly with a weapon DO NOT skimp this – I've never flown when it wasn't off on arrival, this time it wasn't too bad – shooting about 2" left and 2" high at 50 yards (the most effective range for the load I shoot) so a quick adjustment had me back on the bullseye.
Sunday – as planned, I went out scouting. Usually there's so much sign around home that just finding deer isn't too hard – the bush is full of deer trails a blind man could follow. Not all are used every year and some are seasonal so you have to pay attention and look for fresh tracks actually on the trail to make sure it's active. And just to complicate matters the mature bucks often don't bother with trails (they follow the same general route but not necessarily the trail itself). So what you're looking for is a well travelled, active trail running in the same direction as a rubline – especially a rubline that shows rubs from several years. If you're really lucky, you'll find a place where two such trail corridors intersect and then you have found a white tail gold mine.
Fresh rublines in October can be hit or miss back home – some years they're there, some years they're not depending on how far into (or away from) the rut things are. This year there were few, but that didn't surprise me much as the rut should be later this year. What really had me concerned was how long it took to find an active trail. Right away it was obvious that deer numbers were way down, as forecast. This was soon confirmed by the saddening number of bones scattered nearly everywhere you looked.
I found out later that this one was almost certainly the work of two-legged predators. (Incidentally, coyote numbers were down almost as much as the deer. They're not a big problem for the deer back home, they just clean up the mess left by winter. Mostly they eat ruffies and rabbits through the winter, but with 4ft of snow they couldn't catch them and starved along with the deer.
But this is Saskatchewan and sure enough although it took some leg work (10 hours of legwork in fact) by sunset on Sunday I had two spots scouted out – both showing exactly what I was looking for. The first spot was in the bush north of one or hay fields we call "the hay lease". We proved up the lease while I was in elementary school and have owned it outright ever since, but the name stuck. This quarter section (160 acres) is about 140 acres of hay with a 20-ish acre strip of bush running along it's north side. The bush continues north for another mile (Crown land) past the end of our property, with a narrow old cart track of trail serving as a basic (but not exact) guide for our property line. (Property lines aren't that big of a deal around home, Sask is very hunter friendly and unless land is CLEARLY (there are strict rules about what "clearly" means too) posted otherwise permission is not required to hunt on unoccupied private property.)
The second was on some crown land north of another quarter section of hay that my Dad bought from my uncle Merv before I was around. This patch of bush is locally referred to as the Sand Hills; although the term hills is used very loosely here, the soil is very sandy forested with Jack Pine and patches of alder/poplar scrub anywhere the soil is rich enough to allow them to grow. This area has always been my favourite spot to hunt – not Mervs but the crown land north of it. It was more of a numbers place – with tons of deer, elk and coyotes, and the odd timber wolf, moose and bear and recently even a couple cougars (confirmed by SERM in 2005). Just pick a tree – sit quietly under it for 30 minutes and you were almost guaranteed to see something.
Finally I found EXACTLY the sweet spot I wanted: a heavily travelled trail ran north-south across the ridges (hills) and eventually intersected with an active, though less travelled east-west trail in the valley between two ridges. The valley itself was fairly open offering 50-70yd visibility but the ridges were thickly covered in aspen scrub providing cover for a setting up a ground blind well off the trail. It couldn't get any better. I was walking back to the truck to get my pop-up blind to place back there when I ran into an old high school friend – who was on his way in to place his stand more or less in the same spot; and to sweeten the odds he was leaving a couple bales of alfalfa hay.
Back to square one. At least I had the hay lease….
Monday was spent getting powder and sighting in and trying to find a new back up spot in the Sand Hills.
Tuesday the wind was actually favourable for the spot on the hay lease. I settled into my stand just as the skies opened up in a downpour. The rain kept up all morning which created two serious problems – most of all there's a lot of truth in the saying "keep your powder dry". The bottom line is rain and muzzle loaders don't mix. Hunt in the rain and sooner or later you WILL have misfire or bad shot. The other problem took awhile to show itself – the road back into the hay lease was all clay. I remembered this just in time and did manage to get back to the truck and get it out of there before getting mired in the quagmire…barely.
Now what? One spot was taken, the other would remain inaccessible for another three days. I reverted to spending the mornings sitting along various cut-lines, power-lines etc near hay fields until 1030 hoping to get lucky, after that (and a sandwich and coffee) I'd prowl along the ridges and trails through sand hills officially still-hunting but actually scouting, trying to find a new spot. In the evenings I'd set watch over small hay fields. Robert generously offered to let me use one of his other stands which had activity but no shooter bucks, but the wind never worked out right. I tried it one afternoon but with the wind wrong none showed.
So I struck out; in Saskatchewan, the mecca of white tail deer hunting. Obviously I'm disappointed, but at the end of the day I did get to spend every daylight hour for a week in my favourite bush country which is never a bad thing. On Wednesday my brother came out from Lloydminster to hang his stands and scout for the rifle season so it was great to hang out with him between hunts.
Here's an example of a local tactic – the portable ground blind: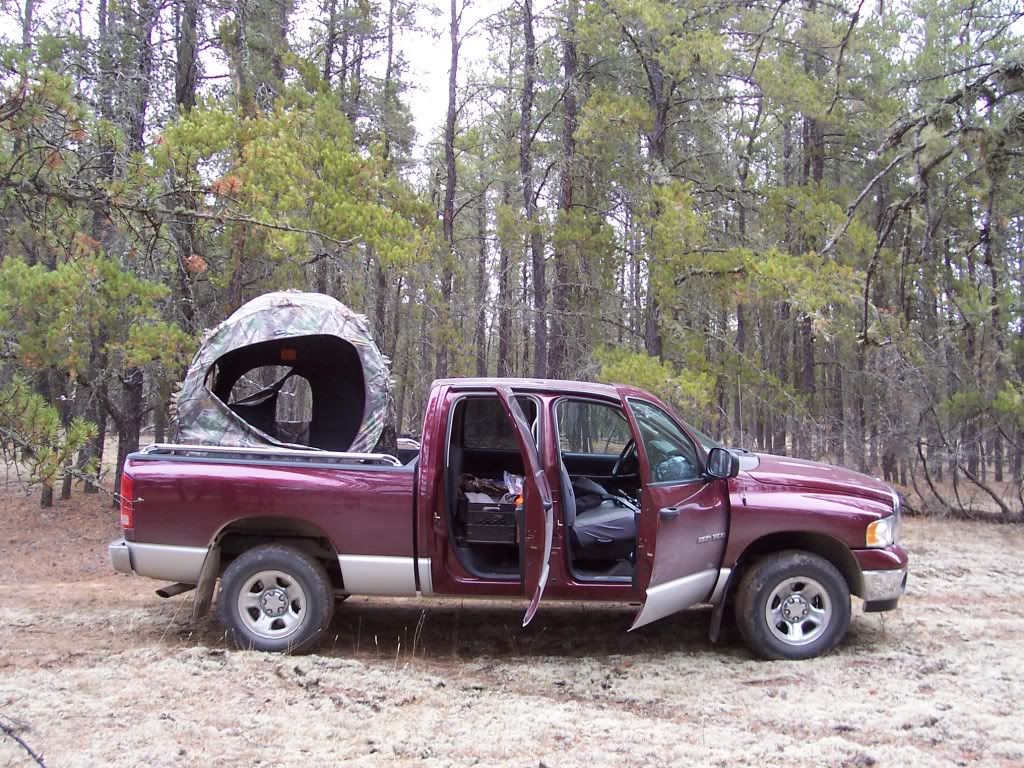 (Before you freak out - in Sask firearms don't have to be encased while in a vehicle, just unloaded).
And I did see deer just not nearly as many; plus they were all does and fawns and although I was tempted, when push came to shove I didn't. Thanks to the trail came I had these two patterned really well, but they were about the only deer using that trail so I kept looking.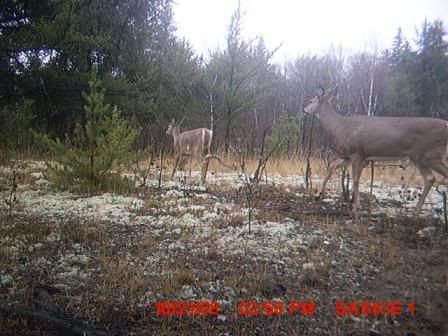 Although deer weren't plentiful, I did catch some amazing wildlife on my trail cam. I was really pleased with this remarkable critter which I had several pics of. I'm not sure what it is, but it sure is a striking and handsome specimen: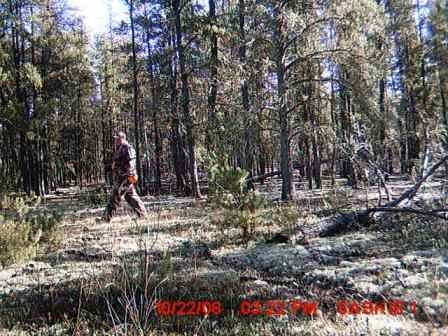 (I think it might Saskiequatch - very rare indeed.)
In hindsight I should have hunted Gary's land more – but I stubbornly clung to the notion that there were other deer in the Sand Hills, and since I enjoy that part of the country so much I "wasted" (not sure that word is appropriate but I'll use it anyway) too much time there. Undoubtedly there were/are, but I'd have to go in deeper than I did. Next year...
Although the herd is drastically reduced, there is still a healthy population. It was the yearlings and 2 yr olds that bore the brunt of things, the mature animals seem to have made it through alright. The next couple years will be critical for the long term health of the herd. I noticed most does only had a single fawn with them this year as opposed to the usual two or three – but on positive note I didn't see very many lone does. Bucks were scarce, but I know for fact that at least four of the dominant bucks in the area on and around our farm, including one legendary monster known as "Gary's Buck" survived and probably will outwit the hunters again this season as he has for the last 8 years.
I actually caught a glimpse of Gary's buck driving back from hunting twice. He was just on the edge of my headlights – it's the first times I've seen him on the hoof and he is HUGE. Here's his sheds from last year: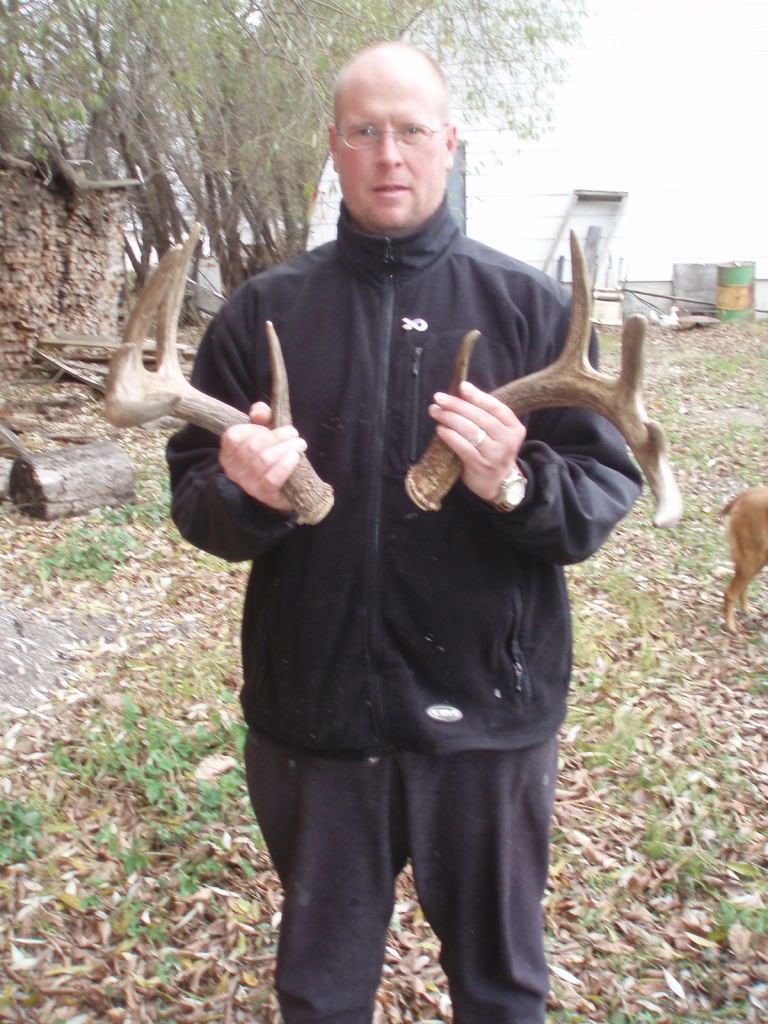 He spends 90% of his time in a thick marsh tangle along a creek on our neighbour Gary's land, directly opposite of our old farm yard. When the shooting starts in rifle season he high-tails it into Gary's yard, where he stays for the winter except for nightly romps to breed. Since he winters more or less right on Gary's doorstep he has all of his sheds for the past several years, not only the big boy but dozens of other impressive racks from "lesser bucks" which call Gary's land home.
The end.