Here a little tidbit from another site from a member that was at the inauguration.
The grand finale of the Texas Inaugural Ball Tuesday night in Austin was none other than Uncle Ted. Wearing a shirt of the "Stars and Bars" , he came out waving a giant US Flag and then played his famous (at least to his fans) version of the Star Spangled Banner. That opening was met with some really funny looks from many long time regulars at the event who aren't even comfortable with some of the newer renditions heard at the opening of football games.
He continued the show with the hunting song which featured hunting videos on the two giant screens. Always extremely outspoken for the rights of hunters, he made typical Uncle Ted remarks and gave a salute to Gov. Rick Perry, an avid hunter.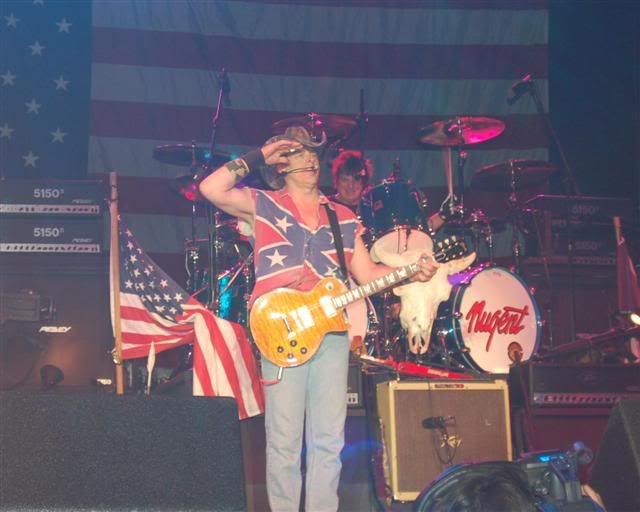 Continuing his very politically incorrect show he sang a lengthened version of "Kiss My A$$" with a couple of new verses dedicated to Democrats and other political groups. The very partisan Republican crowd was much more comfortable with that song….LOL
And then came a giant, fully body rendition of Osama Bin Laden lowered from the ceiling. After a great musical fanfare and some choice lyrics, Uncle Ted slid his guitar to his back and was handed a Red, White and Blue compound bow. Then to a cheering crowd, he made a 15 yard heart shot and didn't make any excuses that he believed that's what really needs to happen to the terrorist.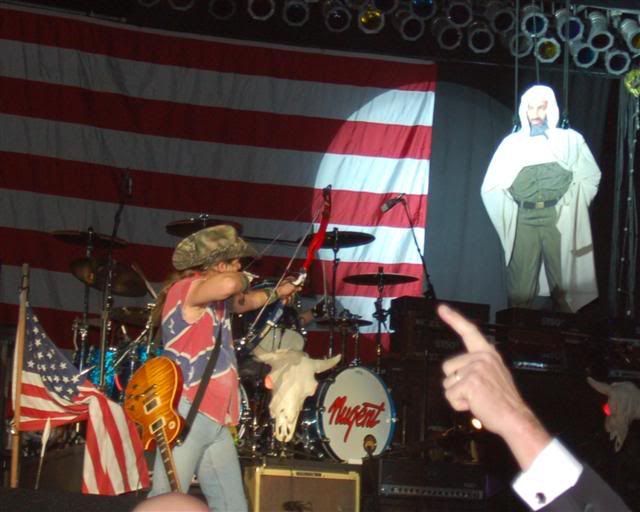 It was a good party.