Every now and again a man realizes just how lucky he is to be at a certain place, at a certain time, with certain people... It seems like more and more I look at my sparkling little gem of a daughter and ask myself, "What did I do favorable in the eyes of God to bless me with a child like this?" Maggs and I took a little vacation from her school yesterday and today and went on a hunting trip.
Wed. night was supposed to be dad's night to bow hunt but swirling winds and a bad stand location led me to abandon all hope of a successful hunt at 5pm and venture back to grab Maggie's rifle and head to a rifle stand. With a big hunt planned for the next day I informed her that all she was allowed to shoot was a fallow doe that had eluded her dad for the last couple years. The price was right to bag her and I thought a chocolate colored fallow would be really cool. About ten minutes to the end of shooting light the fallow made her appearance. Minor problem, black cross hairs and chocolate deer do not mix well in fading light. Maggie made the shot but was just a smidgen low. I thought she had hit her perfect because at the shot her tail went up when the 53gr Barnes Triple X smacked her and she began to stumble backwards with her butt dropping as she went. When we climbed down and went to check on what we felt was going to be a dead deer at the spot of the shot we found a blood trail off into the woods. After alot of hard tracking we called it quits for the night after 200yds. It was forecast to be in the 30's so leaving her was not a problem. We recovered her thur. morning less than 100yds from where we lost the trail. Dead as a hammer. Her shot was a bit low and ripped below the heart and lungs, but the barnes out of the .223 at 3300fps managed to rip along the rib cage and rip up enough arteries that she bled out. Nearly 14" of penetration.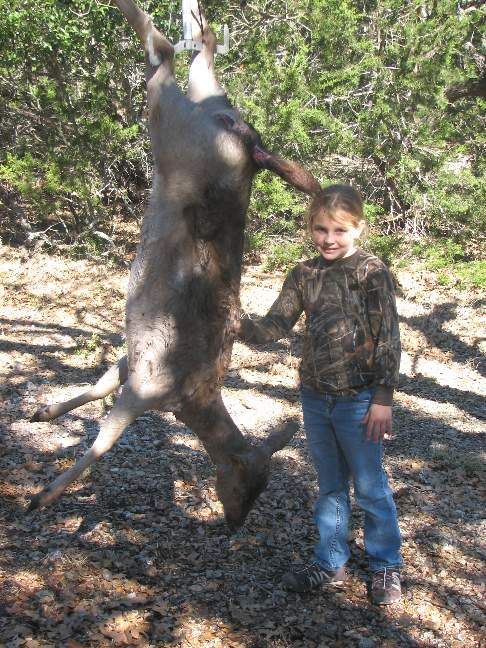 Then this evening Mr. Will Calcott took her out on his ranch near Junction and sat in the stand with her for the evening. He ok'd her shooting a nice axis buck that field dressed 150lbs and sported 28" horns. At about 75yds she placed a the 53gr Barnes into the ribs, shattering 3 on entrance, the bullet then bisected the chest, shattered 4 ribs and went into the offside shoulder, and is lodged there at this time, until I cut it out tomorrow sometime. Near as I can figure this is almost 20" of penetration with the angles like they where. Axis are not slackers in the muscle department they are big dense deer and to get that sort of performance from a .223 speaks tons of the Barnes in my mind already. I sort of balked at spending $35 for 50 of them, but am very glad I did. Mr. Calcott said that at the shot the axis acted as if he was not even touched and started to walk to the back of the feeder pen. He grabbed another bullet and told Maggie to she had missed to which she replied, "No I hit him perfect." As he went to jump the fence to get out he rolled over backwards and died not more than 10yds from where he stood when she fired.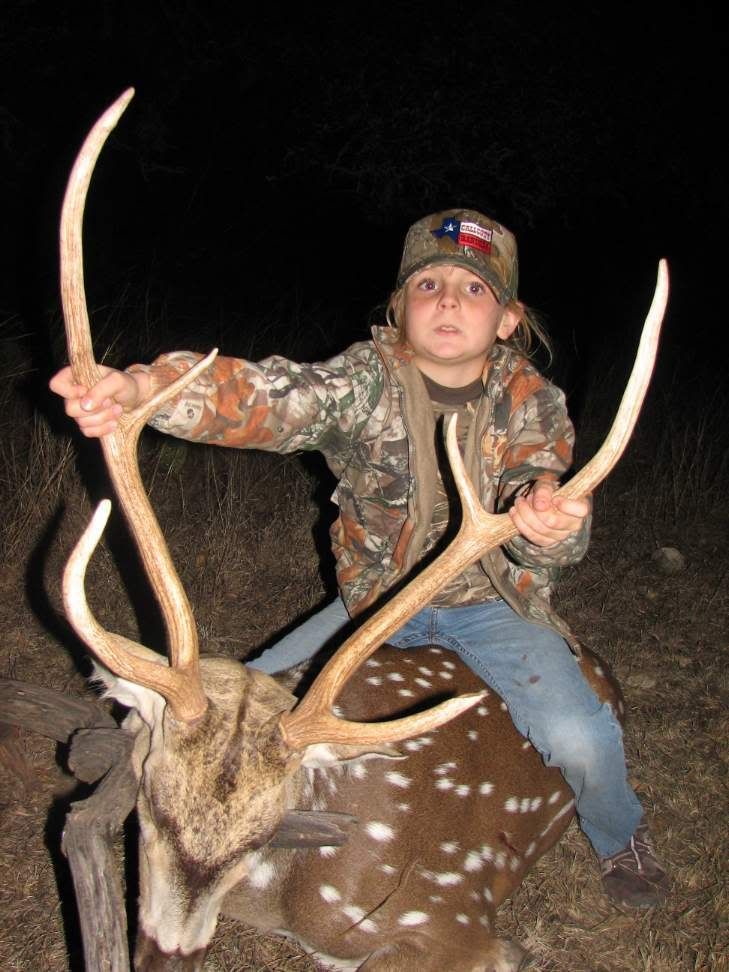 A huge thanks to Will and Calcott ranches for making this happen, Will I owe you for providing my daughter and I with a wonderful memory. I am still not able to find the words I feel I need to express. Last night it was fighting back tears, it is amazing to feel so wonderful and proud. You showed Maggie a wonderful time and she loved every minute of it. I don't normally plug things on internet boards, but if you want to see an amazing amount of animals and hang out with a fun guy, you need to book a hunt with Will Calcott. He is on this board and will hopefully post a comment or two here. It is hard to find a guide with the patience to deal with a 7 year old little girl who likes to yap non stop. Then to put her on an animal like he did, amazing stuff.
One proud Daddy,
Steve