I took my son on his first ever Pronghorn hunt in New Mexico last September. I know it's a little late, but since I'm new here I thought I go ahead and post it.
...............................................................................................................................................
After a long drive from Houston the day before, we managed to get an early start even though we we're pretty tired. I was a little worried cause I made him pass on a smaller one about 8:00 AM at about 100 yards. He wasn't happy, but went along anyway. I guess he figured old dad knew what he was doing. We came across a few more that were just to far away for him. I was hesitant, but let him take a couple of 300 yard shots at some decent goats. I think it was just to far and everything had to happen so fast it may have been to much pressure. It was getting close 1:00 and I was starting to regret not letting him take the one a 100 yards earlier in the morning. We were walking a fence line and spotted a nice goat that didn't notice us. (first time that day one didn't notice us first). He was busy chasing does, so we crawled along the fence line to get closer. Cameron was going to use the fence as a rest, but I wanted to get him closer. We crawled under the fence and went another 50 yards on our bellies and got within 200 yards. When we stopped Cameron couldn't see the goat through the scope laying down, so I told him to use his knee while sitting up. He still couldn't see it and then I realized I had left the shooting sticks by the fence. He tried to get the goat in the sites while standing and shooting free handed, but he just wasn't comfortable. It was then that I realized I was going to have to lend a shoulder to lean on. Literally. I knelt down and let him rest the gun on my right shoulder and held my breath and ears. He landed the 25-06 Balistic tip right in the spine. Strangest thing I've ever seen. The shot hit about 3/4 the way back between his front and back legs right in the spine. I've seen that shot cripple many an animal and it couldn't move, but I've never seen that kill an animal, but it did.
Anyway, I almost didn't go on this trip cause I really can't afford it right now, but as you can see by the look on my face is it's the best money I have ever spent. Even though I didn't hunt and just guided him on this hunt, it's probably the best hunt I have ever been on. The excitement he was showing made me feel better than any animal I could ever take could make me feel.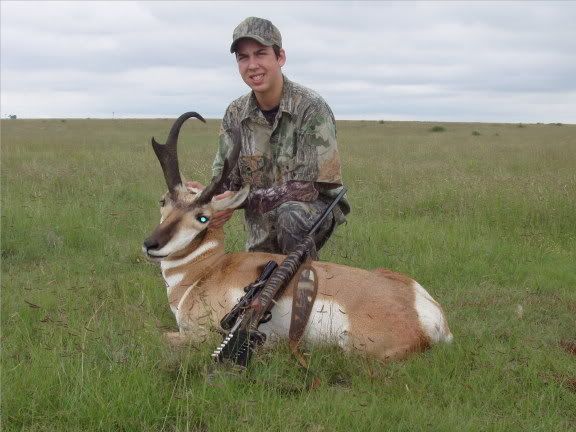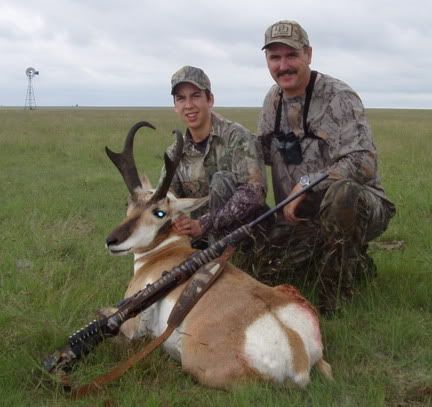 After the goat was down and in the cooler we decided to do a little target shooting.
And check out the bachelor party. Right now their still friends but I'm sure it wont take long for that to wear off.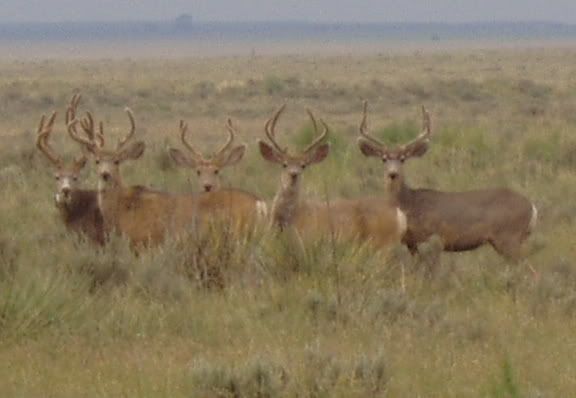 I think the one on the left will win most of the fights.