Well I just got back from a great 9 day hunt with my father. We saw quite a few deer even though it was a little slow in the begining with opening day being one of the most depressing and exciting morning hunts of my life.
It started with myself, my daughter, and my father heading to her unit to hunt when dad thought we should take a detour and check a spot in our unit. We were heading up a draw when my daughter started screaming, "Monster, Monster!!!" as a small group of deer topped a ridge. I bailed out and headed for the top of the ridge. As I topped the ridge I spotted a doe and small spike, then I looked further left and there was the biggest buck I had ever had in front of me while carrying my rifle and a tag in my pocket. They were only 120 yards away and put my bipods down and got in a prone position. When I finally got on him he was just about to enter the cedars and I hurried the shot and shot right over him. I hunted this buck three more times throughout the week and never layed another eye on him. ::eek: What a thrill !
As the week progressed we started seeing more and more deer. My dad was having trouble keeping his finger off the trigger and ended up taking a great little 2 point on Tuesday evening.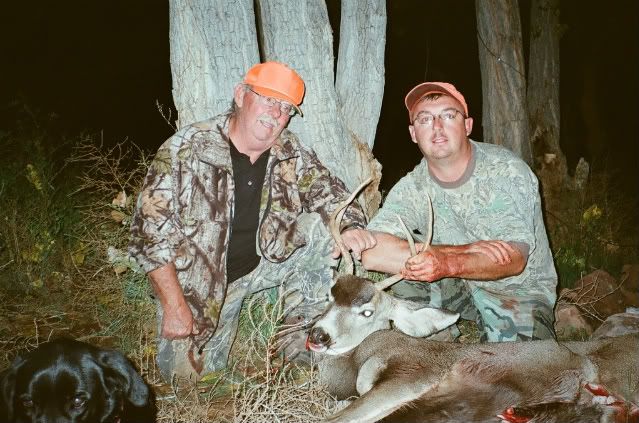 I passed a great 3x3 with browetines on Wednesday morning, but was still confident with my decision. On Thursdat morning I found another great buck and decided I would try and find and take him that evening.
When I went back in that evening I found him in a small bowl by himself and raking some sagebrush. I moved in on him and took him at 80 yards as he was walking slowly trying to sneak away from me. Hit him in the left front shoulder and the bullet was just under the hide in the front of the right shoulder. I went and got dad to take some pics and gut him and then got him out Friday morning.
We had a blast as usuall and I have another wopper to put on the wall.