I'v ewaited a long time to tell this story. Due to a variety of circumstances I had no pictures available until now, so since a picture is worth a thousand words, I decided to wait.
Last hunting season was a very special one, as it was the first time that my Dad, Me and my brother were able to hunt together. Although our farm was still off limits due to restrictions on non-res hunters (grumble
,) ) we were fortunate enough to live near the northern forest zone boundary, where I was able to hunt. Although not very familiar with the area, I knew it had a very healthy WT population, and lots of big boys cruising along the river bank of the Torch River.
On the Sunday before season opener my brother and I went scouting. We soon located a pine flat between two thick sections of brush, trails led everywhere, and nearly every tree had a rub or scrape. needless to say I was excited and very anxious for the opener. The kicker was finding a stand location where I could see all the trails, as I didn't have detailled knowledge yet of local patterns I was trying to cover as many as I could, until I knew better which deer used which trails, and when.
It was pretty hit and miss, trial and error hunting. I saw tons of does every day but only one buck (a spike) until 1130am on the fifth day of my hunt. It was -21C and I had been sitting since 0630 and was nearly frozen. In front of me, hidden from view was a large clearing used as a staging area (I had flipped a coin whether to set up over looking the clearing, or to cover a series of major trails, one of which led away from the clearing).
About 1045 I heard a strange noise coming from the clearing - it sounded like someone was banging two frozen green sticks together making a loud "TOCK". Not frequently, but regularly over a several minutes. Around 11 I thought I could hear a deer coming up behind me and slowly turned to look. Nothing.
As I turned my head back a doe burst out of the scrub surrounding the clearing at a full gallop heading toward me. For a second I figured she had busted me when I moved, but she was stilling running toward me (this all happened in a the space of a few seconds) and when she passed in front of me (20yds max) I saw that she had her lip curled up wheezing like a cattle do when in heat...
Ahh Ha! A hot doe, frantically running through the woods in the middle of the rut...now what could she be running from....
Not two seconds later the question was answered when a buck broke out of the scrub head down on the tail of the doe. I had just enough time to see that he was definitely a shooter before he was even with me. As I raised my rifle he froze, dead in his tracks full broadside at 20 paces. If there was ever a look of "Awww Crap!" in an animals eyes it was him as he had just enough time to realize he had made a huge, fatal mistake before I sent a .308 150gr clean through both lungs and clipping off the to top of his heart. Three jumps and he was still.
I got the mount back from the taxidermist today: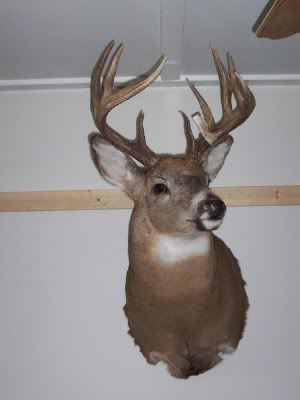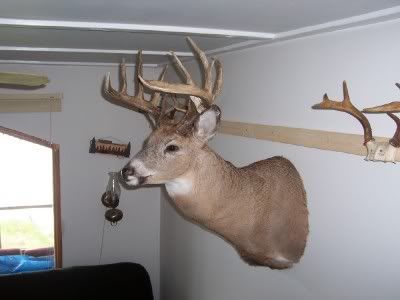 You can really see the size difference between eastern and western deer on this shot: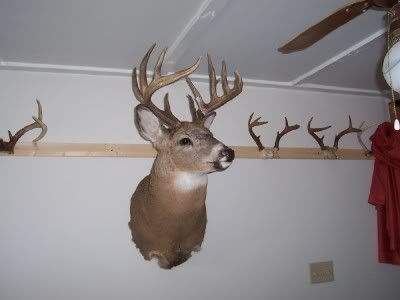 .
(Pssst - Chester...muzzleloaders
)