Back in January I had the chance to head home and see my brother for a quick visit (gotta love air miles). He had to head back up to to Ft Mac right away after, and then I was away so long story short is I'm just getting the pics now...so here goes.
We decided to head up to Big Sandy Lake, which is where we were first introduced to fishing when we were kids. The lake was absolutely chockers with small but fiesty pike: 75-80 fish days were common, although rarely did a fish weigh more than 2lbs, and none more than 5. Since my 8yr nephew would be joining us for this trip, I definitely wanted to head somewhere that: a) had ice shacks for rent (with temps hovering at -30 before windchill this was a neccesity; and b) we'd catch fish. Ice fishing Big Sandy was a little slower, but it was still the closest thing to a"garunteed fish lake" that I know of, if you're not fussy about size.
As is always the case when my brother and I meet up, we invited Captain Morgan over for a visit, and before we knew it, it was 0200 and we were due to be up and on our way at 0600. We managed though, and arrived at the lake just at sunrise: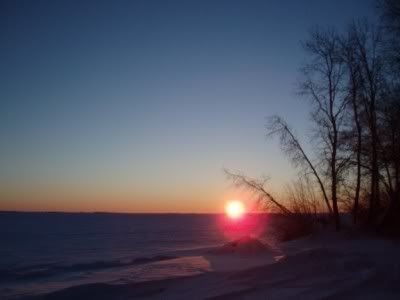 We met up with the owners, dropped our bags at our cabin and headed out. After a brief discussion with the owners we were relieved to find that the lake was still as polluted with "jacks" (local slang for pike) as ever. So we just towed the shack more or less straight out from the boat launch into 6ft off a weed bed.
20 minutes later...score one for uncle Saskie: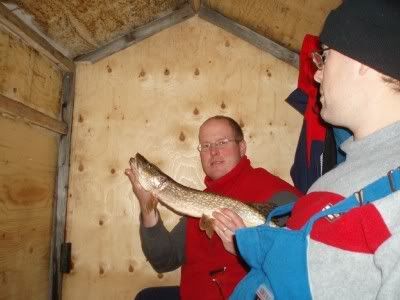 Now that we had proved to Dawson that it actually was possible to catch fish through the ice (I think he was initially a bit skeptical about the whole idea) we had his undivided attention:
and sure enough...15 min later he had his first: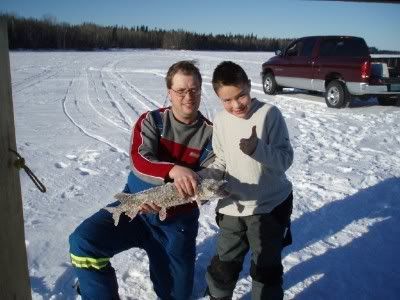 It took Don a while to get on the board, I think I had 3 and Dawson 2 by the time he connected, but at lake like this it was simply a matter of time:
The fish seemed to be moving in loose schools, or at least the action cam in flurries: 3 or 4 one right after the other for 20-30min and then nothing for 30-45min. By the end of the day we had landed 14 (3 ended up in the pan that night): Don and Me 5 each and Dawson 4 (near the end he found playing in the snow more interesting than fishing). The best suprise was that they were larger than before. Obviously they weren't monsters but each fish was really chunky, and on a little ice rod they sure put up a scrap.
The end