Day 2 of our little adventure, and today's goal was a photo safari of as many big game animals as we could find in a day driving the backroads around Jasper. Without even trying yesterday we encountered elk, moose, mulies and white tails. Today's prime targets were bear and moose.
As soon as the sun peaked over the peaks, we were off. An hour later we ran into another herd of elk - dozens of cows and two bulls, the herd bull and the challenger, grazing at a highway junction. Unlike the previous night these animals were right on the road side allowing for some amazing shots. Unfortunately the sun was from the wrong way so it made it a little tough to get clean pics. But we did alright.
This is the challenger - in the full sized image you can see the scars on his rump from his last battle with the herd bull: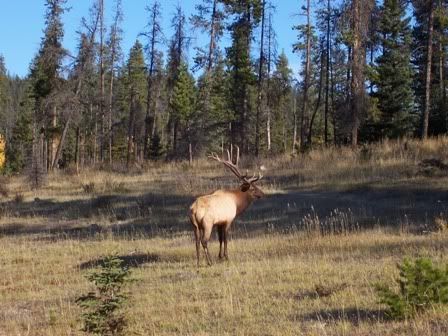 and this is his Royal Highness - the herd bull.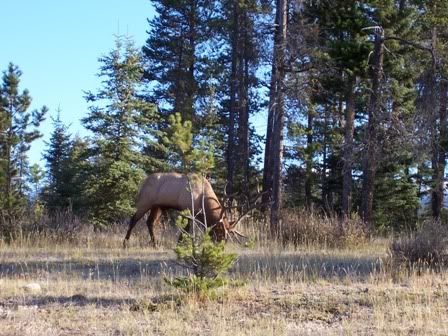 Any time a cow got too close to the challenger he'd call them back, and if they didn't return he'd cut them off and herd them back away from the rival: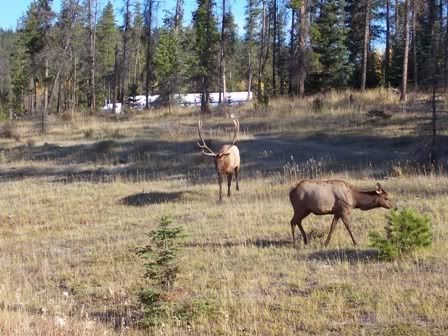 We sat there and watched them for several minutes before the warden showed up and shooed the herd back from the road. There were so many of them, so close and by this time several vehicles had stopped so it really was an accident waiting to happen.
That was our only action for the morning. After a bite in Jasper we headed out to a series of small lakes which were said to be a good spot to see a moose. We saw one yesterday but it was halfway down the lake and was not much more than a dark brown dot in the picture. Today we wanted to see one up close. It wasn't to be. It goes to show there's no guaruntees with moose, even in a national park.
It wasn't a total loss though. On the way we ran into Jasper's other road hazard: bighorn sheep: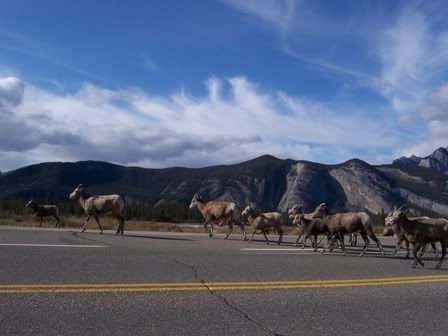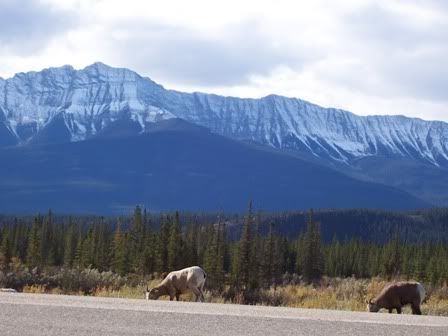 We ran into several flocks along the highway. Mostly it was ewes and juveniles, but eventually we spotted a ram in the midst of one flock: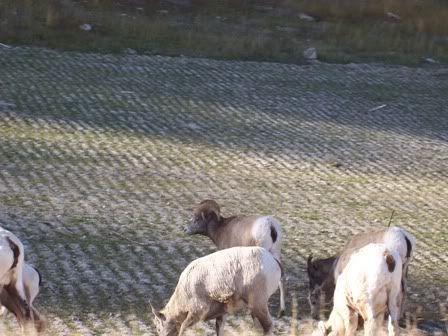 Toward dusk we ran into more of the "rare" Rocky Mountain white tails: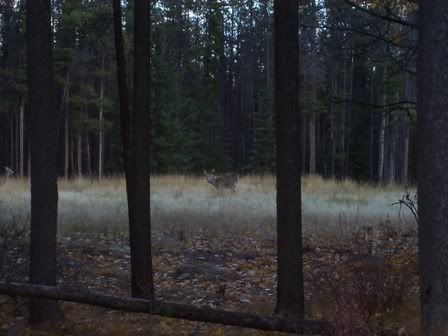 This was a bachelor group of four bucks. We didn't get a point count but it looked like a mature mid-120 class 8pt, a 2-3 yr old 6-8 point and two spikes. Judging from the rubs and scrapes around I think whoever wrote that white tail are rare in the mountains in the guidebook needs to get out the office a little more.
In the final hours of daylight we ran into two separate elk herds, guarded by absolutely monsterous herd bulls, but none of the pics turned out as it was already too dark. This is the challenger from the second herd. He's the same size as the herd bull from the first herd: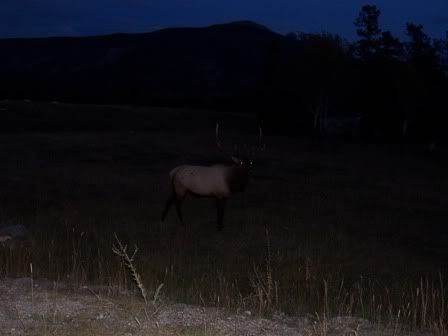 So the grand total from day 2: Elk, Big Horns, 2 Coyotes (we couldn't get stopped in time to get a picture), 6 white tails, and a muley buck that almost ran us over as we drove down the main drag in the town of Jasper.
And of course - the scenery.
Athabaska Falls: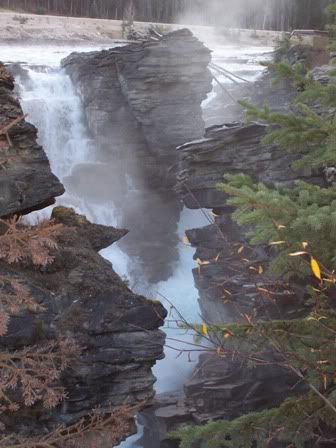 Random shots from roadside turnouts: