Arlan and I made it out Saturday to look for some deer sheds and ended up finding few elk sheds in the process. We had a great day and put on a "LOT" of miles while also learning some (not so much new), but country we just had not ventured into.
I found the first shed of the day, very old, but a start.
The second I found also.....
Then we started up into some very steep and nasty country. We were not finding anything but some old elk sign and just a couple deer tracks. When we got up under the rim we ate lunch and were just lookig around when Arlan spotted a very cool, somewhat small, sagebrush flat hidden on a small bench down underneath us. Here is the look from where we ate lunch.
When we got down to where we were about 200 yards from the sagebrush flat Arlan ran into this....
Then we started across the flat and Arlan spotted this one...
There were alk rubs all over this area and I found a broken part of an elk antler.
By this time it was about 2:30 and we had a long way to go to get back to the truck and we kept heading down. Here is a nice pic of Arlan and old Bear....
And another from one of the lower benches but still a long ways to go to get to the bottom.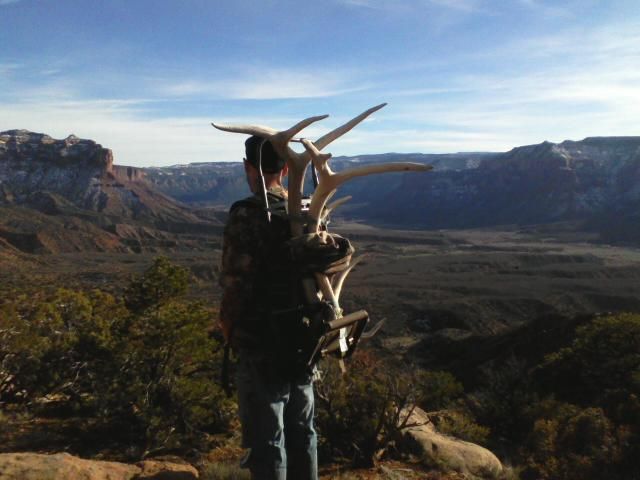 When we got to the bottom of a very steep canyon Arlan came upon this.
I had seen others finds, but I had never seen it before. The buck had shed and then died in the same spot.
After that we climbed out of that canyon we flattened out on some high mesas and headed for the truck. As we were walking and crossing small draws we were seeing and pushing out lots of deer. We were about 2 miles from the truck and moving fast when I fcame acroos the last sheds of the day. A nice little set laying about three feet from esch other.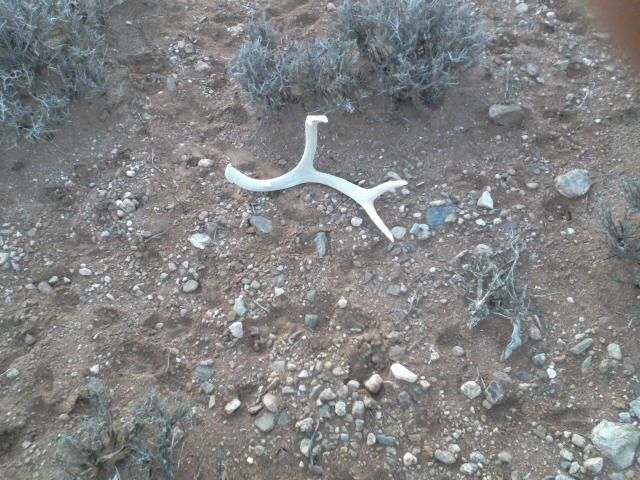 What a beautiful day out in the outdoors with my son !