After much humming and hahhing over where to head today, I decide to head for some slabs. This might be my last outing for a few weeks and I wanted action. At 230, just as I'm turning onto the side rd to the lake I realize I left the minnow pail sitting on the steps at home....
"Fiddlesticks" says I
So back I go, get my minnows and head back and run smack into a funeral procession leaving the church just in time to see one of the cars spin out and slide into the ditch....
("Jiminey Fiddlesticks ", says I
)
Well, it's a funeral, I'm in my grubby fishing clothes, they're all dressed up...and it's a funeral. So I push/shovel them out and FINALLY make it on the ice by 4pm.
Getting out was a little hairy - but I made it.
I decided to give my new Vex one last chance...dropped it down and HALLELUJAH!!!! It worked....for about 5min and then died again. And since the receipt is no longer in the box....it looks like I have a $400 shiney new paperweight. And it was right about then that I decided to trip over my ice tackle box and send most of its contents into the slush.
("Cracker Jack, Jumping Cheez-Whiz Fiddlesticks" says I)
:evil:
But I did get fish - and it's amazing how 8-9 slabs and a 1 dink largie (that came unpinned at the hole) can turn a mini-gong into a nice time.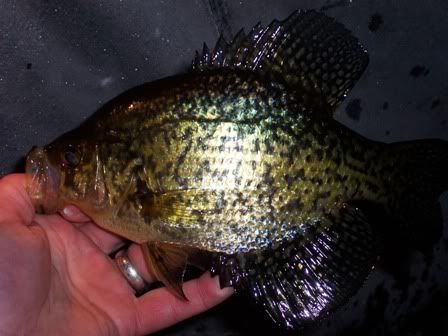 I set one line high about half way up and another a couple feet off bottom and alternated jigging/dead-sticking. I might as well have left the minnows sitting on the steps as all fish came on Genz glow-bugs and maggots, and jigging seemed to work better as I only got two on the dead line.