Well, the first of what will (hopefully) be many trips to the cabin is over. What a time I had. Kelly wasn't able to make the first trip in, so Dad and my uncle John jumped at the chance. Having John around was a real bonus as he has worked his whole life in the bush, and his favourite past time is wilderness canoeing so his experience was much appreciated for sure.
We boarded the float plane at Southend, which is located (go figure) at the south end of Reindeer Lake. Before we knew it our gear was loaded and we on our way...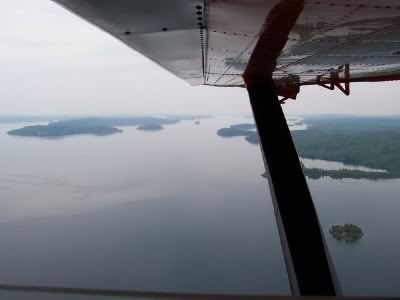 20 minutes later we touched down and lugged all our gear up to the cabin.
That first day was mainly spent taking inventory of what gear the previous owner had left (or in some cases trying to find stuff - like paddles for the canoe - that I know he left hidden there somewhere). The weather was terrible, so it was a good day to get some work done as the wind kept the bugs at a manageable level.
We did get out for a quick fish that night...we left the cabin at 1930, and were back in with the fish in the frying pan by 2115, having caught 12 (3 kept) just screwing around the rock piles and points near the cabin. SWEET!!!
As we quickly discovered the previous owner was dead on in saying that the lake was "full" of 3lb walleye...the smallest we caught in the 4 days we were there was 14". The largest 21". Most were 18-19":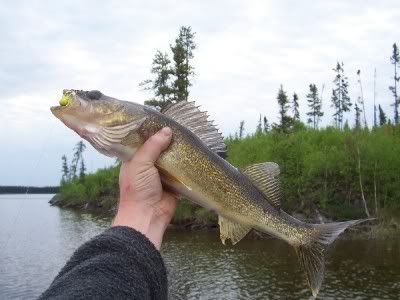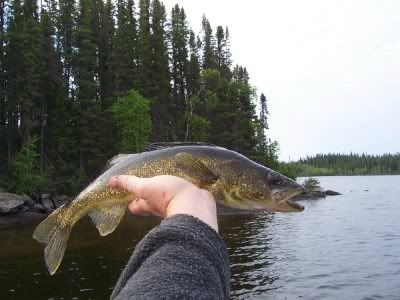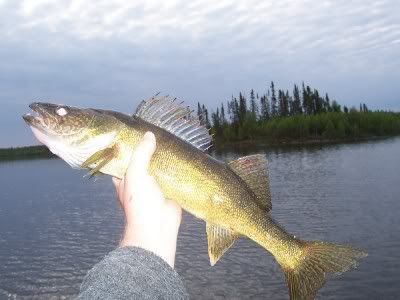 They certainly weren't very fussy about what they hit (I even caught several on a big Len Thompson 5 of Diamonds spoon while trolling trying (without success) to find some decent sized pike.
Day 3 was devoted to exploration and fishing, with the ultimate goal of finding the portages into the two nearby Laker lakes. The portages proved easy enough to find, but with limited gas for the boat we decided to maximize or effort at learning the home lake. Along the way we were treated to some breath-taking Canadian Shield scenery:
"Jackfish Falls"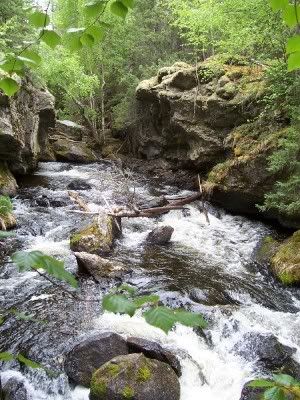 The Falls again with the closest of the Laker lakes just visible...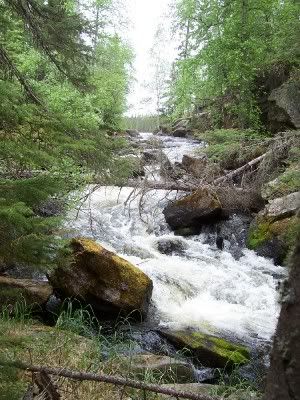 Saskie Sr amusing himself with the snot rockets ("Jacks" in Flatlander slang) in the bay below Jackfish Falls: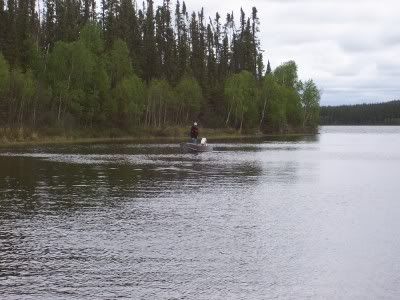 And of course we managed to find a few willing walleye for the ultimate northern tradition. And let me tell you that after years of canoeing through the North, John is definitely the "King of the Shore Lunch":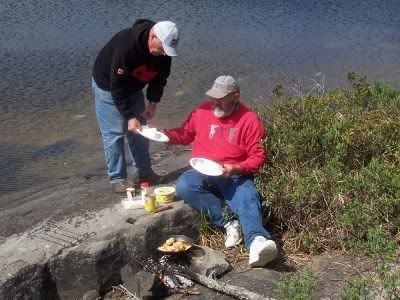 The last day there we fished pretty much sun up to sundown...which up there is a VERY long day. We go out for a couple hours, catch 20 or so fish, come back in for a coffee or beer. Have a pee, stretch...head back out catch a couple dozen more...come back have a sandwich...and so on. This time we were looking for honey holes and we inevitably found a few. Once we found a spot (that had potential (5 or more fish in 15 minutes) we marked it on the map and moved on.
We never did find any decent pike...there were scads of snot rockets but the largest we managed might have been 27". Lakers will have to wait for another trip.
I'll wrap this up with a few more scenery shots: