I'm new here. Found the site while looking for information on a spring bear hunt. Thought for my first thread I would share my story and pictures form a hunt I went on last week at Devils River SNA, Texas.
Got to the property about 9:30. Since it's a draw hunt they don't start drawing for standby hunters till 11:00 so they can see who of the drawn hunters didn't show up. While sitting out in the parking lot, waiting a couple of older gentleman spotted a herd of Audad on the "mountain" right next to the headquarters. So all of us who were outside started checking them out through the binos. I asked one of the old timers, what property that was cause he said he had been here before and he told me it was pasture #5. About 10:00AM the park ranger came out and told me that since I was a drawn hunter and not a standby that he would go ahead and show me my pasture. I asked him what pasture and he told me #5. Finally some luck comes my way. I thanked the old guys and was on my way.
I headed straight for the area that we had been glassing. It wasn't quit as close as I though it was. I finally spotted the herd again about 45 min. into my hike. I could tell there was one big one in the group, but I was still 400 yards out. I knew the 7mm STW would reach him and I was confident I could make the shot, but my view below him was blocked and I didn't want him to fall down the steep incline out of my view and not be able to find him. I decided the head down a dry creek bed out of site to get closer.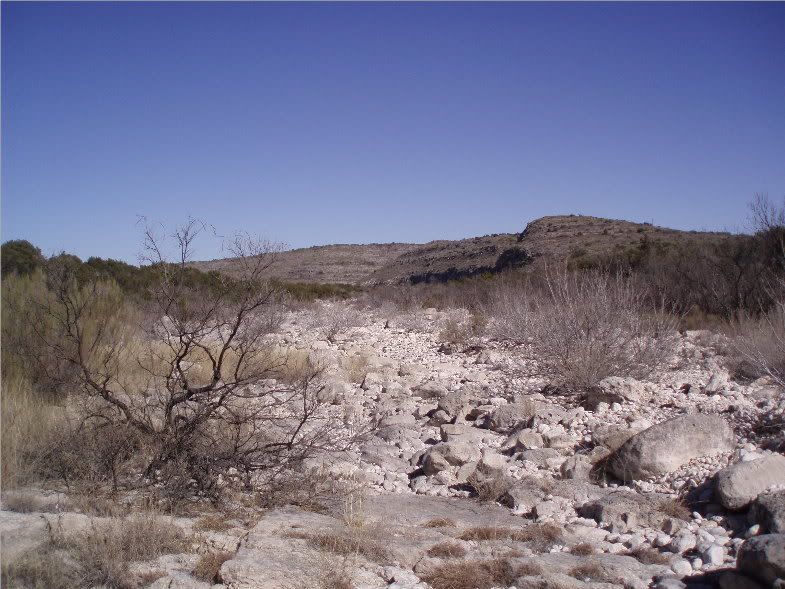 Only problem was the creek bed ended into some of the thickest, nastiest, sharpest thorn bushes I had ever seen. My arms and hands look like someone beat me with a rose bush. Anyway, I get to a spot where I can see the spot where they were before but they are gone. I figured that with all the noise I made getting through the thick stuff they ran off. Since I was already half way to the top I decided to go on to the top and walk the fingers and see if I could find them. I was climbing over a large boulder and when I came over it I saw the herd of 3 rams and about 10 ewes about 150 yards away. They we're looking at me, but not moving. I got settled in with my shooting sticks and picked out the biggest of the bunch, but I was so beat and breathing so hard it was hard to keep the cross hairs on him. Finally, when I thought I was ready I let on go and he went down like a ton of bricks, and more important, didn't slide down into the ravine.
And here he is......
After he fell, one of his buddies, (smaller I might add) stopped and looked back as if to say to the other, "aren't you coming". When he did I made a split second decision to take him as well. Probably shouldn't have, but the adrenalin was pumping. I had to hit him with a second and third shot to finally put him down.
It was going to be a long afternoon. I made the shots at 12:45 and I had a lot of work ahead of me. I decided to take my lunch first (canned ravioli). Here's my picnic table view...
I field caped two Audads and removed the back strap. That's all I could handle for the long hike back to the truck and that almost turned out to be to much. I haven't field caped and animal since I was 25. I see why now.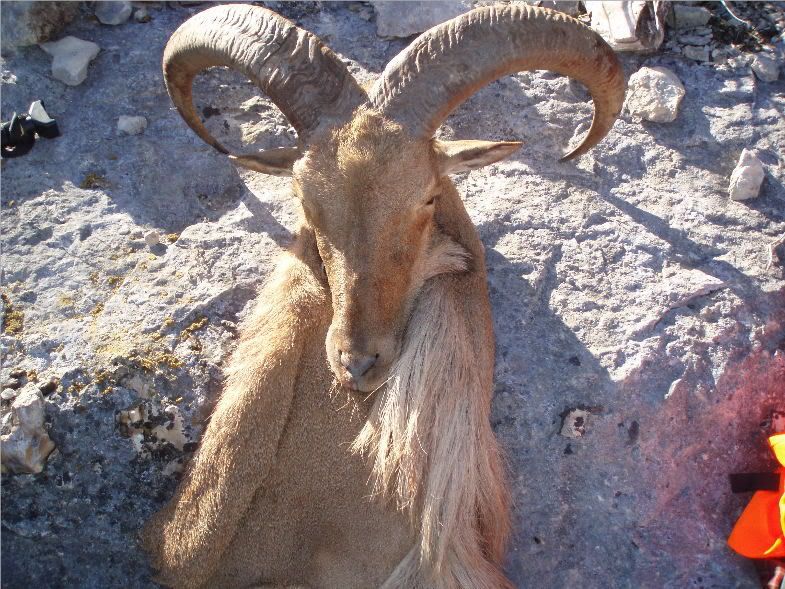 I once said that no hunt could be as grueling as my Mountain Lion hunt in Idaho last year. Well, I was wrong. The hikes were probably tougher in Idaho, but I had a guide to haul everything out. I let my excitement get the better of me when I took that second ram, so now I was gonna have to haul both of them out as well. OH well.
I made it back to the truck at 5:45. My truck never looked better to me at that point than any other time before. My legs we're cramping, my shoulders were killing me from toting out the goats, my arms and legs were scratched to heck, I got a bruise on my arm and hand when I slid down and landed on my arm and hand trying to catch myself. All that said though, I had a blast. I'm heading out there again tomorrow to see if I can run down and Axis or Catalina goat, but not real early. I think I'm gonna get a couple hours more sleep and get there about 9:00AM. I've also decided that if I can't shoot it from or close to the road, it's walking. I ain't going through that again. I'm getting to old for this.