So, there are quite a few folks out there that are way quicker than I! I blew it by posting all my pictures to the public folders on my Photobucket account and some were smart enough to go there directly and figure out my 'weak' ending prematurely. Oh well, like I have been hinting at, it is really nothing special at all so I will get it over with so you all can laugh at my feable story telling once and for all!
Once upon a time, in a galaxy far, far away.....JK!
On to opening morning! Finally!
Nov 11th
Now I will preface this a bit by adding that it has been too many years since I last got an elk, and I have been blanked all season long on my other big game endeavors so "Meat For The Beast" was first priority!
After my timing & planning in my head I figured I wanted to be in place near the south funnel as early as possible, but not too early as to freeze to death sitting there too long! I dressed heavy even knowing that I would be sweating up a storm getting there, but I would then have to sit in the wind waiting for 'MY' elk! I figured since the first groups were not getting out of the field till at least a few minutes after 6am each morning, that I needed to be in place by 5:30 to allow me time to dry-off and settle in before any movement heading my way got too close. Therefore backtracking from that time I estimated that I needed to be out of the truck, loaded up and on the trail no later than 4am. Not too bad at all!
So, wake at 3:00am and NO COFFEE this morning! It is a must on actual hunt days other wise I will be peeing my pants constantly and after no shower for several days I already stunk quite enough! Though, I did have a few shots of OJ and some oatmeal to get me going. I was right on time making it out of camp, & around to the parking area and for some reason today it only took me 20min to get there! Not sure where I shaved off 2 whole minutes, prolly just being an eager beaver! I am out of the truck, double check I have everything, pack on, gun out, license in pocket...ok I could forget everything else really cept ammo...Ok, ammo check! Get outta here already!
As I take the first step through the gate I stop to check my watch and 4:00:25! WOW! So far, so good! Made my way through the creek and up the ridge and start noticing that the wind is coming directly from the east and blowing pretty decent at only 4am!! Dang it! That is the worst wind for my plans! I am thinking that now I will have to find a spot past the crest of the funnel they should be going up, since they will be coming from the northwest of that crest and an east wind will blow my stench right at them. If I was anywhere else but south of that spot I am busted for sure. My plan was to find a spot that allowed as much of then end of the trail to be viewed as possible. Of course w/o giving myself away. Since I had not been able to go in the day before to scout it out first hand I am crossing my fingers and hoping to find something well suited for this set-up. Regardless, the hillside is steep enough that I know I will not be able to see them at the base of the hill for at least several hundred yards before they make it close to the crest or I would have to be out on the slope of the hill in plain view.
I trudge my way in the darkness for 1hr & 20min and find myself just north of the crest of that funnel. So dark & cloudy I am having a hard time making out all the terrain. As I move closer I see that there are actually several gullys that rise to that crest that you just can't tell from 1000's of yards away! I move close and find what I think would be great had the wind not been coming from the east this fine morn!!! DOHHH! I push on past the crest and find that indeed the place looks like it had been used by enough elk it would compare to I25 at 6:30 Monday morn!
I find some nice shrubs approx 40yds past the crest just to the south east of it, but would not be able to see them at all until they in fact crested the hill. Then, if only a couple trickled over they may be moving past me before I found something I wanted to shoot. HMMM? As I ponder this boggle, someone special musta put in a good word to ol Mother Nature, because at that second the wind switched and started blowing in from the west which is the best possible case! YES! I moved back to the north some and started looking at that spot I had just id'd. Settled in and tried glassing, but still too dark. Then of course as I started trying to get a decent rifle setting though I just could not get comfortabe and when I did I could not get a good view of the trail! Ok, next bush...nope. Next gully...nope! Hmmmm, lets try over by the trail...ok, this is better but I am only 35yds from the trail crest....whew that is close. I also loose a bit more view of the bottom of the sage flat!!! AAARGGGHHHH!!! I stick with it and settle in!
First, off with the coat & sweater...BRRRR!!!! Holy ......! Come on sweat, dry quick!!!! As I stand there shivering I can finally see some glare in the horizon to the east signaling the coming of the dawn. Already 5:55! Still can't see a lick on the fields! The wind whipping through my ear lobes is frustrating too as I strain to hear the pitter patter of elk feet dancing up the hillside. I am wondering now if any are sneaking outta the hay early and will suprise me, so I load up the ammo as it is only 20+ min till shooting light anway. (I am saying 6:20 just to be safe being so far west of I25, though not sure if that is quite right or not) COYOTES! Dang! A pack too! ...and sounds like just below me where I am hoping the elk come from! GET THE HECK OUTTA HERE! ...good, sounds like they are moving south.
Tic...tic...tic...tic...tic....! I sware each second is going off in my head!! By now I am so froze I could care less if I am dry yet and throw back on my sweater & coat!!! OH YEAH! Hood tight, flat on my belly out of the wind face in the dirt! Of course with one ear out to hear any footsteps sneaking up on me! I sit for a second and than absolutely drench EVERYTHING in half a bottle fo the Silver XP, just in case...oh great, now I am wet again...but on the outside though!
6:10...I can almost make out shapes in the hay...sure doesn't look like any elk!! What the heck! HMMM? 6:15...better, but where are the elk? Oh man, they are ALL way up north hangin with the 'late crew'! Not near as many as yesterday either, but still look to be a good ~250 head!!! That is sweet though! So far, so good!
6:20, mad cow races across herd and must be signaling that it is time to head to the hills. By 6:24 a good portion of the herd is grouped closer together and getting ancy. Sure enough though, the 'late crew' is about the same size and not buying in again. Definate seperation between the herds.
OK, here goes the first cow over the fence!!! EEEEEE! Yeah, heart starts beating much faster! Breathe dork, breathe! Next one. Another, another, and so on and so forth! Pretty steady procession across the fence and into the first part of the creek drainage. Here we go! They are indeed headed my way ...I think!!! BUT SURE ARE TAKING THEIR OWN SWEET TIME ABOUT IT!!! Yep, I can tell from here they are watering as they hit the water! Though as soon as they are done drinking they jump right across. Slowly but surely they are heading southeast in my general direction! This is awesome!!! Uh oh! I just remembered I really hadn't found a good rest to shoot from! Ok, lets try this....nope! Maybe straddling this sagebrush...nope. Ok, if I stay down in the little washout I might be ok. That is better but I loose some of the trail.
Yep, they are following the same path as I have watched for two days!!!! Breathe you fat man, breathe!!! Eyes pressed tight against the Burris Binos I still cannot make out any racks, just bodies! Well maybe if I sneak up on that rise in front of me for just a minute to take a peak. I can sneak back before they make it up the hill! Off I go, but with rifle just in case! As I creep around the side of this little hill I can see them, just cannot make out any antlers. What I do see is that ~25 hd have fallen back a bit. Though all are heading directly to the trail I am guarding closely. By now the first of the elk are getting within 500 yds and starting to move out of sight below me in the sage flats. I had better get in position. As I move back around the small hill to grab my rifle, I realize that if I sat right on top of that point and just to the north edge of this little hill I am out of sight and can still see the last 40 yds or so of the trail and the crest. Hey, this just might do. Now the waiting game game is on. ...and for what seemed an eternity I sat there behind my rifle watching the trail in from of me.
Tic...tic...tic...tic...tic...! OOOOH! There she is!!!! The first cow is creaping ever so slowly up the trail and is pausing at each step testing the wind and looking around! 7:10! Oh crud, I am way too close, I start crying! She is only 50 yds away and getting closer with each step. Though I am in plain sight she pays me no mind despite the blazing orange vest and hat! There she goes, moving to the top and creeping even slower of the crest! By now several others are in single file right on her tail ALL testing the wind constantly and looking all around! I am SO going to get busted! Off with the safety just in case I do! Trying to lay flat as possible and not breathe, I watch as one by one they mosey on by....5 cow, 10 cow, 20 cow more! Spike! 10 cow, spike. 20 cow , spike, 10 cow, spike....OOHH what's that? Rag horn! Hmmm? 4x????? Ahhh....boney, let him go idiot! More cows, followed by more cows, well over 100 head have moved within 35 yds of me and not one 'bull'! But they are still coming...5 cow, 10 cow, 20 cow more! (ok, a couple more spikes mixed in and some of those cows were calfs, but who is counting?!)
Huh? ... procession seems to have ended. Wonder if that group lagging behind caught up or not? Then, as if to twist my arm a bit, a large cow kind of stepped off to the left a bit in from of the the little pointed crest and is at only ~30 yds.....HMMM?!?!?!?!
Up comes rifle, in my sights......one last glance to see if anything else is coming up the trail...nope....ok, the last 5 head are in my view and moving away. She looks yummy.......BAMMMMMM! Off sounds the .340mag and so close I hear no thump, but she jumps high in the air and reels around back to the right where she came from and slightly stumbles! I reload and set-up on the last calf going quickly over the hill, but stop myself! WHEW! OK, breathe again!!! Thump, thump, thump the heart is sure going!!!! Check watch, 7:24! Exactly 1hr since I first started seeing them gather together and cross the fence!
I jump up and run to the crest of the small hill I am on and glass the valley below. The group lagging behind is still down there walking in circles trying to figure out what the heck to do. I can also see the 'late crew' way off to the north and worried as well. They looked to be headed to where they bedded all day the day before, RIGHT BY THE TRUCK! maybe 1.25 miles back to the north. The small group left behind is looking at them as if for guidance and start moving a bit that way. I am thinking that maybe I can get back to the plateau and run down there and cut one of those groups off as they try and crest the hill so off I go! Chug, chug, chug.(I cannot really 'run' anymore LOL!)
As I near that northern funnel point I slow to catch my breath and start keeping a close eye on the crestline of the hill. This is barely 1/3 of mile from where I was and maybe a qtr of the way back to where I last saw the 'late crew' but should be directly above where I last saw the lagging group. I creep ever so slowly to the edge and see no elk. Ok, maybe they did run back and join the 'late crew'. Off I go again.......huffin and a puffin all the way! Amazing I did not fall and break my skull! As I near the crest where they had bedded the day before I am worried, if ANY of them were coming my way they suredly would have been up the hill by now! As I get to the crest I sneak down a bit behind a small juniper and can see the small lagging group, but where the heck are the 'late crew'? The lagging group are looking back to the hay fields and sure enough the 'late crew' had ran back into the fields and moved all the way to the northern most end of the private props and on the edge of the state line. The lagging group has a small raghorn in it!!! They are moving slightly my way and right below me. I laser it and get 320yds to the4x5 bull. Hmmm? Couple hundred feet downhill too and into a stiff crosswind. NAH! First day of the season and I already have to have a cow down!!!! Relax!
I sit there behind the binos and just watch. The late crew IS crossing into Wyoming and the lagging group is watching them and start moving back west towards the creek. I watch them disppear into the creek drainage and then watch as the 'late crew' make their way into the first hills of Wyoming and vanish into the junipers. I never did see where the lagging group went, they just disappeared!
Made my way back to the spot of the shot, and took a break and a drink before even looking!
The set-up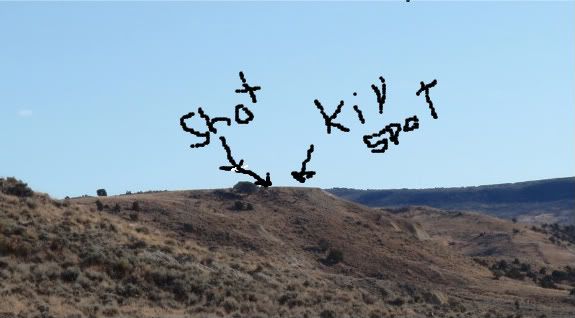 As I move to where I hit her I gotta do this for "Turbo"! (Lots of blood, but sorry no antlers!)
Do not think I am gonna have a hard time tracking this one!

UH OH! She moved to the ledge! OF COURSE! She went back right and stumbled over the cliff! Not sure why I took no pic, but she fell off the cliff and rested halfway down the hill & about 100' down three steep dropoffs!
First & second bounce!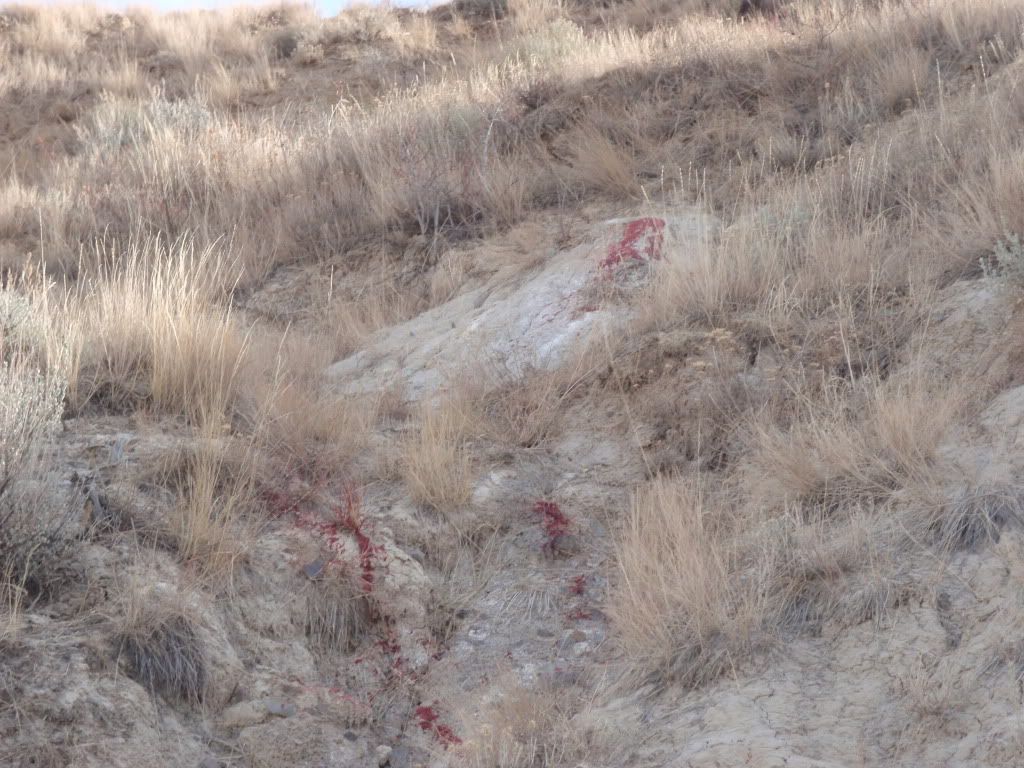 Third bounce!

The finish!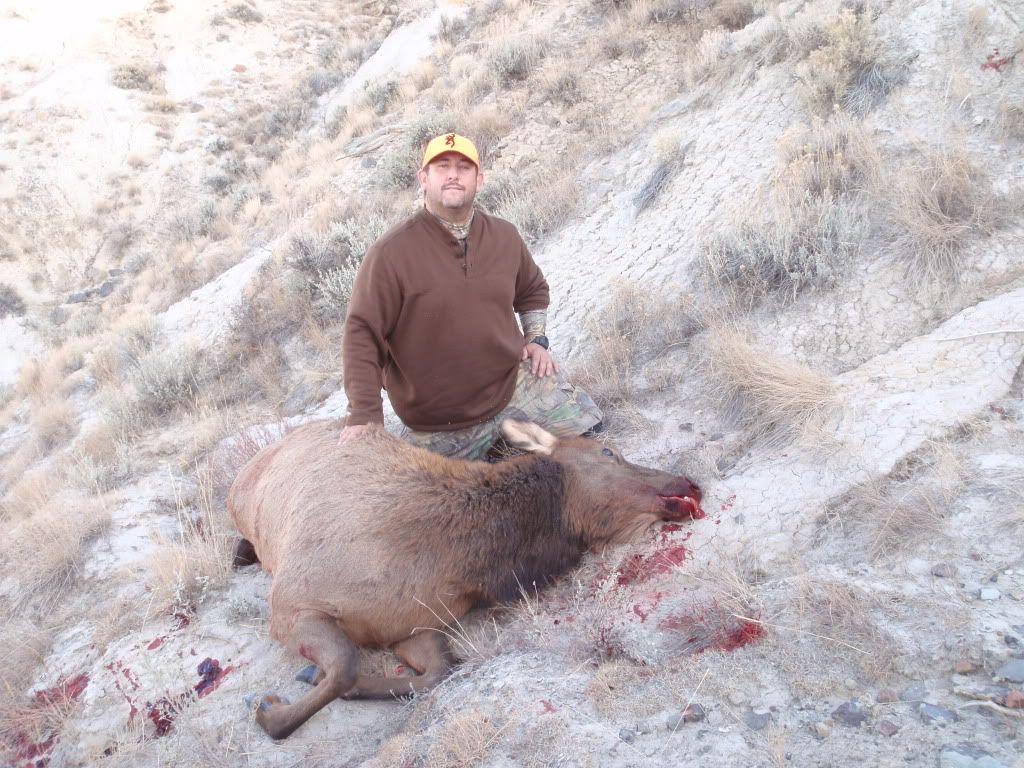 Talk about a big fat cow! She was stuffed and looked bloated from eating hay all night long!
The shot had entered her left side right behind the leg and took out a rib, double lunger and heart job and shattered the right leg with the mushroomed rd resting just inside the hide on the right shoulder! A perfect shot! LOL! Better be from 30yds away!!!!
NOW, for the real work to begin!
Got the first load back to the truck by 11:50. Stripped down the long undies and anything else I did not need for the second trip, including the rifle and back I went. She was 2.1 miles back-in by my GPS, but only 500' in elevation gain. Though her sitting on the side of that gully made it much harder than it could have been. On that first/right side I only lost some shoulder & rib meat from the shot. Though when I flipped her over and skinned the left side I found she was busted up pretty good! Three ribs were busted from the fall and her belly blew up inside and was leaking out. Only managed to save a few scraps from the entire shoulder, no rib meat and lost half of the backstrap on that left side due to being soaked in that gut juice for a couple of hours. The hiney was finey!
Back to the truck with the second & final load by 4:10 and exhausted! This fat boy just needs to get in shape!
Man what a day! Sure is nice when EVERYTHING comes together as planned! I couldn't have scripted it any better! Wow, was I a happy man.
So, since my story was blown already, I will not tease anyone any further and cut it short and to the point! LOL!!! LOL!!!
Nov 12th
Storm has moved in the night before & I could not see squat until after 7am that next day. Not sure if they came back to the hay or not, but if they did they left before I could see a thing. Also glassed the little bit of CO props on the edge of WY where the late crew had gone and saw nothing. Watched the mountains above all day and nada. I am sure they will be back, just might take a day or two.
That evening it started raining pretty good, with the forecast to be 3-8 inches after nightfall. Tired as heck I hit the hay at 6:41 that night and set the clock again for 3am to go ahead and climb back up and see if they come back. If not, my plans was I would head to the higher hills and see what was up. About 9ish I could tell it had turned to snow and the wind had died a bit and I finely fell into a deep sleep!
Nov FRIDAY the 13th!
So, of course I am blaming it on this day, but must have been the stroke of midnight as all hell came crashing down!!! KABOOM! CRASH! BANG! SNAP! SNAP!
What on earth?!!!?!? The snow was so hot & HEAVY that in those three hours and only about 8" of snow, it had demolished my tent and collapsed it completely! It was so heavy that it was all I could do to just roll over and push myself up to get the tent off of me! I tried on my back, but I could not budge it! I rolled on my belly and got to my knees and began to knock the snow to the sides little by little. Checked my watch and it as 00:01 on Friday the thirteenth! For the next 10 minutes or so it was all I could do to get my slip-ons on, my coat on and crawl to the door and get out. Once outside I got in the truck for my headlamp and began digging. Twenty minutes later I could pry the poles up and found two snapped in half so I used two brooms, two rakes and a shovel to prop the inside up while I picked up the pieces of my lantern glass and did my best to get the tent to hold! Got the heater going and started coffee while jumping back in my bag to get warm. For the next hour it was a constant chore to keep the snow off the roof, and since the tent was trashed and the forecast was for two more days of snow I wussed out and made the call to head for flat land! At 4:15 I had finally got everything loaded, the trailor hooked up and was pulling out.
Took 3.5 hours to get to Rawlins... and another 6.5 to hit Greeley!
In Rawlins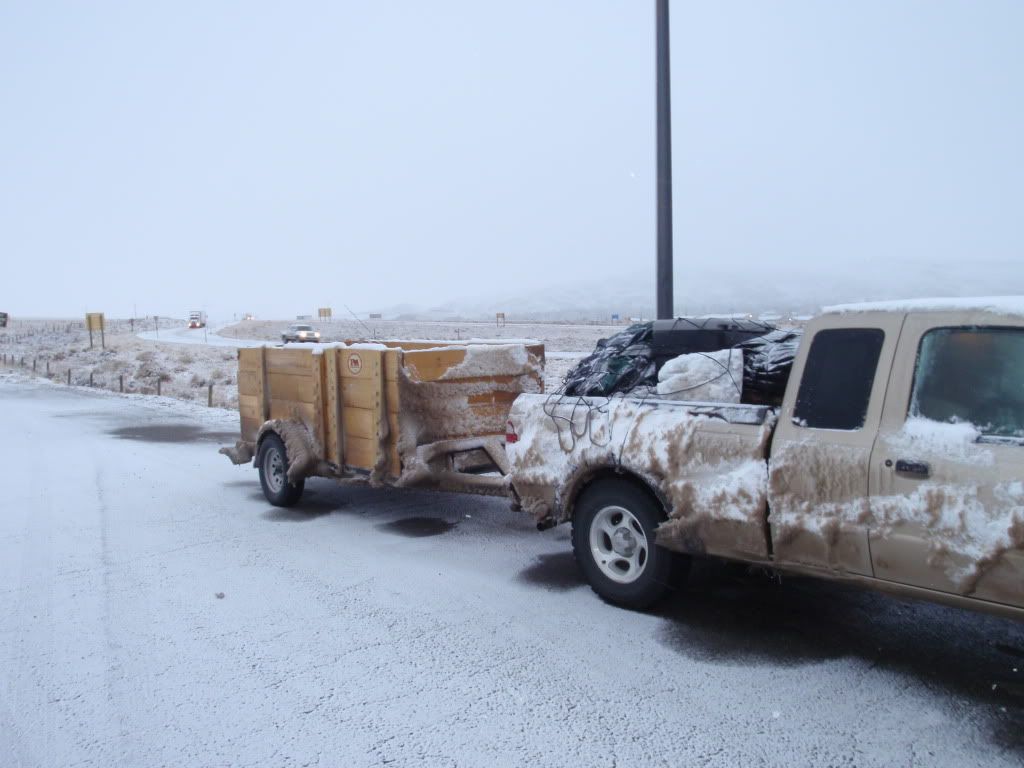 Some where around Elk Mountain

I was so amazed when I would hit 40mph that I had to take pic!

I am very pleased I have my "Meat For The Beast", but having never gotten a bull before I must say I am a bit disappointed too. But heck, we live in Colorful Colorado and there is always next year!
Thanks to all of you who have sent me updates, advice & well wishes over the last few weeks, it is much appreciated! I wish I could share some with all of you, but maybe, just maybe, I have!