Was inspired by Chris Roe's season LONG story on Bowsite; so bear with me if you care too...
Nov 7th
Out of town 1hr late and ALONE AGAIN! Not too bad all things considering! Usually ~6hr drive to my fav stomping grounds along the Wyo border and arrived at 2:45pm to a NEW spot I THOUGHT I would camp at ??? Nope! Still too much snow and all melting making a muddy mess of things! So back DOWN to the normal digs and lower elevations in a rush to get things up before darkness falls!
Was looking for some trees to camp by, but didn't seem to find any around so guess this will do! Up and good to go by 4:30! Still a few minutes to look around!
Good for tonight...stay tuned if you dare too!
(Please note 20'x12' "2 Season" tent for ONE person
this comes to play later on in the adventure!)

Scouted close to camp for about 30 minutes till darkness fell and saw nothing, so back to camp for a quick bite and to bed early as I have plans to hit the high country for scouting long before daybreak in the morn!
Dogs & some killer soup does the trick!
Short light rain for a couple of hours that night, helped the sleep considering all the field mice jumping all around the place!!!!
...I won't be NEAR as long as Chris, though...so on to day two
Nov 8th
Up at 4:30 to a wet mess outside; make coffee and off to far off lands for a look see! Coming off of Hwy13 and onto cr38 I find ~100 muleys in full on rut! Couple nice bucks dueling it out and some smaller ones chasing the does around while the big boys are preoccupied They could care less I was driving right through them!
Driving to the higher ground I find ~2" if some fluffy white stuff above 8000'. Arrive at Bears Ears Trailhead 1144 by 5:50 and load-up and on the trail by 6:05.
Not two minutes into the hike I see the first sign! Though not the elk sign I am looking for; I DO by chance have a bear tag in my pocket as well (these are from later on the way down when the sun was shining )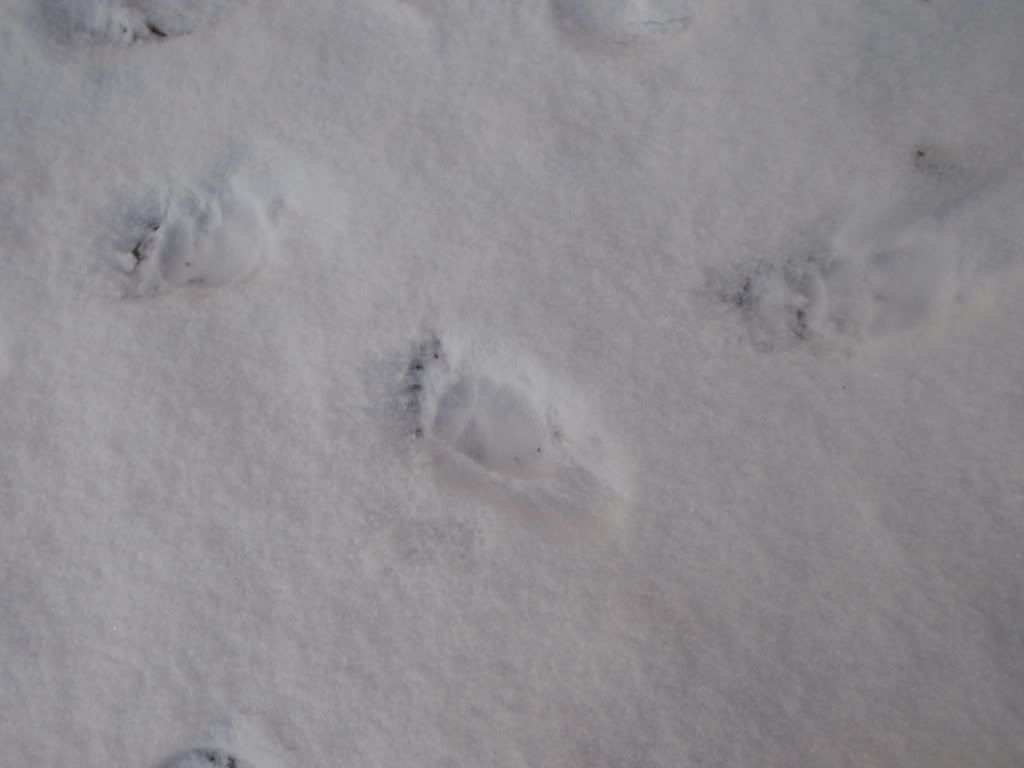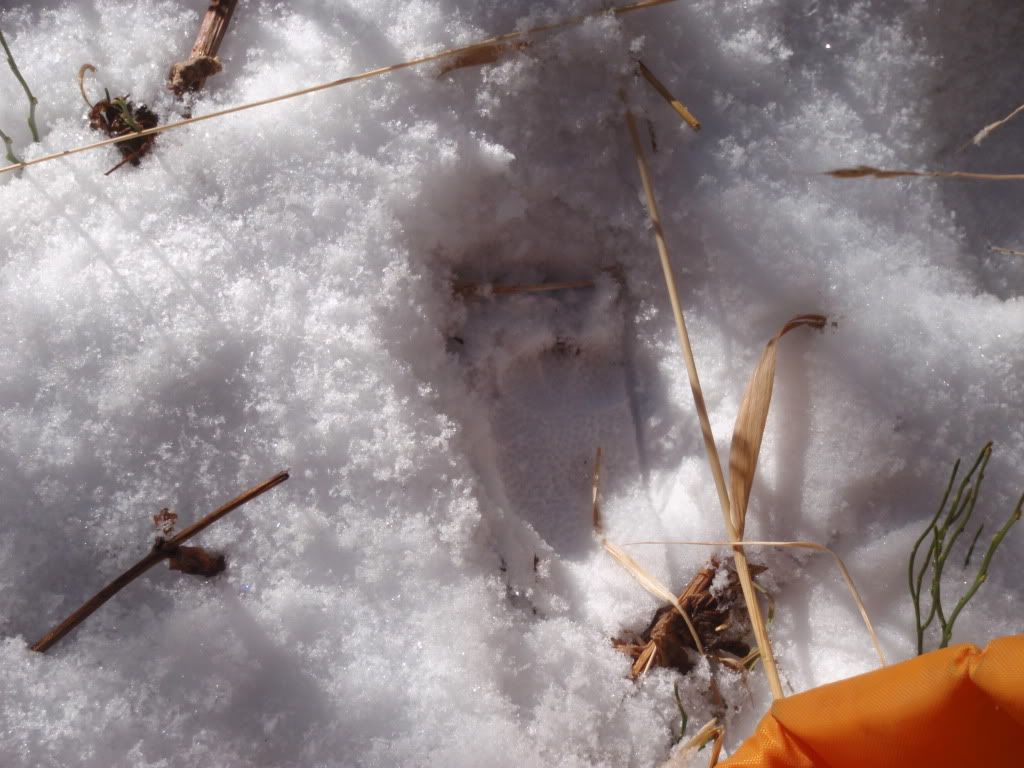 HMMM? Only ~4" from heal to claw...would a cub this small be out all alone?
After about 2hours of following a single human track through the crusty snow I am nearing the saddle between Mt Oliphant & Mt Welba, unfortunately I have seen no elk sign only a small 'kitty' track at about 9800'! Must be bobcat, pretty small so likely not a lynx. Some squirrel, some bird and chipmunk, NO elk! Once I got past the 9K mark, the snow had deepened sightly to a good foot of old stuff with the dusting from the night before.
What is this? No more human tracks and sunlight peaking through for the first time! Oh joy!

All the elk sign I did find was old and almost all was headed downhill! Dang it, everyone has been telling me they are still high! ...and here I thought they meant in elevation
Made it to the saddle at 8:35 and 10,020' and decided to not go any further and turned around.
Mt Oliphant from the saddle area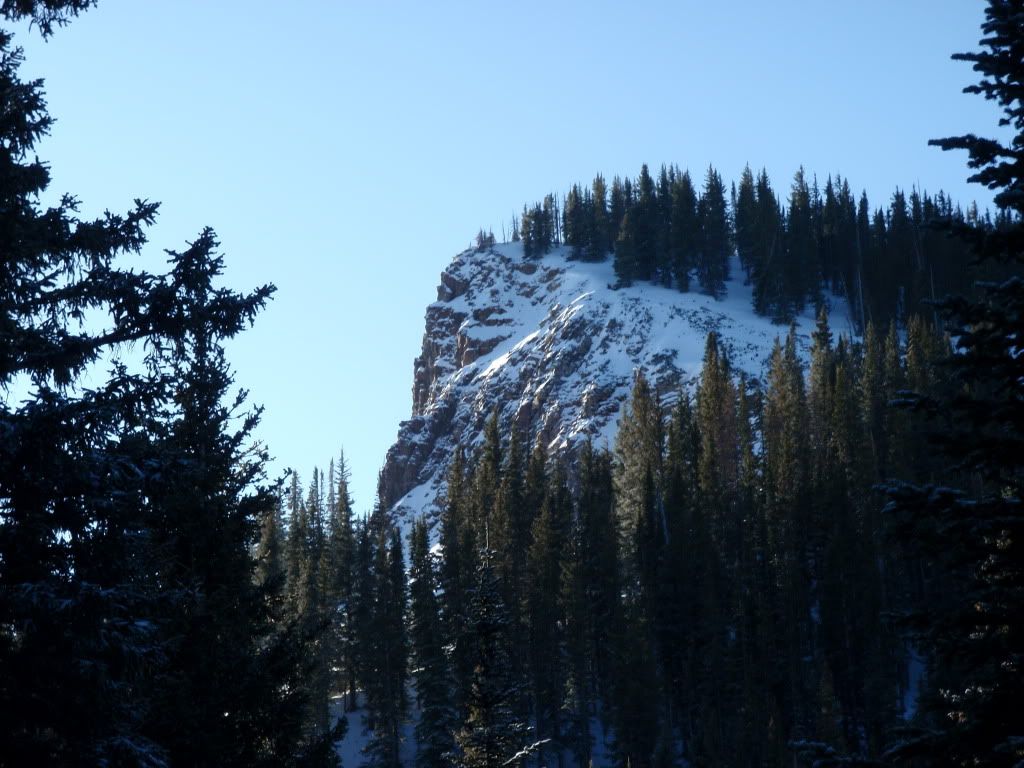 Back to the truck by 10am and decide to head east to Slater & Califas Parks to have a look. Take the long way around via Cr38 to check on another seldom used State Trust land and then take 82/80 all the way around trhough Slater, Califas, by Jummy Dunn Gulch and down into Hayden by 1ish. Saw a few more deer along the way and one cow w/ a calf near the south end of California Park, that's it!
Went to the range and shot the rifle...WOW, glad I did! Went through almost a box of rds and got it 'close', but had to save a few for the hunt!
Then thought I might wet a line at Elkhead Res while heading back northwest, but got there after 4pm so did not waste the $6 for justa short fish.
Back to camp by 5:30 and breakfast for dinner, Eggs, potatoes & homemade greenchile for din din!
Midnight strikes for the 'first' time! Thought a stampede was coming through cause it sure wasn't those darn mice this time! What the heck?
Ahhh...some stock decided to pay me a visit and finish of the old grain & hay left behind from previous visitors!
Wild? It is on a vast BLM range...though that one looks like a mule!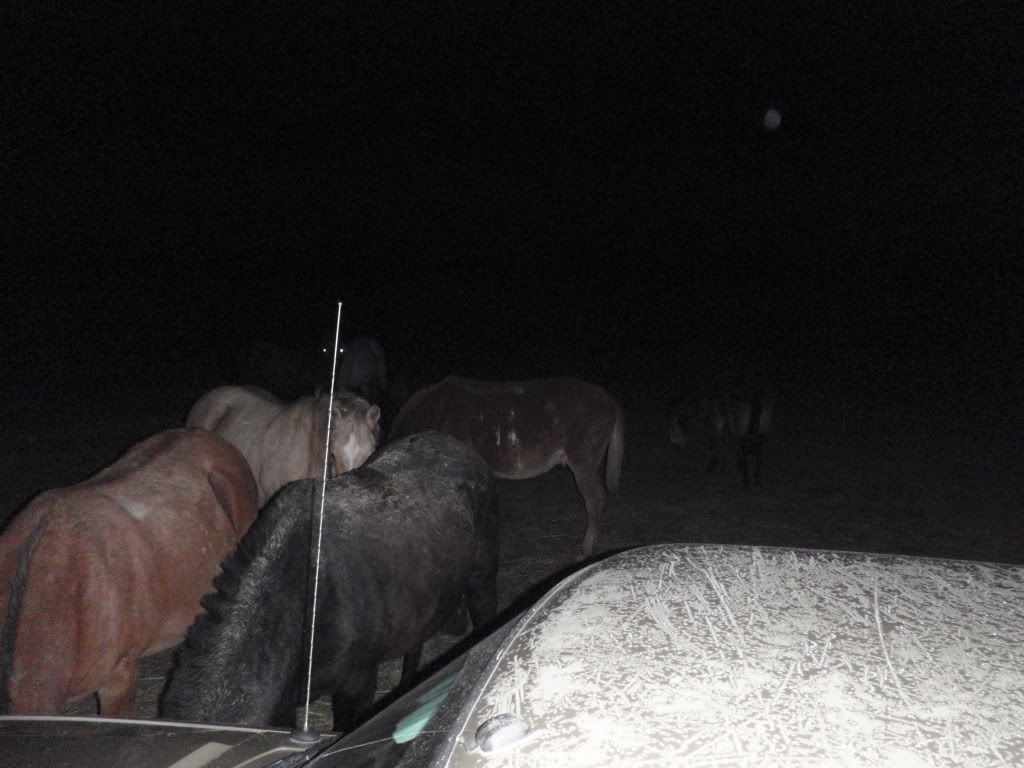 They stomped around all night after that and about brought the tent down a couple of times!